To kick off this year's celebration of Youth Week, the City Government of San Fernando in partnership with the Rotary Club of San Fernando (P), presented on Monday the newly selected Youth Officials composed of 44 students from 23 public and private schools in the city.
Mayor Edwin "EdSa" Santiago led the oath taking ceremony of the students who will be involve in the local government unit's workforce and various programs from October 9-13.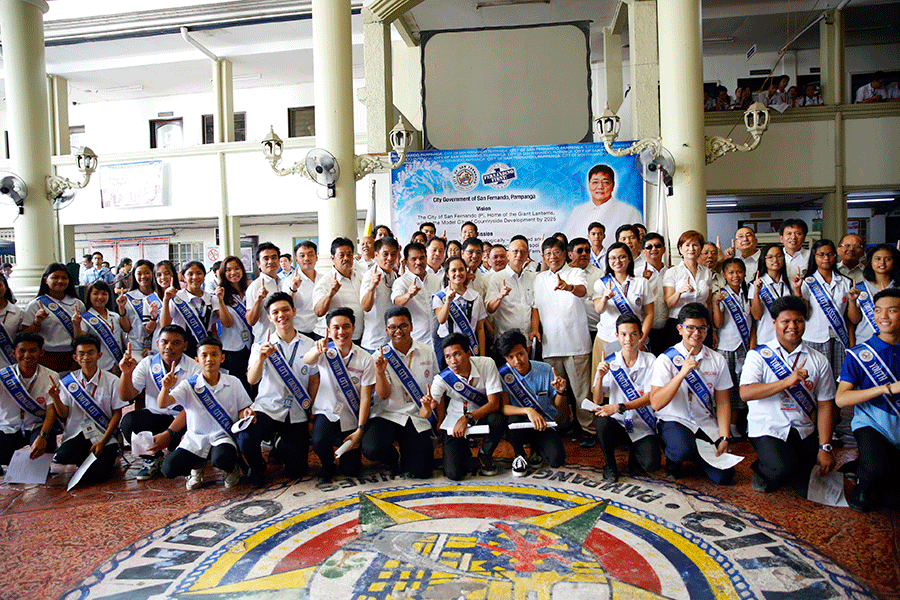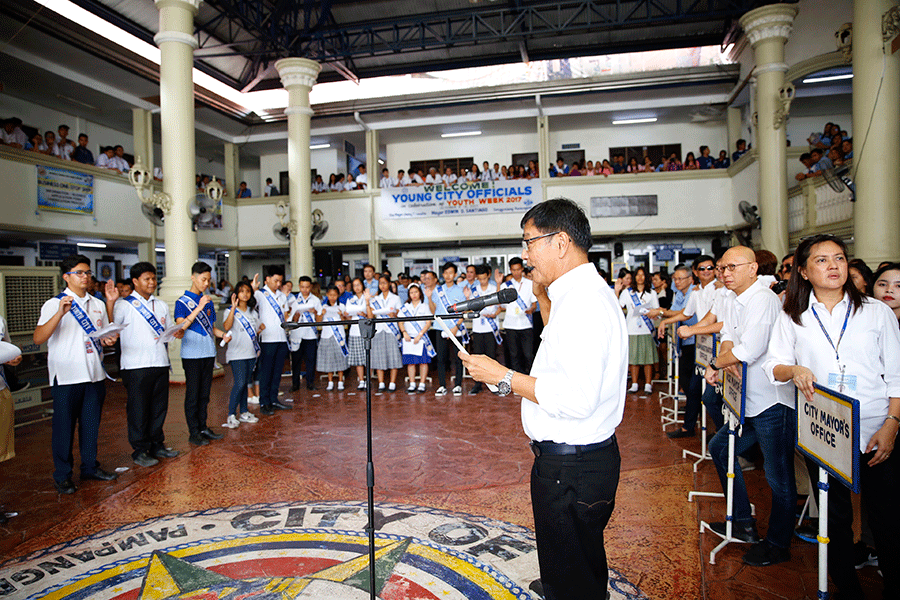 In his speech, Santiago urged the young officials to do their share to realize the city's mission to develop a livable, ecologically-balanced and economically-viable Model City through effective and socially inclusive governance that will enhance the quality of life of Fernandinos.
"Ipagpatuloy ninyo ang mga nasimulan dahil darating ang araw kayo naman ang tatayo sa harapan bilang mga lider at kami ang makikinig sa inyo. Congratulations!" he added.
For his part, Rotary Club of San Fernando President Engr. Ferdinand Caylao thanked the LGU for supporting their endeavors for 26 years now.
"I asked our city hall employees to welcome the students. May you help us in transforming them into great leaders who will serve the community in various capacity in the future," Caylao added.
Riona Bianca Basco and Frances Gail Mendoza will lead the new set of officials as the Youth City Mayor and Youth City Vice Mayor, respectively.
They are joined by 10 Youth City Councilors namely Marc Andrei Cumbe, Yeng Lingad, Trebor Aiv Nervey Yambao, Raven Jan Rabago, Jhio Rhey Detros, Lee Harvie Dizon, Elmer Dela Cruz, John Lawrence Mendoza, Jeflien Bundalian and Mary May Domingo.
These officers will also work hand in hand with the youth representatives for the different departments including Aaron James Sampang as Youth ABC President, Mikaela Rubio as Youth Sangguniang Panlungsod Secretary, Princess Calbang as Youth City Administrator, Maron David as Youth City Planning and Development Coordinator Officer, Apiwat Jongpattana as Youth City Treasurer, Jeana Mikaela Guese as Youth City Accountant, Marie Ann Campos as City Budget Officer, Romy Sumarago Jr. as Youth City Legal Officer, Elsa Endomo as Youth City Human Resource Development Officer, Jesusa Pamintuan as Youth City Engineer, Kyla Marie Tapang as Youth City General Services Officer, Jamilah Tricia Noble as Youth City Social Welfare and Development Officer, Marylyn David as Youth City Health Officer, Tracy Nicole Macawili as Youth City Assessor, Katherine Joy Manlutac as Youth City Environment and Natural Resources Officer, Janet Morales as Youth City Tourism Officer, Kurt Christiana Tungcab as Youth City Agriculture and Veterinary Officer, Jasmin Lacson as Youth City Registrar, Daniel Sembrano as Youth City Disaster Risk Reduction and Management Officer, Matt Jason Manalang as Youth City Chief of Staff, Charteiza Imari Sayco as Youth City Information Officer, Hazel Aquino as Youth City Department of the Interior and Local Government Director, John Lee De Jesus as Youth City Schools Division Superintendent, Jan Ronel Mortega as Youth City Chief of Police, Joanna Marie Borla as City Fire Marshall, Winslet Aragona as City Jail Warden, Jonna Garcia as Youth City Auditor and Micaela Adriano as Youth Public Employment Service Office Manager and Alion Evaristo as Youth City Public Order and Safety Coordinating Officer.
Selected for the division head positions were Noel Ibanez as Youth City Business License and Permit Division Chief, Shyrine Jimenez as Youth Local Building Official Division Chief and James Maui Cabaya as Youth City Chief Management Information and Technology Division Chief.