Gotianun-led Filinvest continues to strengthen its presence in Central Luzon with the groundbreaking of Hampton Orchards Phase 2 under the brand Aspire by Filinvest.
The project, a joint-venture with film producer and director Ben Yalung, is the latest expansion within the 32-hectare community located between the dynamic and progressive cities of Angeles and San Fernando in Pampanga.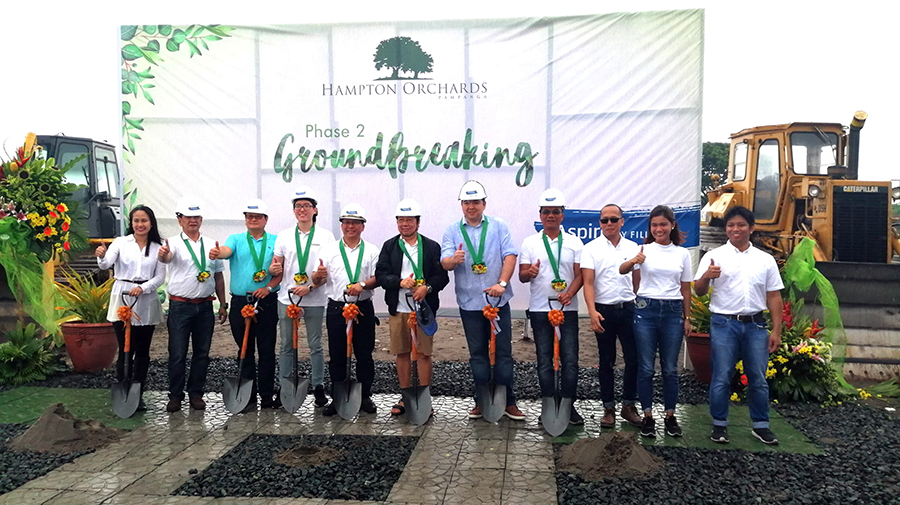 "We are excited to offer the second phase of Hampton Orchards. This project is ideally situated to take advantage of the opportunities abounding in these two highly-urbanized centers, especially that progress for the province of Pampanga, and region 3 as whole, is fast gaining momentum and its economy is set to take flight,"said Tristan Las Marias, Filinvest Senior Vice President and North Luzon Cluster Head.
Las Marias added that another advantage of Hampton Orchards is its proximity to churches, hospitals, colleges/universities, shopping centers, and tourist spots with rich culinary offerings. "Everything you need is within reach. Hampton Orchards allows you to come home to a suburban community yet near city comforts,"he said.
Filivest's JV partner said that they are happy to break ground for Phase 2. "The reception of our Cabalens to the project's first phase is remarkable. We are really proud to partner with Filinvest and build secure and charming communities like the Hampton Orchards,"Benjamin Yalung added.
Following the success of its first phase, Hampton Orchards 2 offers modern suburban ambiance and lot cuts ranging from 156 to 469 sqm±in a safe and well-planned neighborhood. This 18-hectare expansion also boasts of generous open spaces amid lush mango groves, making it the ideal enclave for families, OFWs looking for investments, and individuals who value privacy and urban conveniences.
To complement these, residents can also bask in the additional family-oriented amenities such as amphitheater, sundial, pocket parks, outdoor gym and central orchard, on top of Phase 1's adult & kiddie pool, clubhouse, children's playground, pool deck, multi-purpose court, gazebo, picnic huts, trellis, and mango orchard.
"We invite you to experience the well-rounded lifestyle that Hampton Orchards has to offer and take advantage of the pre-selling rates at the Open House today and envision your future in a carefully planned community like Hampton Orchards,"Las Marias said.
Know more about Hampton Orchards by visiting https://aspirebyfilinvest.com.