Various government agencies in Central Luzon expressed support towards inclusivity and the empowerment of Persons with Disabilities (PWDs).
This, as the Central Luzon Federation of Persons with Disabilities (CLFPWD) and Regional Committee on Disability Affairs (RCDA) Central Luzon convened hundreds of PWDs across the region for the celebration of the 44th National Disaster Prevention and Rehabilitation (NDPR) Week.
During the event, Philippine Information Agency Regional Director William Beltran said that while the government is working hard to empower PWDs, stigma and discrimination still exist.
"Let us [PWDs] not rely solely on the government. We also need to empower ourselves through our own initiatives so that equality and inclusivity, which we have been advocating for so long will be achieved and become a reality," he said.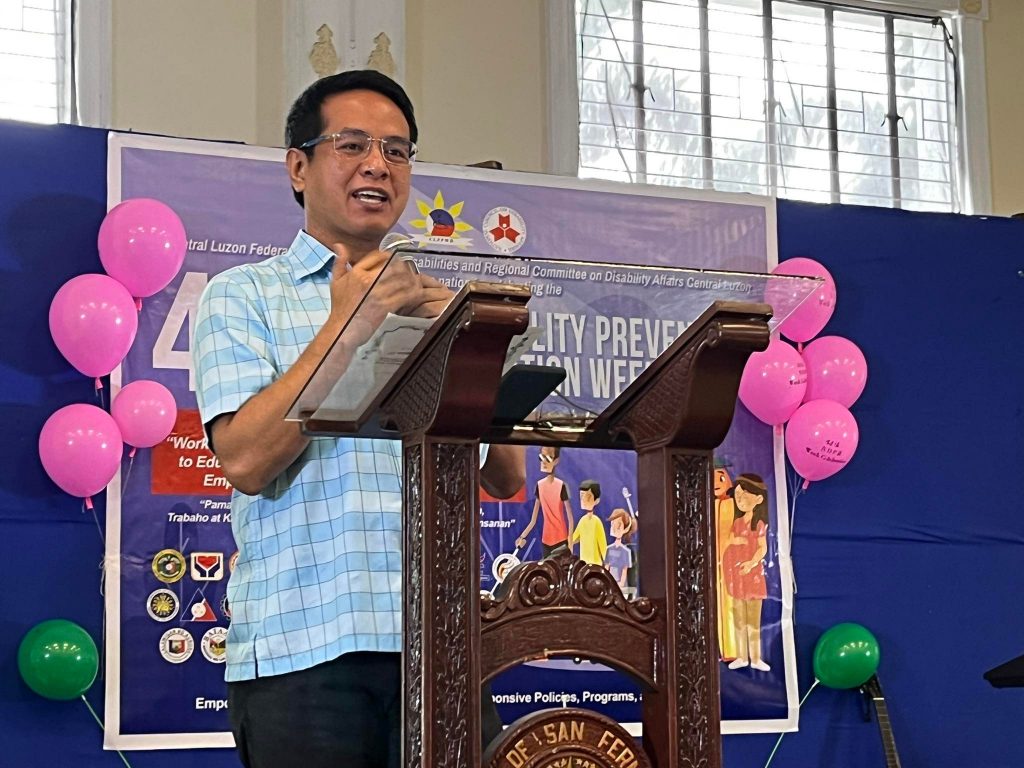 Beltran also reminded the PWDs to never lose the goodness in them despite the realities of life, and to continue being sources of inspiration to other people.
"Each one of you is unique. While trying to improve on your unique skills and talents, try also to contribute towards improving the abilities and skills of other people. Continue to be happy and to show the world what you are capable of doing and contributing towards the upliftment of our society," he said.
For her part, Mary Ann Biliwang of the City of San Fernando stressed the importance of working hand in hand with the government to achieve a Central Luzon that accepts PWDs not because they are disabled, but because they are abled.
"Let us pray that the government will give PWDs more opportunities to show that they are capable. You [PWDs] are capable of so much more. Let it out. Do not be shy because this world was not only created for typical people. It is also created for special people like us," she said.
She also shared that one of the city government's aim is to set an example of inclusivity by hiring more PWDs in the City Hall so that it will be easier to advocate employment and livelihood opportunities for them in both public and private offices.
Meanwhile, National Economic and Development Authority Assistant Regional Director Evelyn Nacario-Castro shared in her message of support the recently-passed Regional Development Council resolution calling for the preparation of an action plan to make public tertiary education accessible to hearing-impaired students (HI).
This, she said, enjoined state universities and colleges in the region to help address the situation by developing, on a pilot basis, a tertiary education program supportive of the needs and challenges of HI students.
For his part, Department of the Interior and Local Government Monitoring and Evaluation Division Assistant Chief Aldwin Reyes said their office is regularly monitoring the compliance of local government units in promoting the welfare of PWDs including the appointment of Persons with Disability Affairs Officers; the issuance of PWD IDs only to those who are really deserving; as well as the right size of ramps and toilets for PWDs, among others.
Commission on Human Rights also shared that they are issuing policy advisory regarding protection and promotion of PWDs with recommendation to government agencies and private sectors to protect and promote the human rights of everyone.
And lastly, Department of Trade and Industry will continue to promote the rights of consumers and provides a five percent discount on basic and prime commodities for PWDs.
This year's NDPR Week is anchored on the theme "Working with Government in Achieving Equal Access to Education, Employment, and Livelihood towards the Empowerment of PWDs". (CLJD/MJSC-PIA 3)