PASAY CITY – "Inclusivity is the key to the success of the Gender and Development (GAD) program in the country."

Thus said Subic Bay Metropolitan Authority (SBMA) Chairman and Administrator Wilma T. Eisma to participants of the GAD Summit held at the Cuneta Astrodome on Monday.

The SBMA chief, who was the guest of honor at the event led by Pasay City Mayor Imelda Calixto-Rubiano, said gender should never be the determining factor in one's success.

"I am the first female SBMA chairman, and I hold it in high regard. This alone shows that not all high-ranking positions should be occupied by a man,"Eisma said, pointing out that the highest-elected official of Pasay City is a woman.

"Being a man, woman, gay or lesbian should not hinder you from achieving your goals. The Philippines is proof that GAD can be successful. We already had women presidents and now a transgender congresswoman, who have broken the stereotypes of their genders," she added.

Eisma said that she was called upon by President Duterte to head the organization managing the country's premier free port a few months after she was appointed as the administrator of the Subic agency.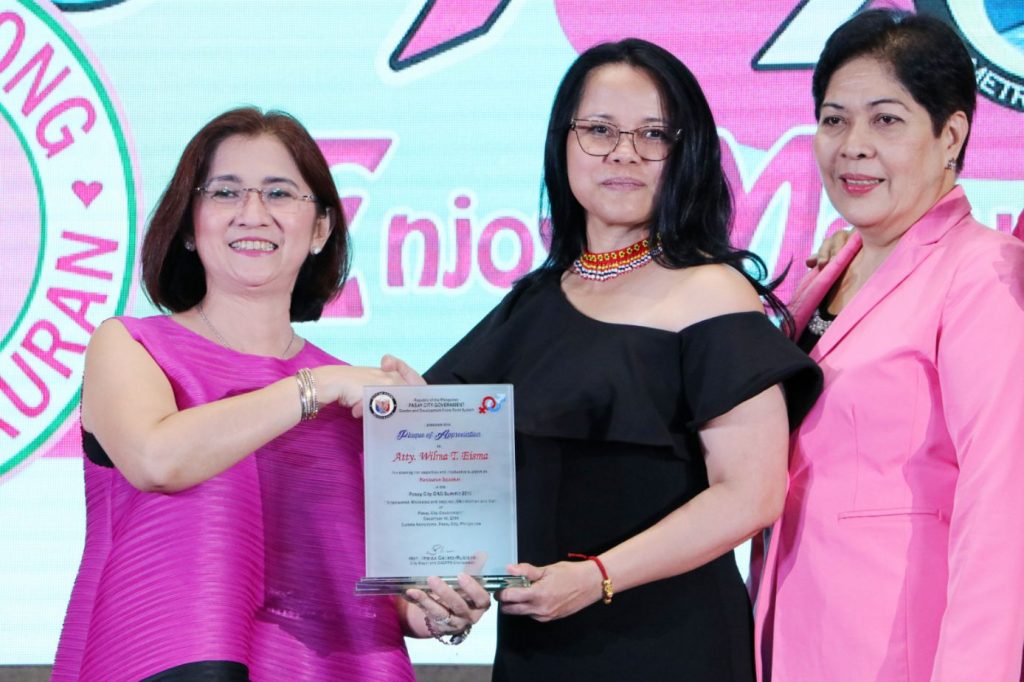 Eisma said that she took the challenge upon herself and become part of history as the first woman to hold the highest position in the Subic Bay Freeport.
"It was a challenge, yes, but one which we can take on if we set our mind to it," she added.

As the first woman SBMA chief, Eisma has strengthened the agency's GAD program to give more opportunities to employees inside the Subic Bay Freeport Zone regardless of their sexual preference.
The SBMA has initiated projects like the "Gender and Development Hour" program over the agency's radio station, GAD meetings and discussions for employees, the annual Pride Parade, and the publication of newsletters to promote equality and inclusivity.

The GAD program started with the Philippine Plan for Gender and Development for 1995-2025, which addresses, provides and pursues full equality and development for men and women. It succeeded the Philippine Development Plan for Women for 1989-1992 adopted through Executive No. 348 of February 17, 1989.

On August 14, 2009, Republic Act No. 9710, otherwise known as the Magna Carta of Women was passed, mandating non-discriminatory and pro-gender equality and equity measures to enable women's participation in the formulation, implementation and evaluation of policies and plan for national, regional and local development.

The GAD program was further enhanced on Oct. 21, 2011 with the issuance of Memorandum Circular No. 2011 that provided all government departments and instrumentalities guidelines and procedures for the establishment, strengthening and institutionalization of the GAD Focal Point System (GFPS).