Mabalacat devotees of the Our Lady of the Most Holy Rosary of Manaoag gathered at the Our Lady of Divine Grace Parish in Barangay Poblacion for the rare visitation of the holy image.
The miraculous image of Nuestra Señora del Santissimo Rosario de Manaoag also known as Apo Baket is patroness of the sick, the helpless and the needy.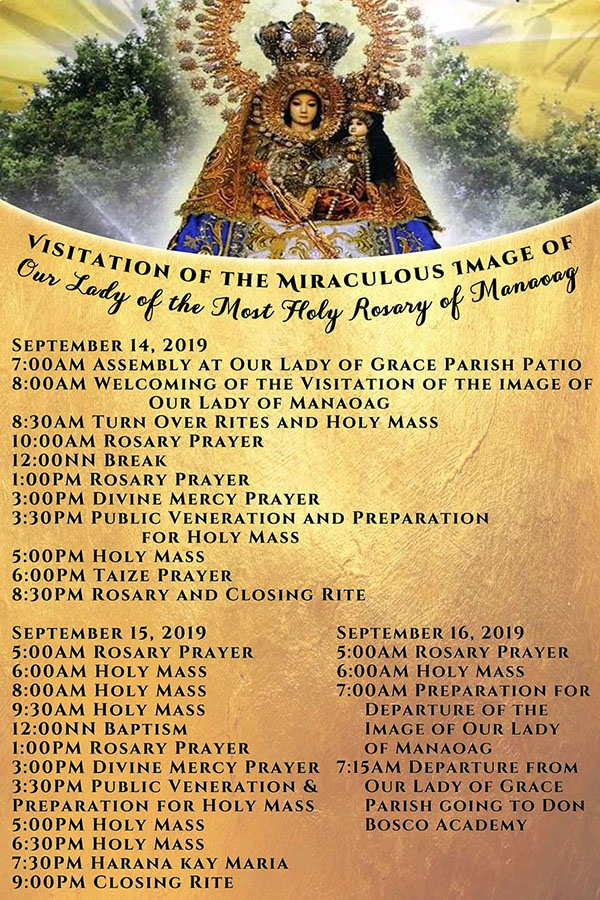 The origins of the Our Lady of Manaoag Church in Pangasinan dated back in the 1600s when a farmer heard a mysterious voice of a lady. On that place where the voice was heard, a church was built.
Taoag in Pangasinan meaning 'to call' is where the name Manaoag was derived from.
Meanwhile, RadioMaria, the official partner of the Visitation of the Our Lady of Manaoag themed 'Pista ng Bayan, Alay kay Maria', handed over a marian image to Parish Vicar Earvin Garcia during the holy mass on Sunday.
The visitation is open to the public from September 14 to 16 at the Our Lady of Divine Grace Parish.
On September 16, the image will be transferred to Don Bosco Academy in Barangay Mabiga.