Clark Freeport Zone, Pampanga—Hilton Clark Sun Valley Resort is determined to bring back local and foreign visitors—following nearly three years of adhering to some of the world's strictest pandemic-related travel restrictions—taking into consideration the need to reinvigorate tourism and socio-economic activities.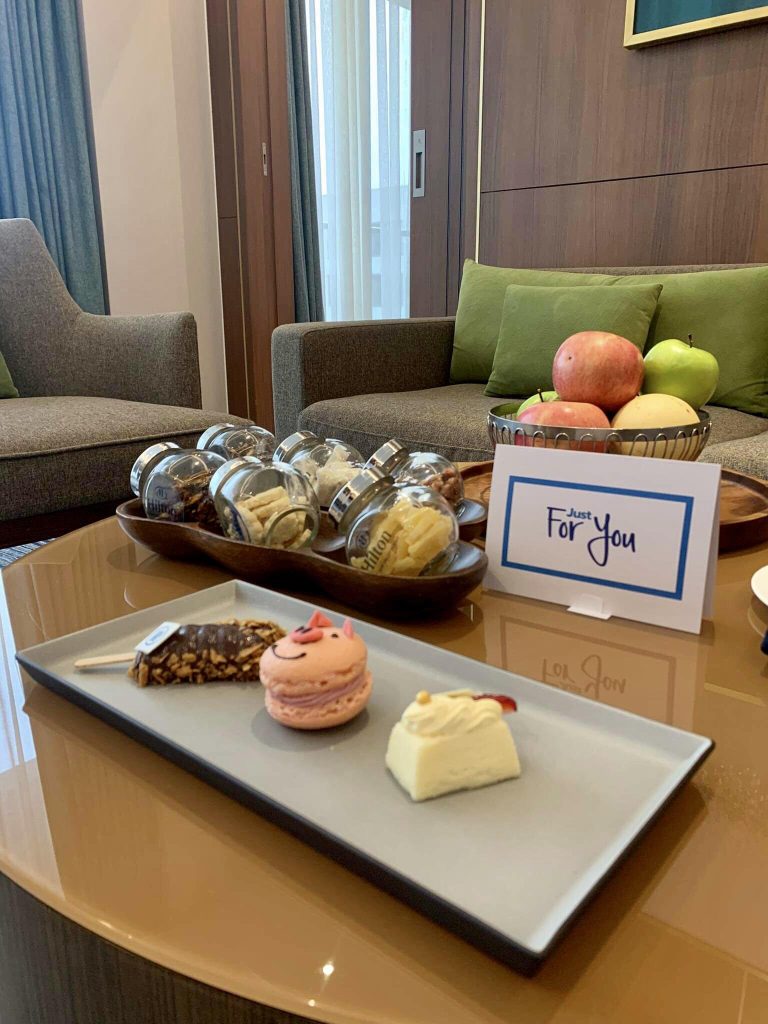 As part of renewed efforts to lure back visitors, the resort hosted its first-ever media experiential familiarization or "fam tour" for a number of journalists and vloggers from different news organizations and social media platforms. The two-day tour, May 20-21, 2023, which came to an end on Sunday, aimed at promoting the most common and essential facilities it can provide as  travel destination and showcasing Clark's symbiotic top tourist attractions.
Among the invited media organizations iOrbitNews Online, Punto Central Luzon, Pampanga News Now, Sunstar Pampanga, Where In Pampanga and ABS-CBN.
The moment we arrived, we were welcomed by a stunning, elegant resort while the Hilton staff cheered "Mabuhay" as they gracefully laid the palm of their right hands over the center of their chests with a simultaneous slight head nod—the customary Filipino gesture of goodwill, praise, and respect.
Everywhere is green that made it feel like we were walking into a highland paradise on earth.
Its large glass windows, positioned to capture the changing light from dusk till dawn, frame panoramic views, mountainous terrains overlooking Clark's sprawling development.
The former US military facility Clark Air Base is soaked in history and culture. Aside from its exciting tourist destinations, the tour also included an overnight stay of the "resort's cozy rooms, a specially arranged light cocktails and standing dinner at their beautiful lawn, morning zumba, a sumptuous buffet breakfast, a mouth watering buffet lunch, and massage at Apricus Spa," wrote Dr. Denise H.R. Molintas PhD, General Manager – Hilton Clark Sun Valley Resort.
Upon check-in, the media guests were warmly welcomed and enjoyed a full-course sumptuous lunch at Xi Restaurant with Diana C. Figuerres, Senior Sales Manager, Carla Feliciano, Senior Sales Manager, Eunjoo Bae, Commercial Director, Ethel Joseph, Director of Sales, Abigail Pamintuan, Sales Executive, Aya Pornel, Country Marketing Senior Accounts Executive, and Cebuano Chef Bien Dumagueng, married to a Kapampangan from Mexico, Pampanga.
As starter, Lapu-Lapu Crispy Fish Skin, Salted Egg (Winner! My favorite) was served followed by Assorted Dimsum (Shrimp Hakaw, Pork Siomai, Veggie Dumpling), Hot & Sour Seafood Soup and the Main Course: Beef Tenderloin, Asparagus, Black Pepper Sauce Fish Fillet, Thai Style Wok Fried French Beans, Minced Pork Yeung Chow Fried Rice and Chilled Creamy Mango Sago Pomelo for dessert. To digest the heavy lunch, Sales Managers Diana and Carla led our hotel tour starting from the outdoor pool, Olive Restaurant, Duty Free shop, meeting rooms, grand ballroom, Apricus spa, fitness center and kids playground.
While in the welcome dinner, the media delegates were able meet Dr. Denise H.R. Molintas PhD, General Manager – Hilton Clark, Aleah Alam, Country Director, Marketing & Communications-National Marketing Office and Executive Chef Lord Carlo Bayaban at the Governors Suite over a tender juicy roasted steak, grilled shrimp skewers and an appealing grazing tablescape filled with artfully arranged meats, cheese, crudités, antipasti as well as seasonal fruits, chocolate fondue fountain to dip brownie bars and mallows, classic chocolate cake topped with strawberry, meringue, and homemade chocolate coated corn flakes.
Hilton Clark GM Molintas was appointed in May 2022. Perfectly au fait to Hilton, she embarked her career with Hilton in 2001 as a Food and Beverage Manager in Shanghai. During her post, she hosted China's first Tennis Masters Cup in 2002. Afterwards, Molintas held various leadership assignments across China and Southeast Asia where she was at the helm of managing daily operations and developing key business strategies in Hilton Guam Resort and Spa, Grand Millenium Beijing China, and Radisson Blu Liuzhou and Hoi An, just to name a few. The well-seasoned hotelier was also responsible for the pre-opening of the Hilton Shanghai Hongqiao and DoubleTree by Hilton Langfang.
Home-Away-From-Home Experience
The landscaping really combined natural with modern style utilizing solid woods, glass, metal and granite in its main structures.The resort featured luxurious rooms that were so inviting. It was tempting to just stay in and relax masked by the tranquil environment and the cozy rooms. The entire time we were there, it was like living in a luxurious hideaway!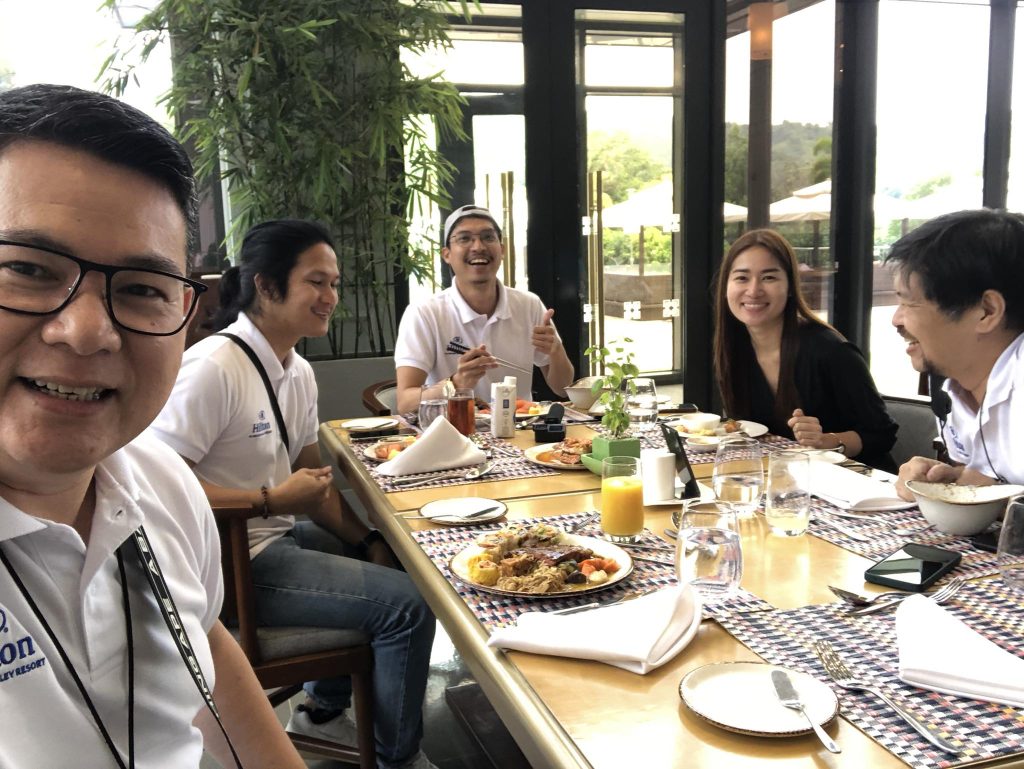 Hilton Clark Sun Valley Resort is surrounded by lush greenery and golf courses. Burrowed in tropical flora, the resort is a stone throw away from D'Heights Casino and five-minute drive from Clark Sun Valley Country & Golf Club. It is amenitized with a kids' club with a playground, a 24-hour fitness center outfitted with the latest Precor equipment and free weights, and the biggest outdoor pool, with a scale of 792 sqms., where blue sky meets crystal clear water just a perfect combination to vanish all your stress and for guests to enjoy.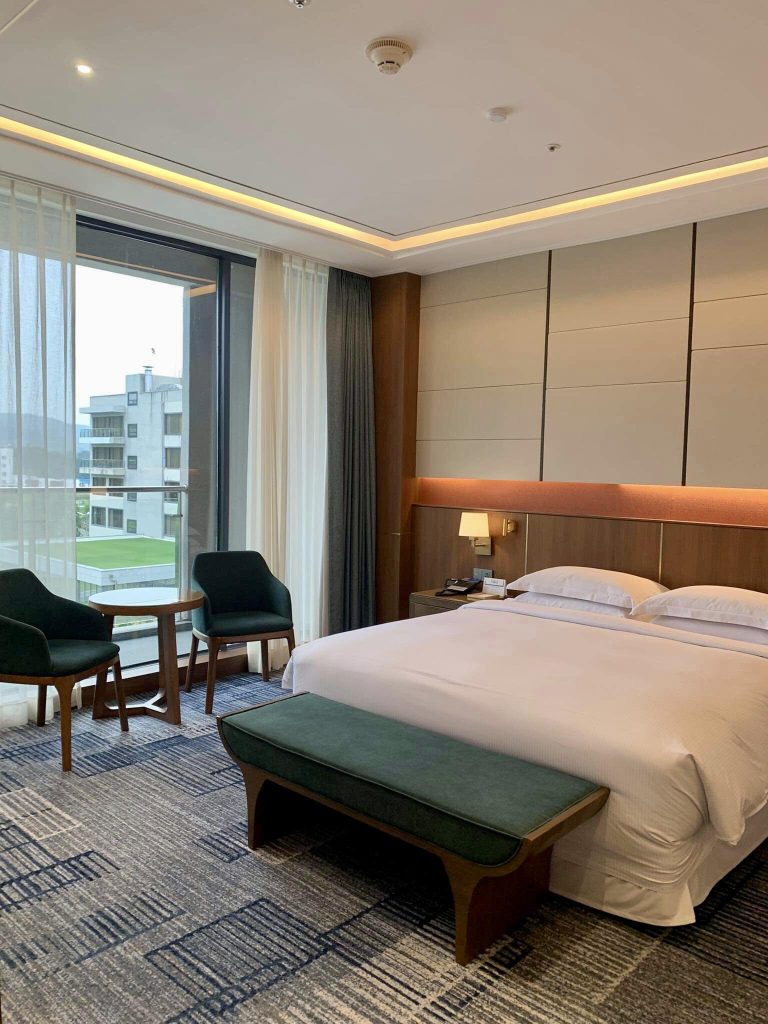 Moreover, on-site restaurants and room service, executive lounge, meeting rooms, concierge are available within the premises and free parkings is also provided. The hotel also highlights its Apricus Wellness Spa, "where guests may embark on a holistic journey into rejuvenation and relaxation", and a Duty Free Philippines outlet in the hotel lobby.
So much to do, so little time. If you can bear to leave the comfort of your room, there's even more to do outdoors. You can get a workout and go hiking, explore the large estate and enjoy your surroundings at the same time.
The resort has spent time creating themed activities and helpful services that guarantee everyone, especially family travelers, to have a great time, no matter what their age is and lighten the load on parents, put big smiles on little faces, and turn the family vacation into a memorable experience.
Accessible to Metro Manila and other key areas in the Central Luzon region by a network of highways. Hilton Clark Sun Valley Resort is a perfect place for a romantic getaway, family bonding and business summits where you could combine a business trip with a vacation or even honeymoons.
But what really stuck with us is the quality service throughout our short visit. We enjoyed VIP treatment from the moment we checked in to the moment of checking out. Everyone was accommodating, hospitable, and did everything they could to make our stay unforgettable. In other words, the Hilton team rolled out the red carpet for all of us. This is one of the many places I'd definitely visit again.
Meetings and Events
Flexible ballrooms, meeting rooms, and provides A/V equipment rental. The total event space is 1,751 sqms., largest room set up is 1,034 sqms. with seven meeting rooms and 308 digital key-enabled guest rooms. Ideal venue for conferences and seminars, weddings, car shows and social gatherings. The stylish and spacious pillarless Grand Ballroom, measuring 1,010 sqms. can accommodate up to 1,200 guests in theatre-style seating while the seven flexible meeting rooms are equipped with advanced audio-visual and technical facilities for events, ranging from business meetings to team building sessions.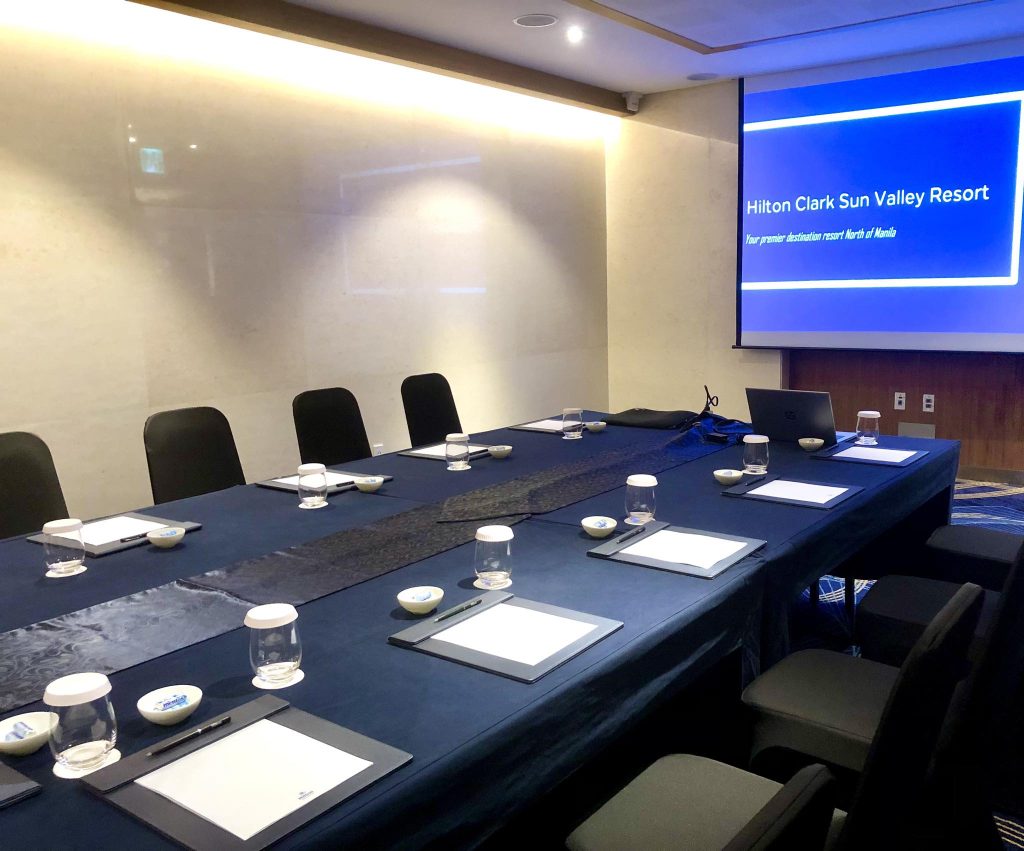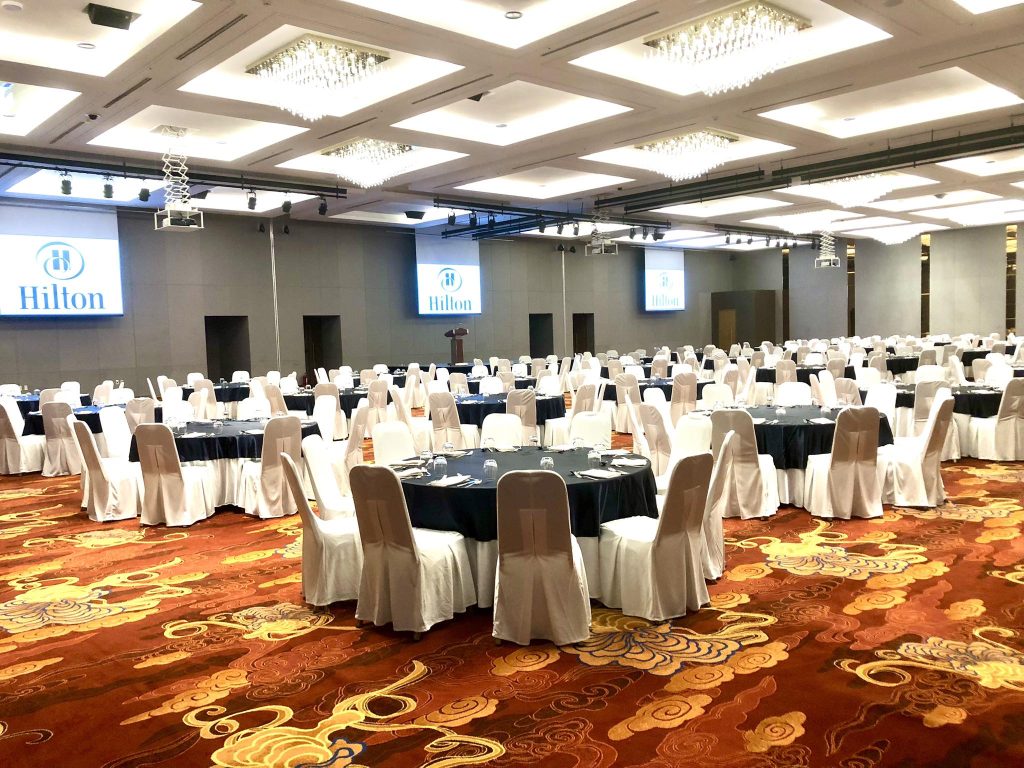 Room Types
Guest Rooms: King Guest Room Pool View, Twin Guest Room Pool View, and the King Guest Room. These are 34-square meter spacious, stylish rooms. Admire views of the pool with one king bed and twin beds. The Family Room, 68 sqms., spacious room that fits up to five people.
Suites: King One Bedroom Suite, 70 sqms., elegant suite with living area, lounge access. Space meets style in this one bedroom suite with a separate living room, and private bedroom with one king bed. During your stay, enjoy access to the Executive Lounge with a range of benefits, including complimentary breakfast, afternoon treats, and pre-dinner cocktails.  This suite boasts an elegant four-point bathroom and a walk-in closet.
King One Bedroom Suite, 80 sqms. Space meets style in this one bedroom suite with a private balcony, separate living room, and private bedroom with one king bed.
King Two Bedroom Governor Suite, 160 sqms., large elegant suite, balcony and lounge access. Perfect for families or groups, this two-bedroom suite has a separate living room, dining room, and two bedrooms with king beds. This suite boasts an elegant four-point bathroom and a walk-in closet.
Executive Rooms:King Executive Room with Lounge Access and Twin Executive Room with Lounge Access. Relax in this 34-sqm stylish and spacious rooms with one king bed and twin beds.
King Executive with Balcony and Twin Executive with Balcony, 40 sqms., with lounge access, spacious rooms with one king bed and a private balcony. During your stay, Executive Lounge is also accessible with a range of benefits, including complimentary breakfast, afternoon treats, and pre-dinner cocktails.
Accessible Rooms:King Accessible Room, 34 sqms., wheelchair accessible, spacious and stylish room. This mobility accessible room features one king size bed, and a roll-in shower. Relax in this stylish and spacious room with one king bed and wheelchair accessible amenities.
All rooms are equipped with WiFi and HDTVs. The elegant bathrooms feature a rain shower. Special touches include bathrobes and complimentary mineral water.
Dining and Drinks
During our dinner, breakfast and lunch they served an assortment of delicious food. You can definitely eat all your meals at their restaurant without running out of entrees to try.
Poolside restaurant, Olive—- for the media delegates' Sunday breakfast and lunch —-serves an international buffet and a la carte options from open kitchens. Treat is a casual coffee shop by day and a cocktail and wine bar by night. Xi is for upscale Cantonese cuisine, private dining and Chinese tea.
Olive is a vibrant and colorful all-day interactive buffet outlet serving breakfast, lunch and dinner daily with an open-kitchen concept. Located on the third floor of the hotel, the restaurant features local and international options that evolve to a more Mediterranean taste towards lunch and dinner. A small a la carte menu complements the array of interactive buffet counters and is supported by a creative beverage list featuring local and international drinks
The 101-seating capacity Treat is an indoor and al fresco area evolves from a perfect coffee and snack venue in the morning to the perfect place to relish cocktails in the evening. It presents a cozy space ideal for pre-dinner drinks with its creative take on classical cocktails, complemented by a well-stocked wine cellar. With live entertainment on selected days of the week.
XI offers Chinese cuisine revisited in a modern way, offering Cantonese specialties that evoke the grandeur of traditional China. For exclusive affairs, the restaurant has three private dining rooms that can fit from 10 to as much as 30 people. Xi is the only premium Chinese restaurant within the vicinity offering exceptional products, a superior Chinese tea selection, and an elevated service level.
Awards
Hilton Clark Sun Valley Resort was recognized in December 2022 as the 'Best Luxury Resort' in the Philippines by the Luxury Lifestyle Awards 2022; 'Regional Winner – Luxury Family Hotel' by the World Luxury Hotel Awards; '2022 Travelers' Choice' by TripAdvisor; 'Best Conference Venue Hotel in the Philippines' and 'Best Family Resort in the Philippines' by Haute Grandeur. The hotel's all-day dining restaurant, Olive, was also recognized by the World Luxury Hotel Awards as the 'Global Winner – Buffet Dining.'
Hilton Clark Sun Valley Resort, opened in December 2020, is the third Hilton hotel in the country, an augmented growth trajectory in the Philippines, with the launch of Conrad Manila back in 2016, followed by Hilton Manila in 2018.
Exciting and Fun-filled Destinations in Clark
Adjacent are Hiltons Shade Of Blue Partner attractions Aqua Planet, Sun Valley Golf Course Country Club, Clark Safari, Clark International Speedway, Clark Intl. Sports Complex, and Clark Museum – 4D Theatre.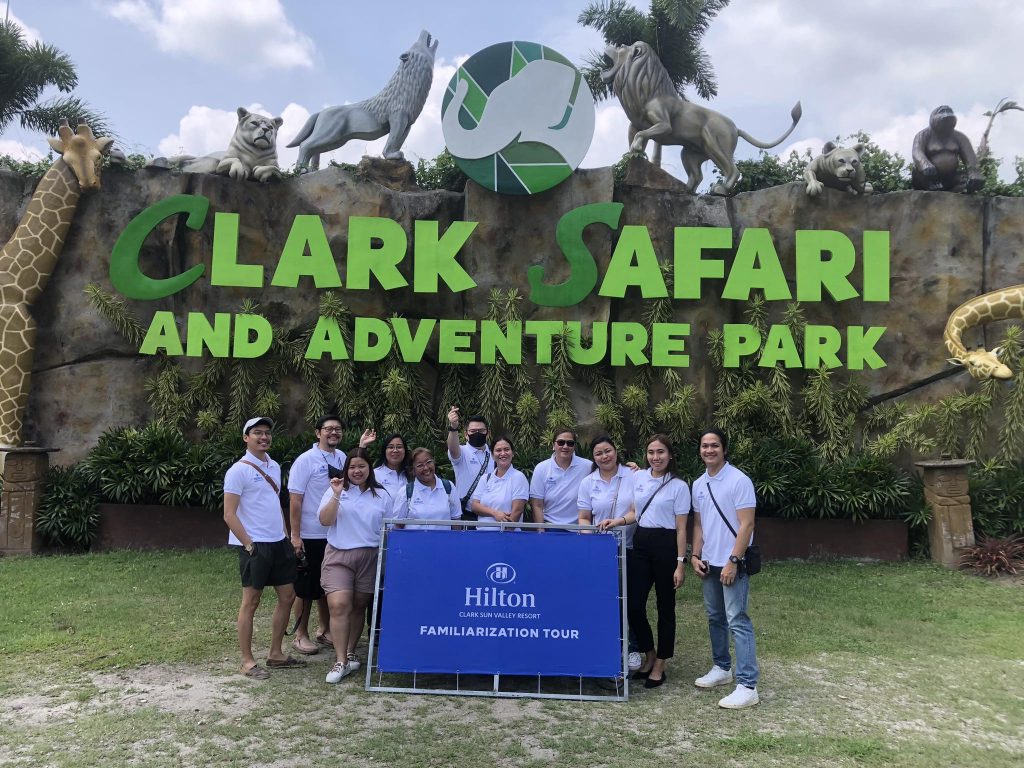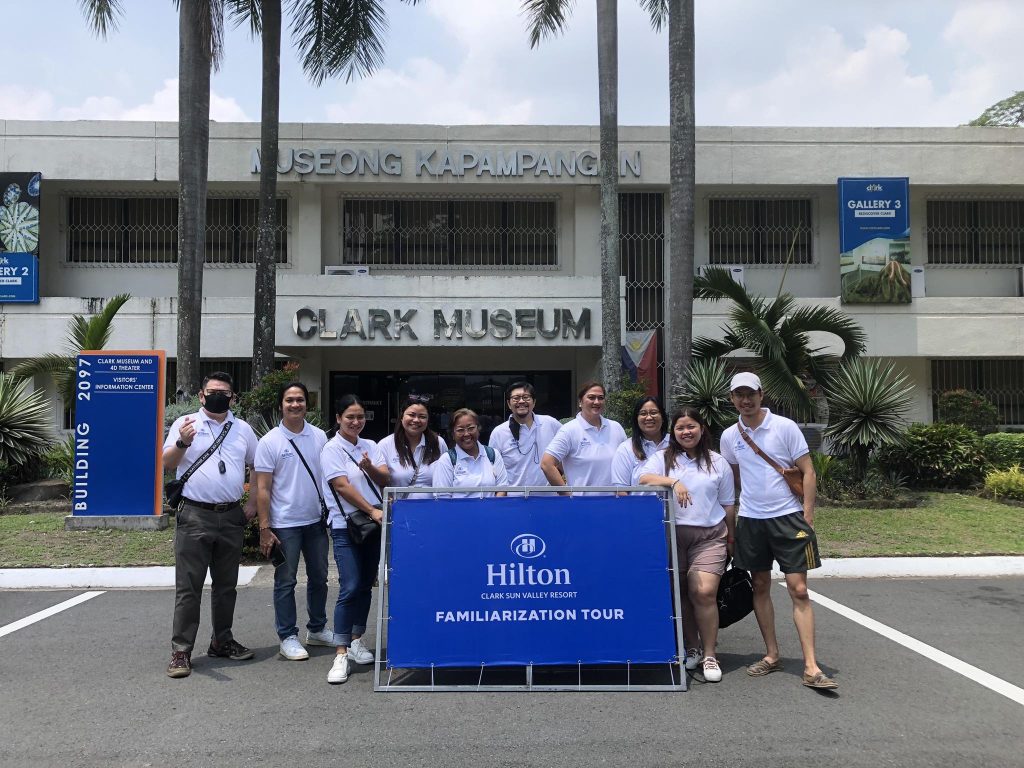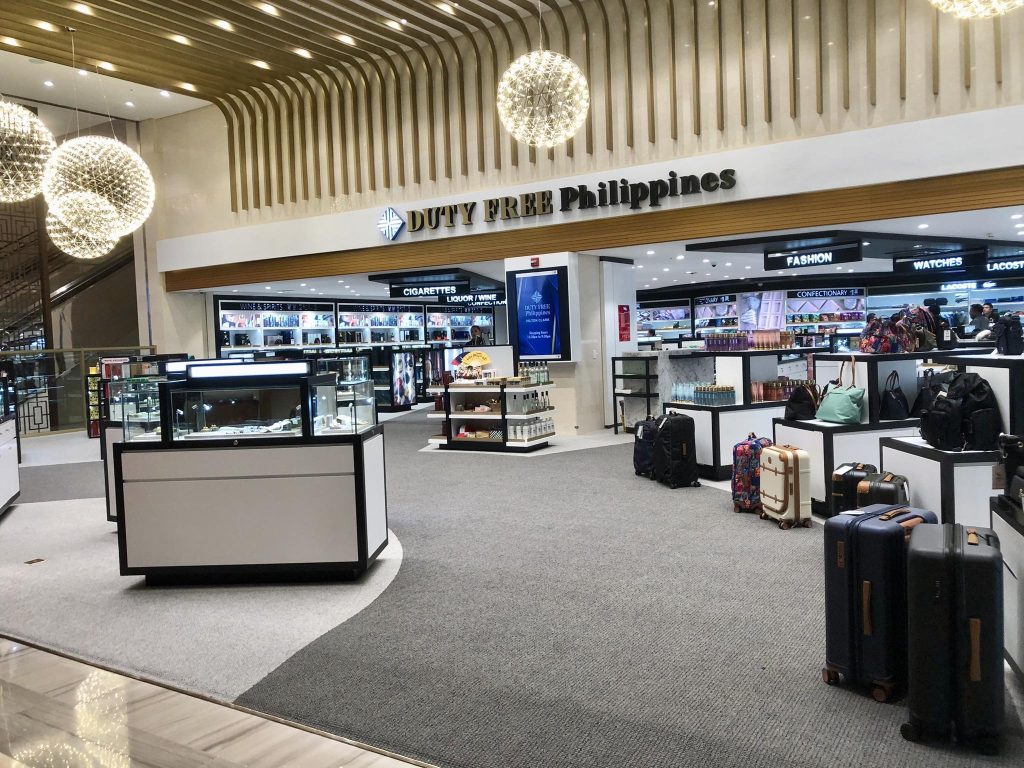 In addition, the Puning Hot Spring is 35 minutes away, located in Barangay Inararo, Porac, accessible through Sitio Target, Sapangbato, Angeles City.
If that's not enough, the resort is only four kilometers away from the Global Gateway Logistic City and the Clark Green City, and roughly five kilometers or 20 minutes away from the Clark International Airport. Meanwhile, Cebu Pacific recently relaunched the pre-pandemic flights from Clark to Bacolod, Boracay, Davao, Cebu, and Bangkok, Thailand. The airline which seeks to serve 15 destinations from Clark said more local and international flights would be added in the following weeks, providing great value for its passengers with an additional 10,000 seats per month and fares 30 percent lower than their pre-pandemic average.
In conclusion, the two-day tour was all fun with some lifetime experience to share with our readers. The Hilton Clark Sun Valley Resort was a real home away from home! Mabuhay!