National University is thrilled to announce the overwhelming success of its eagerly awaited event, held on July 15, 2023. The occasion was nothing short of spectacular, captivating attendees with breathtaking performances and showcasing the extraordinary talent of the university's esteemed faculty and students.
The event, which left the audience in awe, featured mesmerizing performances by the NU Percussion Department, whose rhythmic beats reverberated through the venue, creating an electrifying atmosphere. The loudness and boldness of Band and One Sound resonated with the crowd, infusing energy and enthusiasm into every note played.
The renowned NU Dance Company displayed their artistry and grace, leaving spectators spellbound by their intricate and synchronized movements. Additionally, the NU Pep Squad astounded onlookers with their jaw-dropping stunts and acrobatics, pushing the boundaries of physical prowess.
Adding to the thrill of the event, National University proudly unveiled its mascot, a symbol that embodies strength and determination of the NU community. The mascot's presence added an element of joy and camaraderie, eliciting cheers and applause from the attendees who embraced this new symbol as a representation of their shared values and school spirit.
Distinguished guests in attendance included Adolf Aran, Senior Director of Marketing and Resource Development; Andrea M. Rodriguez, Assistant Vice President, North 5; Jerwin Jalandoni, Mall Manager; Lourdes Alarcon, Assistant Mall Manager, and the enthusiastic Nationalians.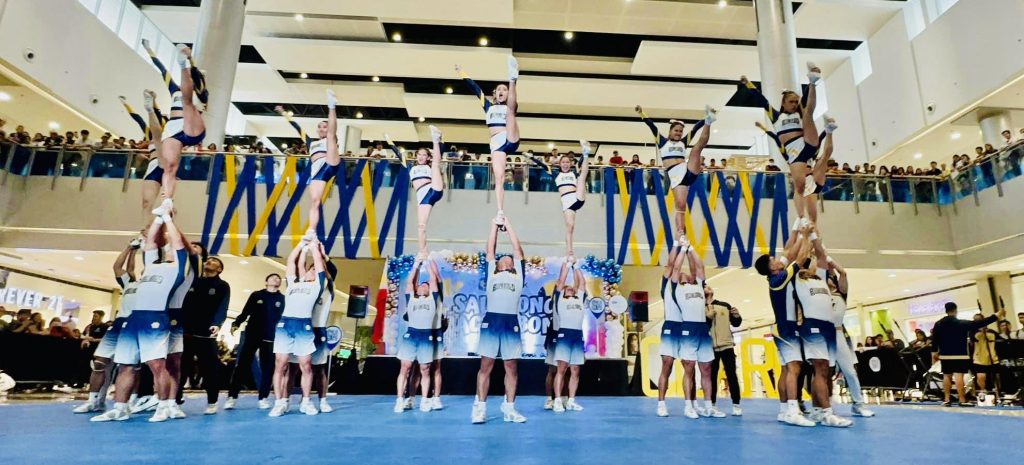 Adolf Aran, Senior Director of Marketing and Resource Development, expressed his elation about the official launch, stating, ""Our official launch is called 'Salubong at Pag-usbong' because as you can see, we're warmly welcomed here in Clark, we look forward to grow as part of the SM community here.""
The presence of the passionate Nationalians at the event further emphasized the strong sense of community and pride that defines National University. Their unwavering support and enthusiastic participation added to the celebratory atmosphere, creating an unforgettable experience for all.
The official launch of National University signifies a new era of excellence, innovation, and community. With its outstanding performers, dedicated faculty, and vibrant student body, National University is poised to make a lasting impact in education, sports, and the arts.