The National Disaster Risk Reduction and Management Council (NDRRMC) and PLDT wireless unit Smart Communications are set to conduct test runs of the emergency cell broadcast system (ECBS) in Luzon as part of efforts to further improve the country's emergency alert system.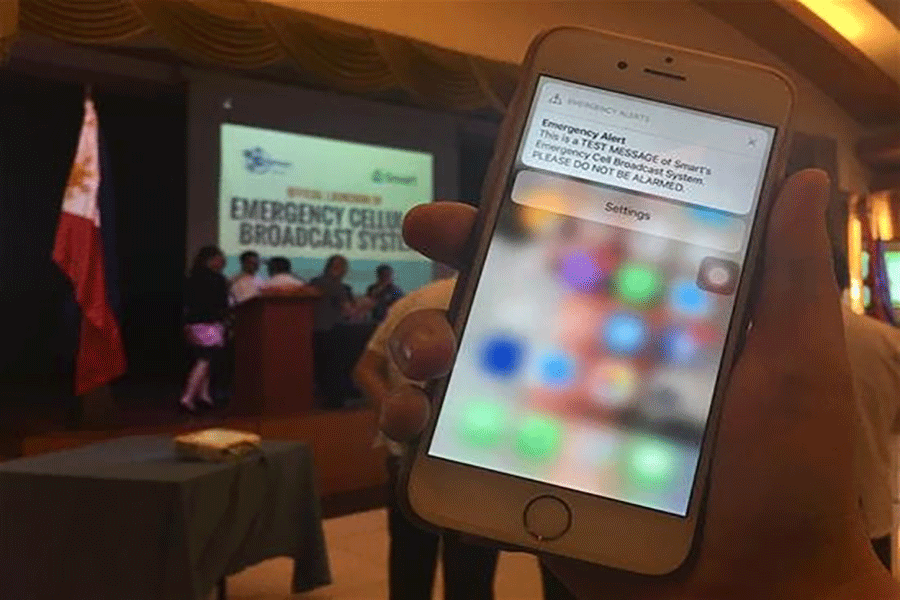 The scheduled test broadcasts in Northern, Central and Southern Luzon will be conducted in the next few weeks, following successful runs in Mindanao on Jan. 24, Visayas on Jan. 25 and Metro Manila on Jan. 26.
A pilot test of ECBS will be held on March 17 in Baguio City to coincide with the TNT Tropang Ready Disaster Preparedness Caravan organized by Smart at University of Baguio. The caravan and the ECBS deployment are among Smart's initiatives under its #SafePH advocacy, which promotes resilience and quick response in the face of calamities.
Cell broadcast service is a technology that can send emergency alerts quickly to a large number of mobile devices within a target area, making it an effective public warning system. It also allows telecommunications service providers to send out alert messages with minimal use of network resources.
Given that mobile phones are now widely used by Filipinos, these devices are being tapped as effective channels for disseminating information, augmenting the use of radio, TV and other localized means of issuing warnings within the community.
"We welcome the development and activation of this technology as another tool that could assist the NDRRMC in providing timely, hazard-specific and location-sensitive warnings to our people. We could galvanize our people to quickly prepare and respond to any emergency within minutes prior to its actual occurrence," said NDRRMC Executive Director and Office of Civil Defense Administrator Ricardo B. Jalad.
Smart's investment of P500 million in ECBS, which forms part of its 2016 capex outlay for network modernization, supports the NDRRMC's efforts to reduce vulnerability during calamities. Through this, Smart is complying with Republic Act No. 10639 or the Free Mobile Disaster Alerts Act, which mandates all telcos to implement free mobile alerts to the public in the event of calamities.
"Unlike SMS or text services, CBS has its own dedicated broadcast channel, ensuring sustained broadcast alerts even when the network receives heavy traffic from all the calls and messages that are usually made during disasters," said Ramon R. Isberto, head of public affairs at PLDT and Smart.
Another difference of short message service (SMS) from CBS is the message display: SMS messages are received on a phone's message inbox while cell broadcast alerts flash on the screen even without user interaction. It is also accompanied by a loud warning sound, which can be alarming and may cause disruption in people's daily lives.
Most mobile phones, however, can receive CBS alerts only when the cell broadcast feature is turned on. It is thus important to make sure that one's device is updated to the latest operating system, and that its CBS feature is activated.
"Please bear with us. We realize that these tests will probably surprise some of our subscribers, especially those with handsets that have an alarming sound. But it is necessary for us to conduct these tests in order to be sure that the system works properly. This alert system will be a very valuable tool for the government in future emergencies," Isberto said.
"The NDRRMC is strengthening stakeholder partnerships toward the continuous improvement of our civil defense and DRRM program. We have seen how private sector partners have added more value to our system using their expertise and specialization," said Jalad.
Working with the government and other partners, Smart has helped high-risk communities prepare for and quickly recover from disasters. Through these initiatives, Smart aims to help in building the nation by addressing its needs in the areas of disaster preparedness, education, health, and environment.