CITY OF SAN FERNANDO—The Office of Civil Defense and Department of the Interior and Local Government (DILG) have conferred on the Pampanga provincial government the Gawad Kalasag (GK) National Award for effective leadership in disaster risk reduction and management program.
This was the first time that the Pampanga Provincial Disaster Risk Reduction and Management Council (PDRRMC) obtained the prestigious national award, which is on its 18th year.
Pampanga PDRRMC ranked a close second to Isabela PDRRMC, which tilted the nationwide competition to its favor by having a well-equipped monitoring and operations command center.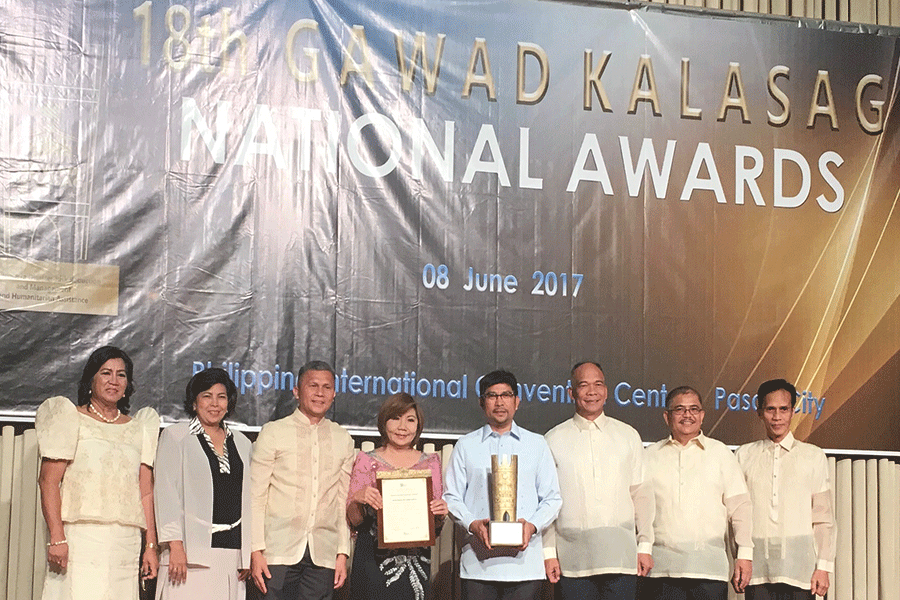 Pampanga PDRRMC stood out for its best practices in empowering communities to be alert and safe from disasters, PDRRMC action officer Angelina Blanco said.
Pampanga earned the national award after it topped the GK search in Central Luzon for three straight years and was entered into the GK regional hall of fame in 2016.
"The Gawad Kalasag National Award recognizes the leadership exerted by Governor Lilia Pineda and Vice Governor Dennis Pineda in capitol's programs and projects that try to reduce the risks posed on people by natural hazards such as flooding, storm surges, landslides and earthquakes," Blanco said.
"Through the PDRRMC, we also see the cooperation of the provincial government, public agencies, private organizations, non-government organizations and civil society groups," she added.
Undersecretary Catalino Cuy, officer-in-charge of DILG, chaired the national selection committee.
Undersecretary Ricardo Jalad, National Disaster Risk Reduction and Management Council executive director and civil defense administrator, led the awarding rites at the Philippine International Convention Center on June 8.
BREAKTHROUGHS
Pampanga PDRRMC pioneered in Central Luzon the construction and establishment of a three-storey permanent evacuation center in Barangay San Isidro in Magalang town. It also converted two technology centers in Porac and Floridablanca towns into evacuation centers. It began land banking by buying 10 hectares in Barangay Sta. Maria in Mexico town as a relocation site and possibly a trading post for the agriculture sector.
Through colored stickers, it tagged houses in remote coastal villages to be able to prioritize the rescue of elderly (orange), persons with disabilities and ailments (red) and children (yellow).
It has organized a wide network for information dissemination in disaster preparedness, mobilizing 550 public school teachers and 9,000 Nanay (mothers) community volunteers who assist village leaders.
It is well-equipped for rescue missions and medical emergencies. It has also five backhoes on barge that deepen creeks and rivers. It has trucks capable of delivering fuel and water.
Its has forged partnerships with the Pampanga Chamber of Commerce and Industry, Filipino-Chinese Chamber of Commerce and Industry, Philippine Red Cross, Pampanga Association of Water Districts, Pampanga Truckers Association, Center for Emergency Aid and Rehabilitation Inc. (CONCERN), Pampanga Disaster Risk Reduction Network and Association of Health Workers.
After doing humanitarian assistance in Tacloban and Samar that bore the wrath of SuperTyphoon "Yolanda" in November 2013, the Pampanga PDRRMC made rescue and relief missions to flood victims of Typhoon "Lando" in Nueva Ecija in October 2015.
It conducts training and drills in evacuation and evacuation management. It leads mangroves planting in coastal communities in order to create a natural belt against storm surges from Manila Bay.