SUBIC BAY FREEPORT – The Royal Canadian Navy (RCN) docked today (September 14) at the Riviera Wharf in this premier Freeport for a goodwill visit as part of Canada's defense engagement in the Indo-Pacific region.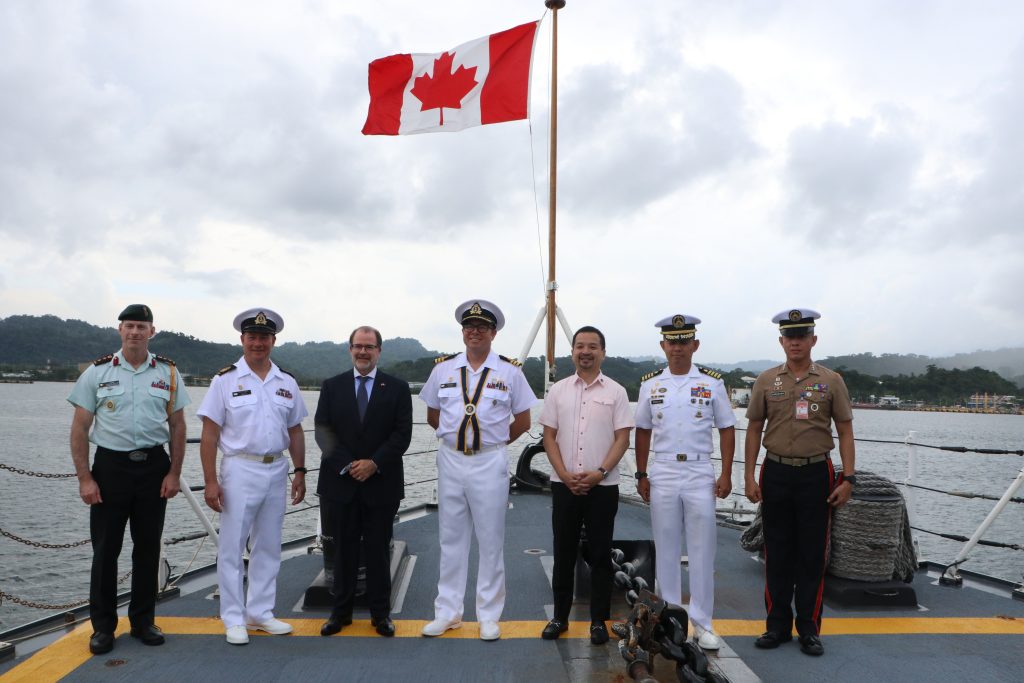 Subic Bay Metropolitan Authority (SBMA) Chairman and Administrator Jonathan D. Tan, together with Ambassador of Canada to the Philippines David Bruce Hartman, welcomed the ship and its crew.
His Majesty's Canadian Ship (HMCS) Ottawa was docked at Rivera Wharf and will in Subic Bay until Sept 19 for a goodwill visit.
"The arrival of HMCS Ottawa, the first of three Canadian ships to visit this September, is a demonstration of the close and growing relationship between Canada and the Philippines, and of Canada's commitment to stability and security in Southeast Asia and the broader Indo-Pacific region,"
Canada's Ambassador to the Philippines David Hartman said. "As maritime nations, Canada and the Philippines share a common interest in upholding a rules-based international order, and maintaining a free and open Indo-Pacific," Ambassador Hartman added.
During its visit to Subic Bay, HMCS Ottawa will have a full program, including professional development opportunities with the Philippine Navy, community outreach, and local engagements including a fun run and an exchange of ship's cooks.
Port visits are ideal occasions for our sailors, soldiers, and aviators to explore and strengthen the deep connection Canadians have with the Indo-Pacific through people.
"Through our ongoing engagements in the Indo-Pacific, the Royal Canadian Navy is reinforcing partnerships with navies from across the region. I look forward to working closely with the Philippine Navy throughout our visit to Subic Bay in pursuit of our shared goal of a free and open Indo-Pacific," Commander Samuel Patchell, Commanding Officer of HMCS Ottawa said.
HMCS Ottawa continues the tradition of RCN ships visiting the Philippines, after HMCS Vancouver's successful visit last year. HMCS Ottawa has been deployed since August, and Subic Bay is its second port visit. Throughout the last quarter of 2023, HMCS Ottawa will conduct forward naval presence operations, cooperative deployments and participate in international naval exercises with partner nations. "These activities build interoperability between Navies, while reaffirming our shared commitment to a free and open Indo-Pacific," Commander Patchell added.
Meanwhile, a second Canadian vessel, the MV Asterix, an auxiliary supply vessel leased to the RCN, will also arrive in Subic Bay on Saturday, September 16. The Asterix has been in and out of the region since March, 2023 to provide replenishment and resupply services to RCN ships.
The Asterix supports RCN vessels with capabilities in at-sea oiler replenishment, aviation support, medical and humanitarian assistance and disaster relief, among others. A third Canadian ship, HMCS Vancouver, will arrive in Manila at the end of the month.
Through our consistent and sustained presence, the Royal Canadian Navy is a tangible example of Canada's ongoing commitment to increase security and stability in the Indo-Pacific region," Commander Patchell said.
HMCS Ottawa, together with an embarked air detachment operating a CH-148 Cyclone helicopter, has 250 highly trained and professional sailors, soldiers, and aviators. It is one of twelve Halifax-class frigates of the RCN.
The ship is equipped with extensive anti-submarine warfare and anti-surface warfare weapons and sensors to complement their substantial anti-air warfare defenses. The combination of these weapon and sensor systems, coupled with state-of-the-art damage control and machinery control systems, makes these frigates one of the most advanced warship designs in the world.   The ship's namesake is the City of Ottawa, the capital of Canada, where approximately 15,000 Filipinos and Filipino-Canadians reside.