20
In line with the National Heritage Month, the National Historical Commission of the Philippines (NHCP) – Museum of Philippine Social History (MPSH), Don Honorio Ventura Technological State University (DHVTSU) Heritage Museum and Archives, Holy Angel University (HAU) – Center for Kapampangan Studies (CKS) and the Department of Tourism (DOT) Region III spearheaded a photography exhibition of colonial churches in Pampanga, Wednesday, May 23 at the Pamintuan Mansion in Angeles City.
MPSH curator with staff, local artists, heritage advicates and guests of honor pose for posterity during the launching of the exhibit.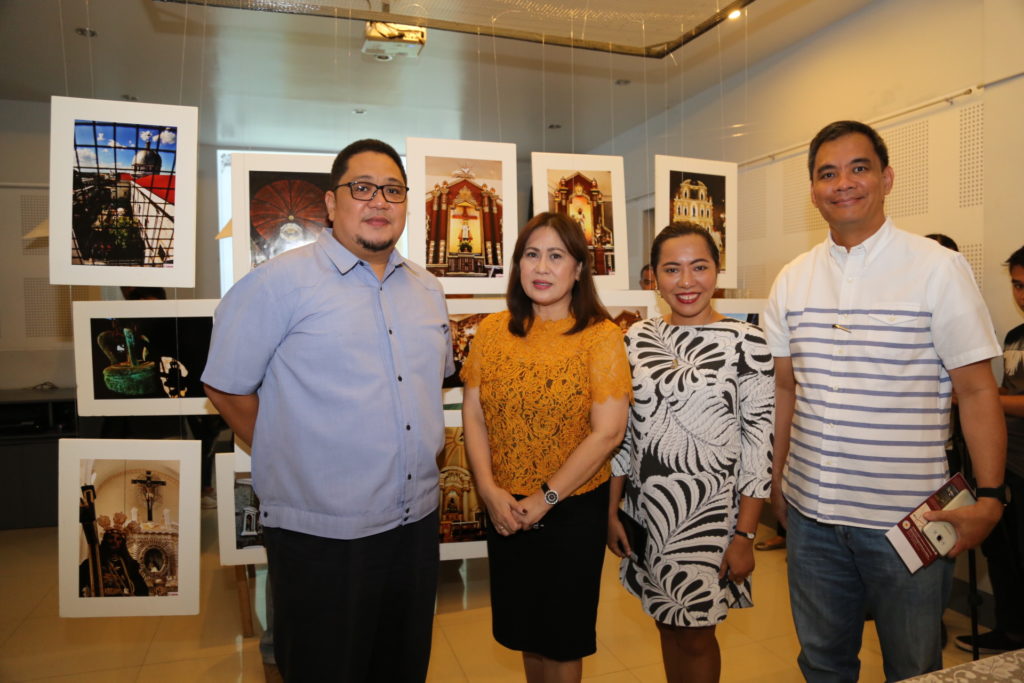 Angeles City Tourism Officer John Montances with the guests of honor.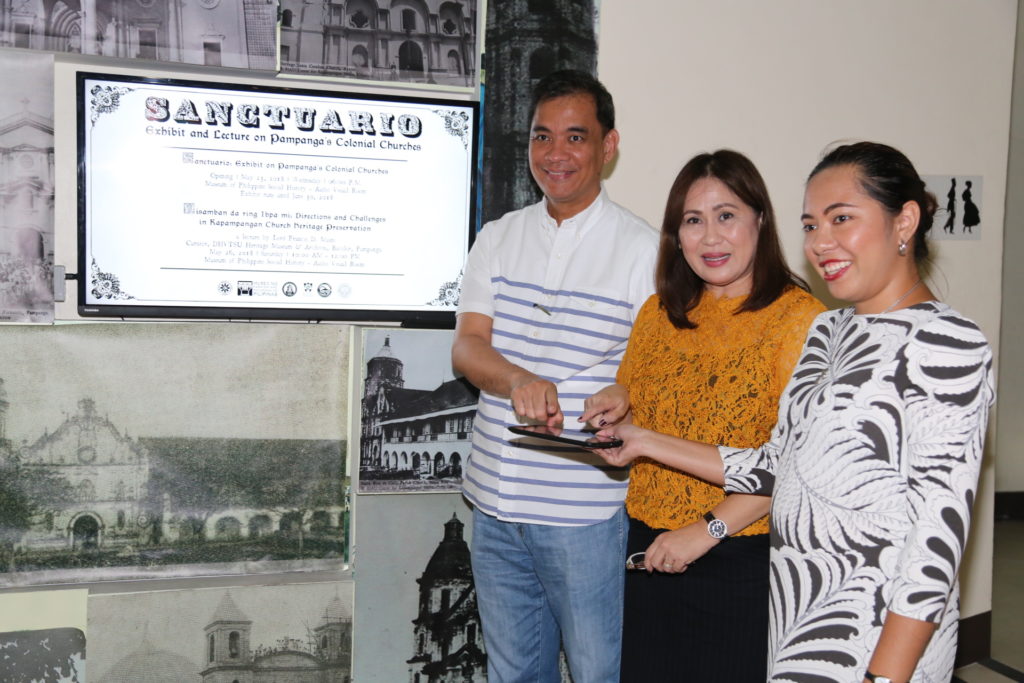 Holy Rosary Parish Priest Fr. Francis Dizon, DOT R-3 OIC-Director Carolina Uy and MPSH Senior Curator Bettina Arriola press the tablet which signals the opening of the Sanctuario exhibit.
The opening was led by DOT Region III Officer-in-Charge Director Carolina Uy, Holy Rosary Parish Priest Fr. Francis Dizon and MPSH Senior Curator Bettina Arriola. Joining them are Angeles City Tourism Office Head John Montances, museum staff, local artists and guests.
"The exhibition is with the aim to create awareness and appreciation of the importance of preservation of churches as it plays a vital role in the protection and conservation of each church in our province," Uy said.
According to Arriola, the display also notes on the details and intricacies our ancestors have inscribed in the churches which reflect emotions and thoughts about people's faith.
The collection features the century old churches of Santa Lucia Parish in Sasmuan, San Pedro Apostol Church in Apalit, San Agustin Church in Lubao, Santa Rita de Casia Parish in Sta. Rita, San Luis Gonzaga Parish in San Luis, Metropolitan Cathedral in City of San Fernando, San Guillermo Parish in Bacolor, Santiago Apostol Parish in Betis, Santa Monica Parish in Minalin and Holy Rosary Parish in Angeles City.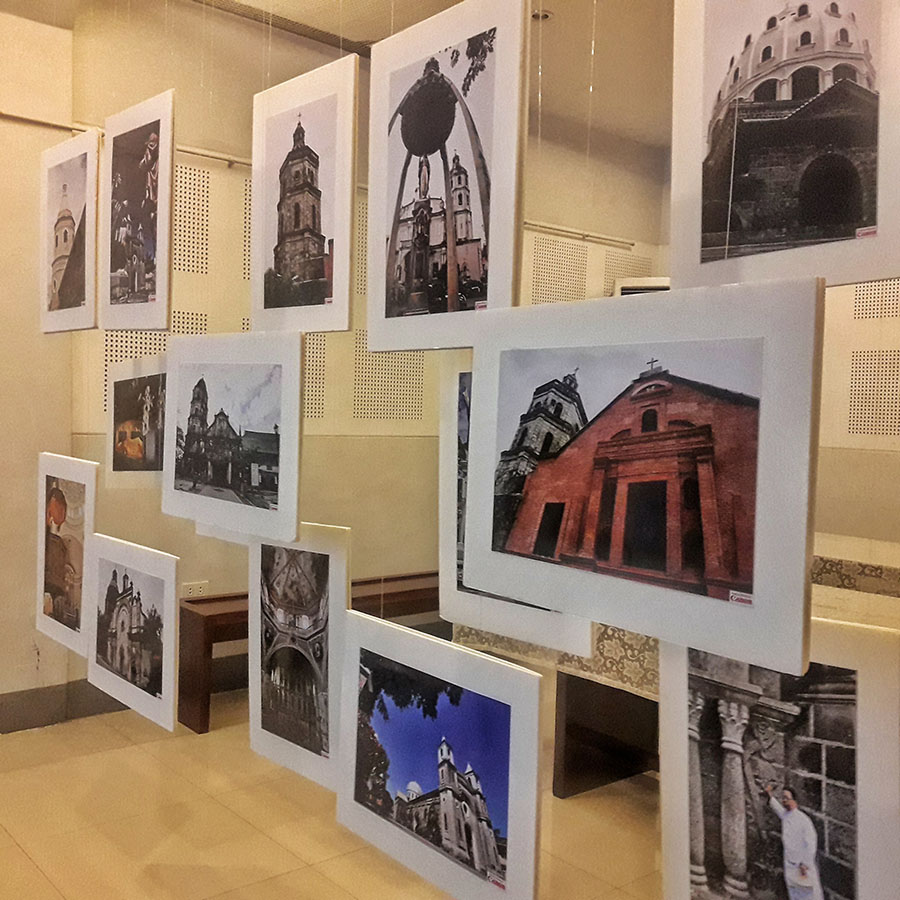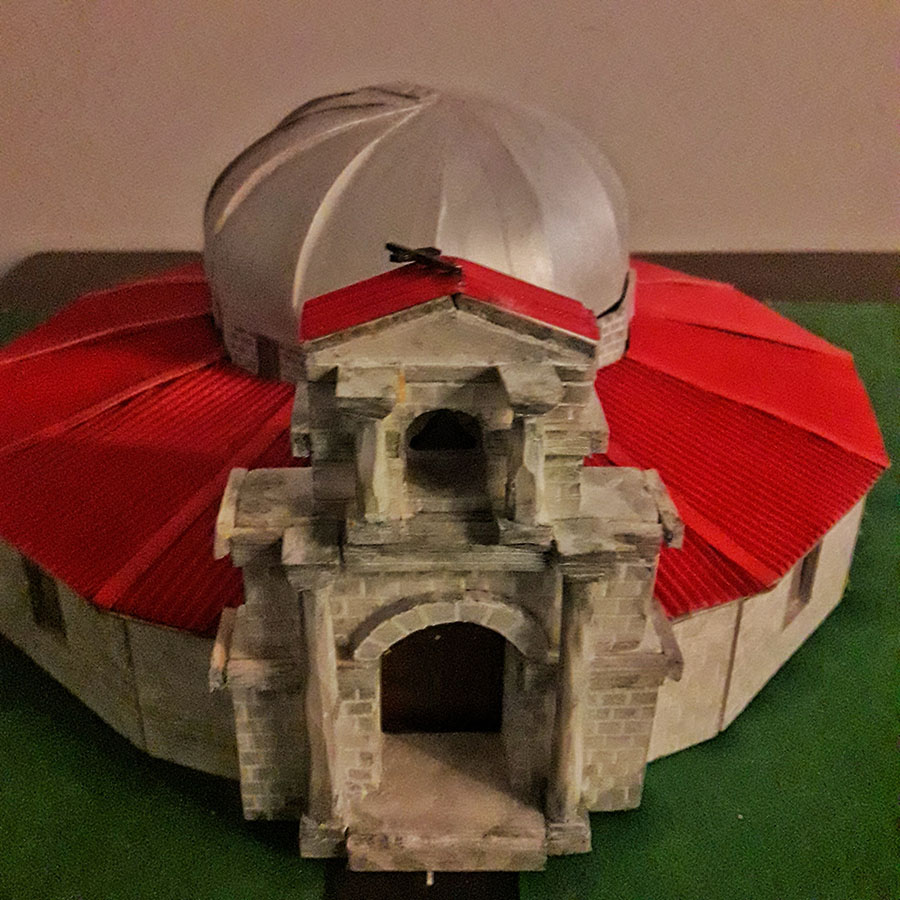 In 2012, Bong Lacson, Deng Pangilinan and Peter Alagos, veteran mediamen of Pampanga Press Club, sparked the idea of immortalizing these heritage churches through photography. Later on, these were turned over to DOT- Region III for archive and exhibit purposes.
Another highlight of the faith tourism project is a free lecture on 'PISAMBAN DA RING IBPA MI: Directions and Challenges in Kapampangan Church Heritage Preservation' by Kapampangan historian, archivist, DHVTSU professor and curator Lord Francis Musni on Saturday, May 26 from 10:00 A.M. to 12:00 P.M. at the MPSH Audio Visual Room.
"I encourage everyone to take part in the maintenance and improvement of our churches by participating in the ideals, programs and solutions that may help our province be known nationally and globally," the regional tourism chief added.
The exhibit is free and is open to the public until June 30, 2018. For inquiries, call (045) 304-4042, call at (+63) 917-553-8107 or send an email at mpshnhcp@gmail.com. –Photos by Deng Pangilinan