ANGELES CITY – In an effort to promote quality education and skills development, a national high school here spearheaded partnerships with various firms in Clark Freeport for on-the-job training of 287 Grade 12 students.
This was learned after the recent signing of a memorandum of agreement (MOA) among Sapang Bato National High School (SBNHS), Royce Hotel and Casino (RHC), Korean Apple Core Corp. (KACC) and Barangay Sapang Bato for "work immersion" of senior high school students.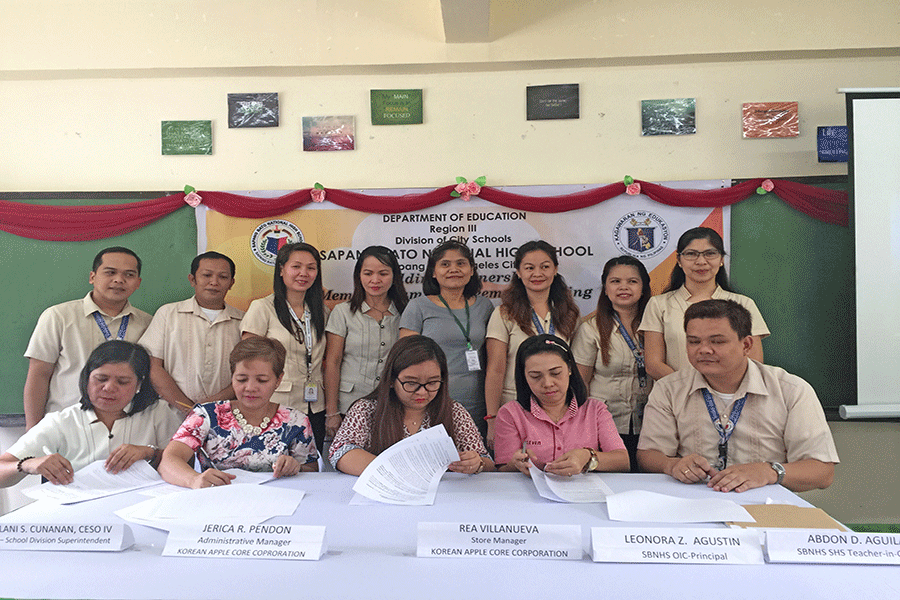 Leilani Cunanan, officer-in-charge, school division superintendent of the Angeles City Schools Division of the Department of Education, Leonora Agustin, principal, SBNHS, Mabel Martinez, general manager RHC, Jerica Pendon, admin manager of KACC, Medel Manialung (representative of Barangay Sapang Bato) signed the said MOA.
In the K to 12 program of the Department of Education, senior high school students are ready for entrepreneurship, employment and college according to Cunanan.
"Whichever the student chooses whether entrepreneurship, employment or college, ready sila (referring to students). But of course we are not encouraging na wag na sila magpatuloy sa pag aaral na magtrabaho nalang sila, gusto pa rin natin na makapagtapos sila ng kolehiyo," Cunanan clarified.
She also commended the two companies in Clark for "responding to the need" of SBNHS.
Likewise, Agustin expressed thanks to partner companies for accommodating their students. The principal also vowed for full support to grade 12 who will be immersed in the actual environment.
"Sa totoo lang po we are very much delighted very happy, we really feel blessed dahil po pinaunlakan po nila kami," said Agustin.
Also present during the MOA signing were Abdon Aguilar, SBNHS senior high school teacher-in –charge, Jayar Gatus, human resources manager, HRC and Rea Villanueva, store manager, KACC.
Under the MOA, students will undergo a basic training and application on food and beverage, bread and pastry and housekeeping at RHC and KACC. While Barangay Sapang Bato will for ten days equivalent to eight hours per day according to Abdon.
Of the 287 senior high school students, 145 will be assigned at RHC and KACC for housekeeping and baking. While the remaining 142 students will be trained on Information Communications Technology strand specializing on animation and contact center services at Barangay Sapang Bato.
Martinez said Royce Hotel hopes to provide help to the graduating high school students of SBNHS.
"I hope this will be the start of a very productive and fruitful partnership between Sapang Bato National Highschool and Royce Hotel and Casino," Martinez said.
Likewise, Pendon who is an alumna of SBNHS said KACC will welcomes grade 12 students who will undergo entrepreneurship and baking.
"For student who will undergo on the job training in our company, just aim high and make the best out of it so that you can reach all your goals," said Pendon.
The internship program for senior high school students aims to prevent jobs mismatch and provides opportunity for employment according to the DepEd official.