SUBIC BAY FREEPORT – The Subic Bay Metropolitan Authority (SBMA) has placed among the top 12 finalists in the award for "Best in Tourism Practice During the Pandemic."
The recognition was received during the 22nd National Convention of the Association of Tourism Officers of the Philippines (ATOP).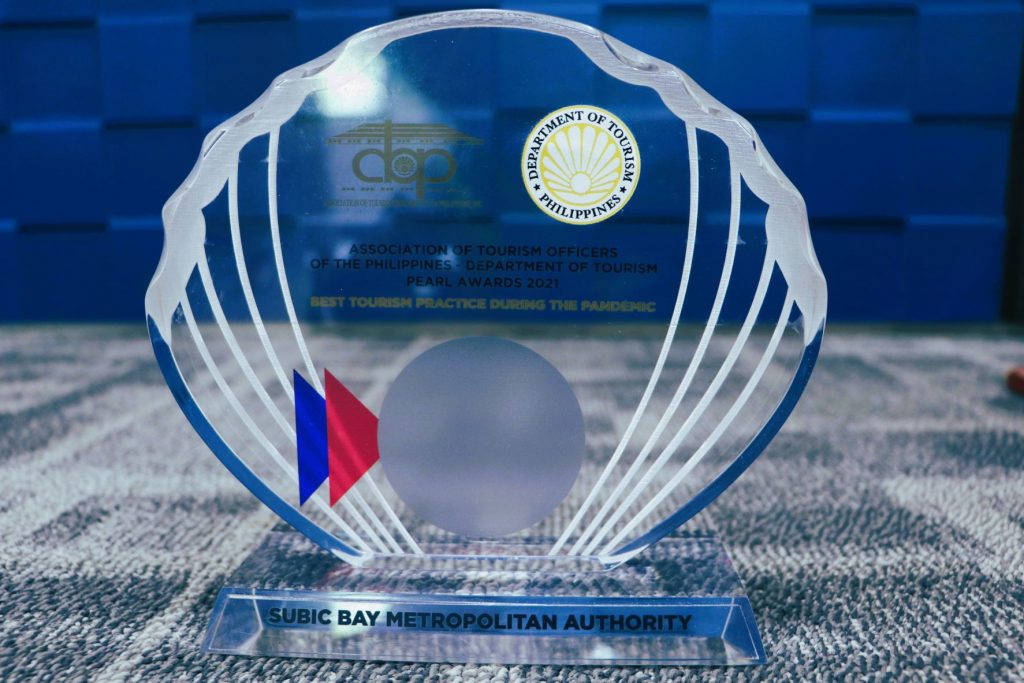 SBMA Chairman and Administrator Wilma T. Eisma said the Subic agency was recognized for its COVID-19 safety protocols that brought about a safe environment for "bubble" events in the Subic Bay Freeport in the past two years.
"This is only proof that the restrictions and safety standards that we practice like wearing masks, social distancing, disinfecting and most importantly the continuous vaccination of our stakeholders, are all working in ensuring the safety of our visitors," Eisma said.
"Again, this only shows that our efforts in battling COVID-19 are paying off. Tourists and visitors feel safer to travel in Subic because we have kept our Covid cases low compared to other travel destinations," she added.
Eisma also thanked ATOP and the Department of Tourism for recognizing the continuing efforts of the SBMA in keeping the Freeport safe not only tourists and visitors, but for business stakeholders as well.
The "Best in Tourism Practice During the Pandemic" award was given as a special category to highlight innovative tourism activities, as main or support operations to the safety of the community, during the times of COVID-19 pandemic. The SBMA competed for the award along with 32 other government agencies and local government units.
The tourism industry was considered the hardest-hit sector during the pandemic, thus necessitating resilient practices among stakeholders to sustain growth.
In the Subic Bay area, Eisma said the SBMA was the first to impose temperature scans at the onset of the pandemic, as well as strict entry protocols during lockdowns and high alert levels. Later on, it initiated a vaccination program for Freeport residents and workers to help keep COVID-19 infections at bay.
"In the course of implementing strict healthy safety practices, Subic became known as a safe haven for various sports events and conferences under the bubble concept," Eisma pointed out.
"By placing premium on safety, we succeeded in attracting more business and find more opportunities to sustain the local economy," she added.
SBMA records indicated that despite the ongoing pandemic and the resulting travel restrictions, the Subic Bay Freeport recorded an increase in same-day visitor arrivals by as much as 42% since the 2020 lockdown.
Tourist arrivals meanwhile increased by 141% while hotel occupancy almost doubled in number in 2021 compared to 2020 figures.
Eisma also credited the government's crew-change and repatriation programs that made Subic a busy hub for the processing of incoming and outgoing seafarers, as well as overseas workers and other Filipinos arriving from abroad.
She said these programs saved the tourism industry in Subic amid pandemic travel restrictions.