12
SUBIC BAY FREEPORT – Health facilities and personnel in the Subic Bay Freeport are now ready for the eventual release and distribution here of Covid-19 vaccines under the much-awaited mass vaccination program of the government.
This was the assurance given by Subic Bay Metropolitan Authority (SBMA) Chairman and Administrator Wilma T. Eisma to Department of Health (DOH) officials who observed the simulation of Covid-19 vaccine administration in the Subic Bay Freeport Zone last Thursday, Feb. 18.
Eisma said that ever since the outbreak of the pandemic last year, the SBMA has prepared for any eventuality and has initiated various health measures to fight Covid-19.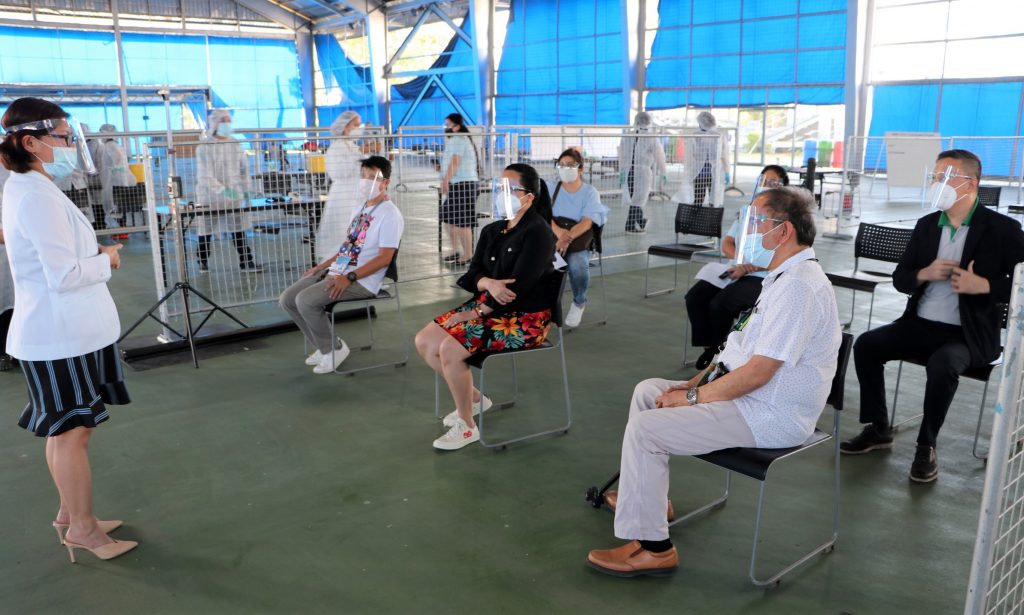 "We don't want to get caught empty-handed," Eisma stressed. "With the anticipated arrival of Covid-19 vaccines, the medical team of the SBMA is all prepped up and ready for the vaccination program. We shall be prepared when it happens," Eisma said.
The SBMA chief said the agency is closely coordinating with the DOH for the procurement of Covid-19 vaccines and their immediate deployment for the Freeport community.
"But since the SBMA is not a local government unit (LGU), we are looking at various ways to gain access to vaccines, including a partnership with the Philippine Red Cross, or even private companies," Eisma said.
She added that the agency would be prioritizing frontline health workers for the vaccination, along with senior citizens, indigent population, and law enforcement/uniformed personnel.
Should the vaccines finally arrive, Eisma said the SBMA could field a vaccination team that would consist of five doctors, 20 nurses, and two medical technologists.
The Philippine government, through a coordinated network of stakeholders recently conducted a full-scale simulation exercise of vaccine deployment to showcase the country's readiness for the mass vaccination program. The simulation provided a view on what is expected to happen once the vaccines arrive in the country.
Dr. Jessie Fantone, DOH provincial director for Zambales who was here to review the Subic simulation, commended the SBMA for adhering to the DOH strategy in the fight against Covid-19, which is Prevent, Detect, Isolate, Treat, and Reintegrate (PDITR).
The SBMA Public Health and Safety Department (PHSD) demonstrated to the five steps in the administration of the vaccine. These are registration; pre-vaccination counselling and final consent; screening; vaccination; and post-vaccination monitoring, surveillance, and recording.
Chairman Eisma also pointed out that the SBMA has been at the forefront in the battle against Covid-19 since Covid-19 broke out in early 2020. Aside from its medical team, the Subic agency has established Covid-19 isolation and monitoring facilities and partnered with the Philippine Red Cross in putting up a swabbing center and specimen collection facility.
As of now, only one Covid-19 case remains active in the Subic Bay Freeport—that of a transient worker who tested positive last Feb. 10. Eisma said the last reported case among residents of Subic Freeport was in Dec. 24 while that among SBMA employees was in Feb. 5.