Bocaue Mayor Eleanor "Joni" Villanueva-Tugna also known as the "toss coin mayor" was seeking her second term this coming 2019 midterm national and local election.
Villanueva-Tugna filed her Certificate of Candidacy (COC) with the "Bocaue Team Solid 2019" team on Wednesday afternoon.
Tugna will team-up with her vice mayoral candidate Councilor Noriel German under the Partido Demokratikong Pilipino-Laban (PDP-Laban) with aspirants for the City Council namely Alvin Cotaco, Takong Del Rosario, Willy Galvez, Mirasol Bautista, Coro Juan, Jerome Reyes, Jay Sabino and Nestor Sambrano.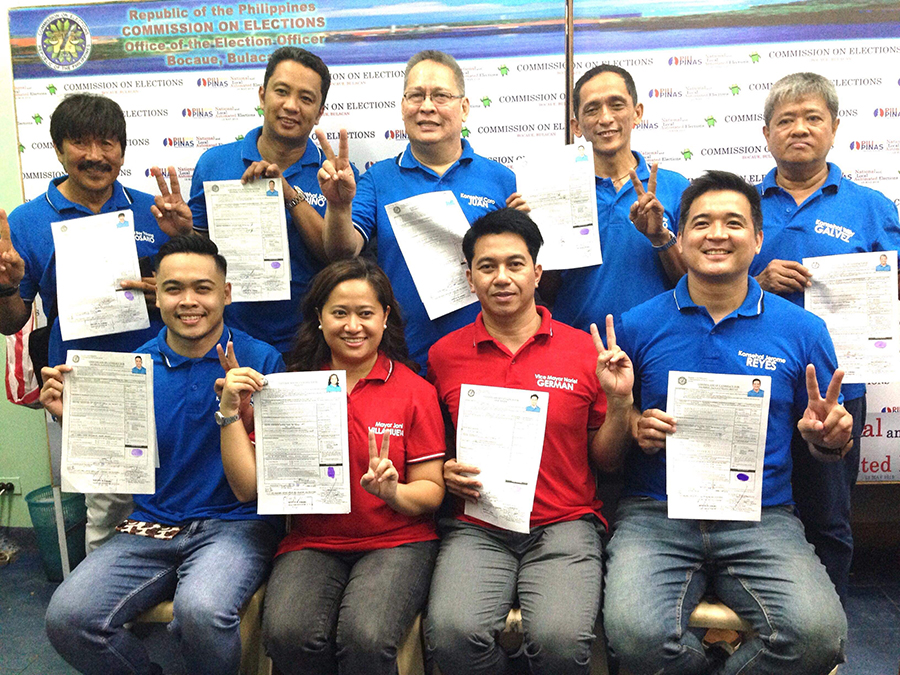 Bocaue Solid Team 2019 with Mayor Joni Villanueva and vice mayoralty aspirant Councilor Noriel German. –Photo by ERICK SILVERIO
Tugna and German were both welcomed and accompanied by their supporters at the Comelec office. Both will face Jim Valerio and Jonjon Santiago of the Nationalist Union Party (NUP).
The lady mayor assured her constituents that by the end of next year there will be no more informal settlers in the town of Bocaue.
Tugna won his first term through the toss of a coin after she and her opponent Jim Valerio got exactly the same votes of 16,694 in the 2016 local election in Bocaue, Bulacan. Tugna won by 3-0 score during the tossing of the coin.
Tugna is wife of CIBAC Party-list Congressman Sherwin Tugna, sister of Senator Joel Villanueva and daughter of Bro. Eddie Villanueva.
San Rafael mayor in narco list files COC
Meanwhile, San Rafael Mayor Cipriano "Goto" Violago who was one of the narco politicians tagged in the the list of President Rodrigo Roa Duterte filed his COC on Wednesday.
"Despite the slander, lies, harassment they throw against me, I am here again and willing to continue my service for San Rafaelenyos," Violago said.
He believed the people of San Rafaelenyos are wise and they know the truth of his personality.