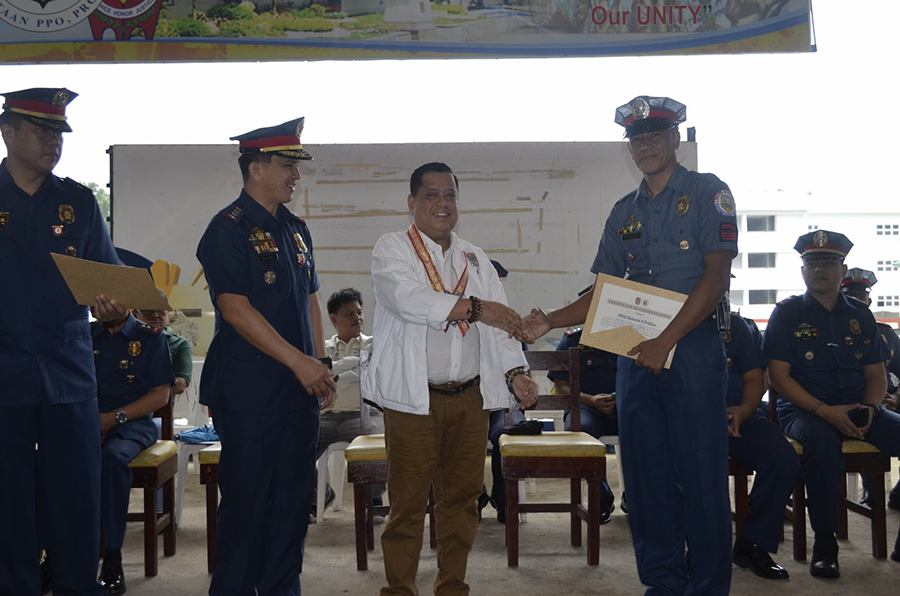 CAMP TOLENTINO – Former Bataan provincial senior board member and veteran broadcaster Rod Izon on Monday cited the important role of the mass media in today's modern society.
Izon, Radyo Patrol No. 12 and senior desk editor of ABS CBN's radio network, DZMM, was the guest of honor and speaker at the traditional flag raising ceremonies yesterday of the Bataan Provincial Police Office at this Camp led by OIC-provincial director Senior Supt. Marcelo Dayag. A news briefing led by Dayag followed after the event.
The former provincial solon turned businessman and still an active broadcaster, in his brief speech during the affair, mentioned the significance of excellence, honesty, integrity, respect, teaching and learning, and valued team work in doing the job of a professional journalist and also as a member of the Philippine National Police.
"We should deliver on commitments, our word equals action, speak out, speak true. Never undermine others for own gain and consistently treating others respectfully and fairly," Izon said.
He also stressed that "honesty, integrity and respect as basic values of a media person or a policeman in doing their respective jobs as crime fighter and agents of truth."
"Tulad ng nakasaad sa ating Konstitusyon, the PNP shall enforce the law, prevent and control crimes, maintain peace and order, ensure public safety and internal security with the active support of the community, at bilang mga kagawad ng media ay dapat lagi nating ipamuhay ang ating obligasyon sa bayan na mag ulat lamang ng katotohanan lalo na kung ano ang mas makabubuti sa bayan," Izon added.
Rod Izon is the founder and president of the Metro Manila Radio Reporters Organization (METRRO) and the newly-formed Bataan Tri-Media Association (BATMAN).
He was also the author of the provincial ordinance (Sangguniang Panlalawigan ordinance) about "Bataan Scholarship Program" that lately evolved into "Iskolar ng Bataan" during the leadership of the great Bataan Congressman and the late Governor Enrique "Tet" Garcia Jr. and being continued by incumbent, hardworking Governor Abet S. Garcia.