The Midori Clark Hotel First Anniversary Newsletter
May 1, 2017, Midori Clark Hotel and Casino launched its grand opening – attended by most distinguished guests and personas, the day marks the complete experience of green living in luxurious ways at Clark Freeport Zone. By this date, the hotel's 111 rooms we're fully furnished and the restaurants were up and running.
On the 1st of July, 2016, Midori Hotel opened its doors for the first time with only 44 rooms in a soft opening stage. The hotel was able to accommodate a number of guests to experience utmost warmth of hospitality rendered after the long wait since construction started.
Moving off as one of the newest and first modern-aesthetically designed project onto the lush greeneries and sprawling development of Clark. Midori Clark Hotel charmed the guests into its exquisite 111 accommodations with the warm welcoming staff that pampers the guests with the true spirit of hospitality.
Despite the success of the hotel, the pace of the development continued and countless memories were created. In a span of a year, Midori Clark Hotel and Casino have given 212, 170 guests a gastronomic experience at the food outlets and served a total of 103,426 guests stayed either for business, leisure or family getaway.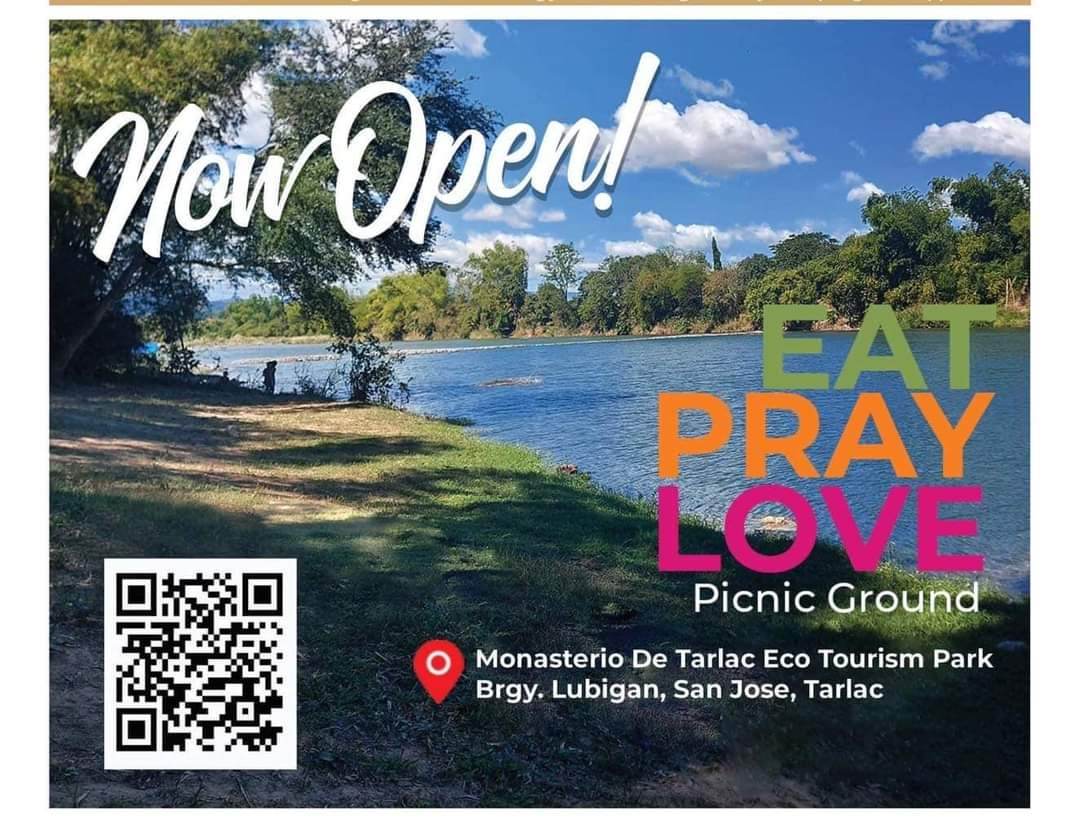 Aside from the Filipinos, different nationalities around the globe also stayed within the year, such as from Japan, United Kingdom, Taiwan, China, South Korea, USA, New Zealand, Canada, Singapore, Indonesia, Malaysia and India.
Different notable individuals also stayed and were served the Midori way, the first armless pilot Ms. Jessica Cox, the Drift King, Keiichii Tsuchiya, the Defense Minister of Russia Sergei Shoigu, the Russian Ambassador Igor Khovaev, the Thailand Deputy Prime Minister, Prawit Wongsuwan to name some.
The Midori Memories
As the saying goes, "things may end but memories last forever". Midori Clark Hotel and Casino became a top venue for creating lavish memories. The Festa Hall – main hotel ballroom became the top of the mind venue for socials, corporate and most especially weddings within a year, 57, 018 guests were served in the grand ballroom for said occasions. The hotel itself is being dubbed as the "photographers' haven" due to countless angles that unleashes their creativity.
Creating countless memories, Midori Clark Hotel and Casino was delightedly chosen as the venue for the ASEAN 2017 Welcome Dinner for Myanmar State Counsellor Aung San Suu Kyi and Cambodian Prime Minister Hun Sen hosted by former President Gloria Macapagal-Arroyo and The ASEAN Defense Ministers' Meeting. Aside from the Heads of State, the welcome dinner was also attended by the local and national leaders, well-known showbiz personalities and Cabinet Secretaries. Providing service and hospitality beyond borders, welcoming the notables and luminaries in the world is much pleasure, considering that we are representing the province of Pampanga as the venue for the historic event.

Midori Clark Hotel and Casino also staged back-to-back in-house events for a complete Midori experience, not only for guests but for the whole community. Kid-friendly events such as the first Halloween party-Wickedly Fun followed by an Easter Celebration – Midori Candyland.
With the success of such events, a Moana-themed Halloween Party – Protectors of Motunui and second leg of an Easter Celebration – EGGSploring Midori were also staged.
Aside from the kid-friendly events, Midori Clark Hotel and Casino also spearheaded various events such as the General Managers' and Client Appreciation Night, Reggae Pool Party, Midori Beer Fest, Valentines Enchanting Dinner, A Night Before Christmas and Sparkles and Spirits Year Ender Gala to name a few.
Sharing the memories with the whole community, Midori Clark Hotel and Casino launched its first Corporate Social Responsibility Program last 2016 dubbed as the Angels' Dream. Bearing the tagline "Be a Blessing by Giving", the program fulfilled the wishes of 900 Aeta kids last Yuletide Season. This aims to provide each kid a brighter, more meaningful and something that always leaves a jolly mark in the heart every Christmas.
Aside from the Angels' Dream, Midori Clark Hotel and Casino also supports a hopeful project – A Language of Service, which will benefit the deaf individuals in pursuing their goals, ambitions, and aspirations for work and skills development thru on field experience as employees at the hotel. To date, a number of deaf individuals are rendering service at Midori Clark Hotel and Casino and are enjoying equal benefits with the rest of the team.
Treats – Promotions and Campaigns
As part of the celebration, the hotel runs several online campaigns and promotions which encourages past guests to impart.
Share A Moment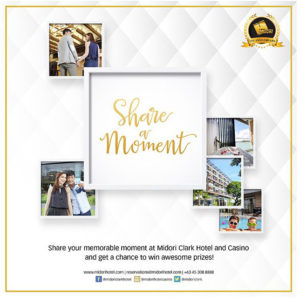 Relive your fondest moment at Midori Clark Hotel and Casino and get a chance to win awesome prizes. Simply post on Instagram, use some the hashtags #MidoriAnniversary and #MidoriMemories. Entries who can meet the requirements will have a chance to win an Overnight Stay in a Superior Room with breakfast for two (2), Dinner buffet for two (2) at Toscana Dining, Ala carte meals for two (2), Afternoon Tea for two (2) and Bottomless Wine promo coupon for two (2).
Flavors of Midori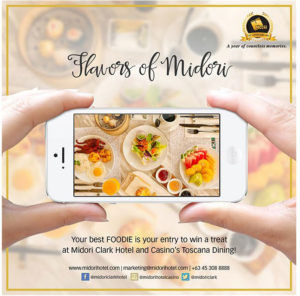 Foodies out there are encouraged to submit their most "instagrammable" food photo taken in different dining outlets such as Café Midori, Toscana Dining, Baccus Lounge and Cigar Maduro. Five (5) dinner buffet vouchers for two (2) and five (5) ala carte vouchers worth Php 500 will be given away to top qualified entries.
50-50 Rooms Promotions
On the other hand, here's a promotion that allows guests to enjoy 50% discount on rooms based on published rate with a free upgrade to the next category. Upon check-in, guests will get 50% discount coupons for Afternoon Tea, Wine All You Can and Ala Carte.
Exciting prizes such as 32" inches Samsung LED TV courtesy of Savers Appliances, Overnight Stay for 2 at Midori Clark Hotel and Casino, Round-trip local destination ticket for two (2) courtesy of Air Asia Philippines will be at stake for guests availing the promo.
Don't miss out this Anniversary Treat, use the code UPGRADE to book and enjoy this promo.
Milestones – Awards and Honors
Reviewed as the "most commendable hotel in Clark", mentioned as "the future rising star" and described as an "epic hotel experience". Words have proven that Midori Clark Hotel and Casino provides a guaranteed satisfaction service to guests.
In just a year with this commendations, Midori Clark Hotel and Casino bagged back to back awards and reaches a lot of milestones.
From the well-known online travel sites – Expedia, Booking.com and TripAdvisor, Midori Clark Hotel and Casino receives back to back awards for its first year.
A guest rated award of Excellent with a 4.5/5 rating was given from Expedia while a rate of 9/10 for the guest review awards from Booking.com.
Aside from the Booking.com and Expedia, Midori Clark Hotel and Casino also received a Certificate of Excellence from the world's largest travel site – TripAdvisor.com. The said awards honor exceptional hospitality businesses that have received consistent praise and recognition by travelers on the travel sites.
For Midori Clark Hotel and Casino, the awards are the outcomes of an exceptional service and hospitality for the past year. The high percentage of hotels earning the awards reflects the brand's commitment to providing a luxurious way of living and a Midorified experience.
"We are proud of Midori Clark Hotel and Casino earning an excellent rate in a span of one year. These awards truly represent the voice and feedback of our guests, exceeding their expectations during their stay. Words aren't enough to express how grateful we are for your reviews and good ratings. These awards motivate us to continue, to do even more and provide definitely the best only for our guests." Says Vic Chan, General Manager of Midori Clark Hotel.
Emerging online, Midori was also recognized by the Department of Health giving an excellent rate for the sanitation standard rating for being the host of the Association of the South East Asian Nations (ASEAN) last October and November 2017.
High hopes to more countless memories
In just a year, Midori Clark Hotel unleashed countless memories. The first year only marks the beginning of these memoirs in which tons and even innumerable memories are too look forward to the coming years. Whilst work will be in progress on the next door plot, a big change may occur for the next months but Midori Clark hotel will add more amenities to more memories.
A number of new 4-5 star hotel properties may open in Clark, but Midori Clark Hotel will continue in concentrating on offerings with the high level of personalized service beyond borders. The Midorified experience will create its legacy as one of the best hotel, event venue and go to place for blissful memories.
 "With these countless memories created, Midori Clark Hotel and Casino would like to extend our deepest gratitude to all our guests who patronize Midori. We would also like to congratulate the staff and whole Midori community for delivering great service to customers, exceeding beyond hospitality standards and providing a great service from the heart with all smiles. We are also grateful as well for the support of our partners, our friends from the media and our subsidiaries. The media played a big role in creating the countless memories, without the support of our media friends, we weren't able to deliver our vision to provide heartwarming services and let our guests experience the green living in luxurious ways. " GM Vic Chan said.
It has been 365 days, 12 months and a year of countless memories. New uncountable memories will be created but the unique and caring ethos of Midori where everyone feels part of a close and successful family will always remain.
Thank you for being part of it!
Get social with us!
Facebook – @midoriclarkhotel
Instagram – @midorihotelcasino
Blogspot – midoriclarkhotel.blogspot.com
Inquiries:
Rooms – reservations@midorihotel.com
Restaurants – restaurants@midorihotel.com
PR & Marketing – marketing@midorihotel.com