Cebu Pacific has strengthened its presence in central and northern Luzon with the launching of 15 domestic and international destinations from the Clark International Airport.
On Friday morning, Cebu Pacific has officially launched its maiden flight to Bangkok kicking off the start of other domestic flights this month all the way to June.
The domestic routes of Cebu Pacific from Clark are: Clark-Caticlan, Clark-Davao, Clark-Cebu, Clark-Iloilo, Clark-Bacolod, Clark-General Santos, Clark-Cagayan-De Oro, and Clark-Puerto Princesa.
The international routes of Cebu Pacific from Clark are: Clark-Hong Kong, Clark-Bangkok, Clark-Singapore, Clark-Narita, and Clark-Macau.
Cebu Pacific has sought to strengthen its 3rd hub in Clark, now emerging as the largest airline servicing northern and central Luzon.
Cebu Pacific's expansion in its Clark hub came in the wake of additional fleet of aircraft comprising 10 new Airbus NEO aircraft that will be delivered in 2023.
The relaunch of its Clark hub allows Cebu Pacific to continue providing great value for its passengers, with an additional 10,000 seats per month and fares for both domestic and international flights 30% lower than their pre-pandemic average. It will also boost the airline's network from its Clark hub and reestablish it as an important gateway for local and international travelers.
To support this expansion, CEB is set to take delivery of three additional aircraft which will be based in Clark. These are on top of the 10 new Airbus NEO aircraft that will be delivered in 2023 to expand the airline's fleet.
"The launch of our Clark flights today is a fulfillment of Cebu Pacific's mission to help make air travel more accessible and affordable for travelers in north and central Luzon. This expansion will give the traveling public more opportunities to explore the Philippines and the rest of the world," said Xander Lao, Cebu Pacific President and Chief Commercial Officer.
"We are excited to reestablish our presence in such an important gateway that will boost accessibility and connectivity for the traveling public. Furthermore, it allows us to boost our third operating hub in the Philippines that will help generate economic opportunities to support the country's growth agenda," said Lao.
With its Clark expansion, Cebu Pacific is expected to hire at least 140 pilots, cabin crew, and on-ground staff. Its presence in Clark is also expected to provide than 4,000 jobs for the locals.
Noel Manankil, President and Chief Executive Officer of Luzon International Premier Airport Development (LIPAD), the private consortium that manages Clark International Airport, reiterated its support to CEB's initiatives to grow its network and capacity from the station.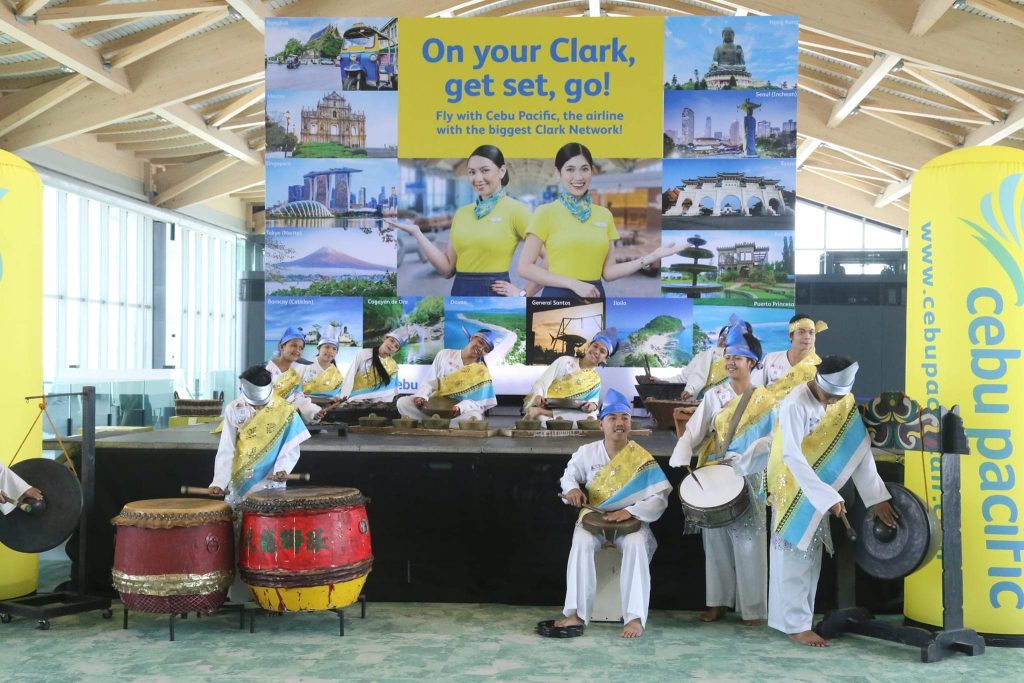 "Clark International Airport and Cebu Pacific are working closely with each other to ensure a seamless experience for travelers. Our brand-new terminal is ready to welcome Cebu Pacific passengers travelling to and from the best domestic and international destinations and serve as the window to the Philippines for visitors coming from different parts of the world," Manankil said.
The Department of Tourism (DOT) lauded CEB's efforts to help spur travel to Clark and the rest of the Philippines.
"The increased connectivity from Clark will further solidify the station's position as a premier tourism hub in Central Luzon. This initiative will also attract more investors to find business opportunities in the area which will translate to additional jobs for the locals," said Tourism Sec. Christina Frasco.
CEB is firmly in place for full recovery as it restores 100% of its pre-COVID network and capacity, aided by its unbeatable seat sales, widest domestic network, and reinstatement of all its international destinations.
The airline flies to 35 domestic and 25 international destinations, spanning across Asia, Australia and the Middle East.