CITY OF SAN FERNANDO — Reports have confirmed that the wife of Pampanga 3rd District Rep. Aurelio "Dong" Gonzales was among the fatalities in Friday's attack at the Resorts World Manila (RWM).
In an official statement, RWM identified Elizabeth Panlilio Gonzales as among the 35 casualties as of 3 p.m. yesterday.


Gonzales' wife was at the RWM as a guest when the attack by a supposedly lone gunman transpired.
According to friends close to Gonzales, Elizabeth's wake will be at Heritage Memorial Park in Fort Bonifacio, Taguig City.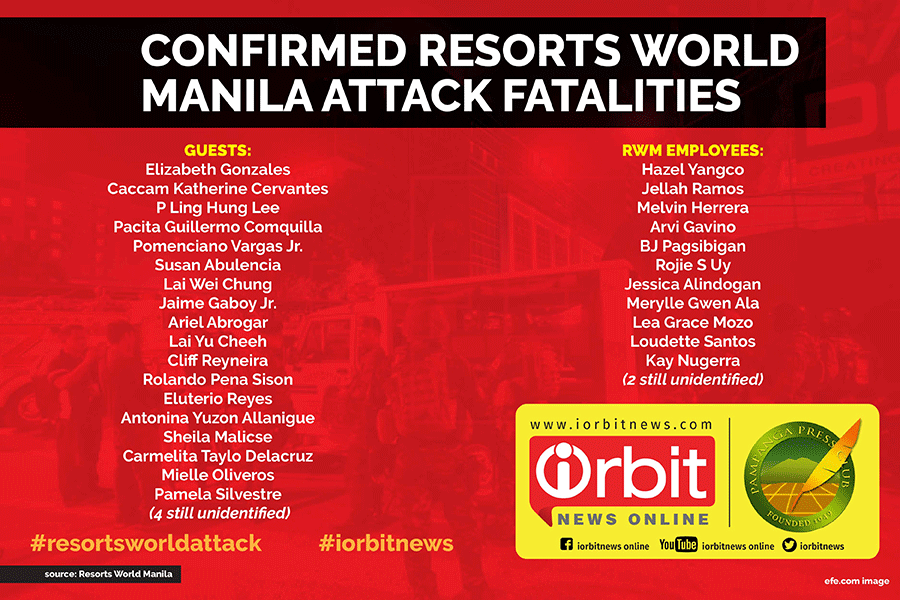 RWM management confirmed that 13 of the casualties were employees and 22 were guests, including Gonzales' wife.
"We are one in mourning with the families of those affected by the tragedy. This is also the very difficult time for all of us here in RWM. We consider our guests, patrons, and our employees as our family," RWM said in a statement.
Bodies were found in comfort rooms, corners and other places where the thick smoke trapped and suffocated the victims.
Two employees and four guests are still being validated as of this time according to the Resorts World Management. Most of the victims are female who got trapped inside the building.
Fifty-four people reportedly received minor injuries because of the attack.
The nationalities of some foreign victims were not mentioned in the list released by the management.
Chief Operations Officer Stephen Reilly faced the media and went emotional while reading the official statement of Resorts World Manila.