CITY OF SAN FERNANDO — Mayor Edwin "EdSa" Santiago lauded employees here by calling them 'modern heroes' during the city's kick-off celebration of the 117th Philippine Civil Service Anniversary on Monday.
"We join the annual celebration to recognize the employees' contributions in the pursuit of a transparent and efficient government. May this also serve as a reminder for all of us to continue manifesting the act of "malasakit" to the public," said EdSa.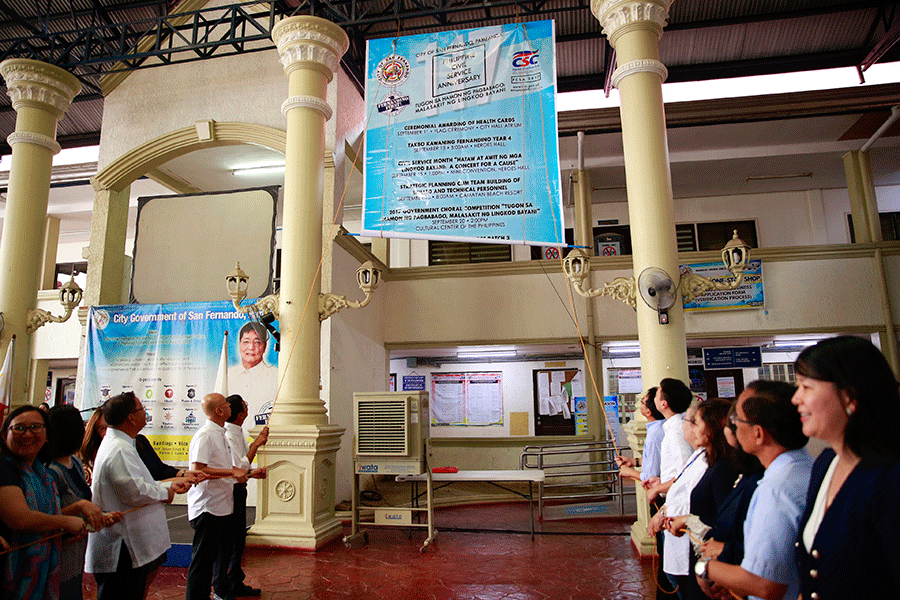 For her part, City Human Resource Development Officer Rachelle Yusi presented this year's calendar of activities which started with the ceremonial awarding of health cards to permanent employees.
"The City Government has partnered with the Philippine British Assurance Company not only to secure the employees' emergency care and hospitalization but to promote health and wellness among all public servants in the city. Each employee is entitled of a maximum benefit limit of P220,000," Yusi said.
Other lined up activities include the Takbo Kawaning Fernandino Year 4 on September 13 wherein the first 150 finishers of different categories will receive cash prizes.
This will be followed by a concert for a cause dubbed "Hataw at Awit ng mga Lingkod Bayani" on September 15. All proceeds will go to the soldiers of Marawi and Munting Tahanan ng Nazareth, a home for the poor and disabled located in Mabalacat City.
There will also be a Strategic Planning cum Team Building of Skilled and Technical Personnel on September 16.
On the 20th, the city choir will showcase Fernandino talent during the 2017 Government Choral Competition at the Cultural Center of the Philippines in Pasay City.
Birthday celebrators for the months of July to September will have their Values Alignment Course on September 22.
The exceptionally hardworking servants and those who devoted long service will also be recognized thorough the Program on Awards and Incentives for Service Excellence (PRAISE) on September 25 to be followed by the Loyalty Awards on September 28.