CITY OF SAN FERNANDO, Pampanga — Various national government agencies provide aid to areas in Central Luzon severely affected by Monday's 6.1 magnitude earthquake.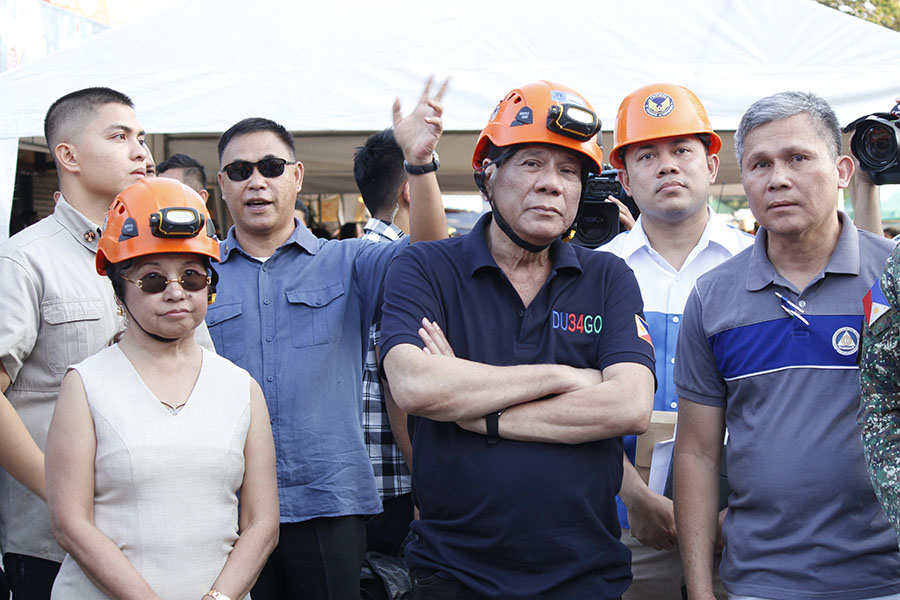 During a situation briefing presided by President Rodrigo R. Duterte this evening, Health Secretary Francisco Duque III assured that medical expenses of the victims will be shouldered by the PhilHealth through the Department's Point of Service program.
"As of 3:00PM today, a total of 112 injuries were reported in Pampanga. 16 were admitted at the Jose B. Lingad Regional Memorial Hospital of which 4 were already discharged. 21 were admitted at the Romana Pangan District Hospital in Floridablanca while the remaining 16 were admitted at the Jose Songco Lapid District Hospital in Porac town," Duque said.
The secretary assured that patients are being managed adequately and that there are no problems in terms of blood supply, medication, and operation for serious cases.
"We are also monitoring the absorptive capacity of DOH-retained hospitals and is in close coordination with district hospitals for needed assistance or complementation of staff," he added.
He also instructed medical center chiefs to continuously monitor the day-to-day condition of patients.
Meanwhile, Social Welfare and Development Secretary Ronaldo Bautista said they have already distributed 200 family food packs to affected families in Porac town.
"We have provided burial cash assistance to initially 11 individuals. We also gave medical and financial assistance to 17 wounded individuals," Bautista said.
He also reported that they also provided food packs to 445 families housed in two evacuation centers in Pampanga and one in Zambales.
DSWD also provided emergency shelter assistance to 56 families in eight communities in Porac amounting to PhP30,000 for totally damaged houses and PhP10,000 for partially damaged houses.
"We still have more than 14,000 family food packs ready for distribution. All in all, a total of PhP10.5 million aid in cash and in kind is on standby to aid the victims," Bautista said.
In addition, Housing and Urban Development Coordinating Council will also provide PhP5,000 to PhP10,000 worth of building materials for the construction of damaged houses upon validation from the concerned local government units.