A girl's childhood dream to become a Flight Attendant gave birth to the International Cabin Attendant Training School, also known as ICATS.
It started in 2009 when that girl, Ms. Princess Joy Garcia, found herself at a crossroad to either pursue this dream or make it happen for others. Garcia decided to choose the higher road filled with purpose — to fulfill the dreams of others to see the world as Flight Attendants.
ICATS was established in the year 2009. Along with Garcia, the other founders were Mr. Arthuro "Arth" De Leon and the late Ms. Carmelita "Armie" Guiao. They shared the same mission, passion and vision to help young trainees fulfill their dreams of becoming a Flight Attendant.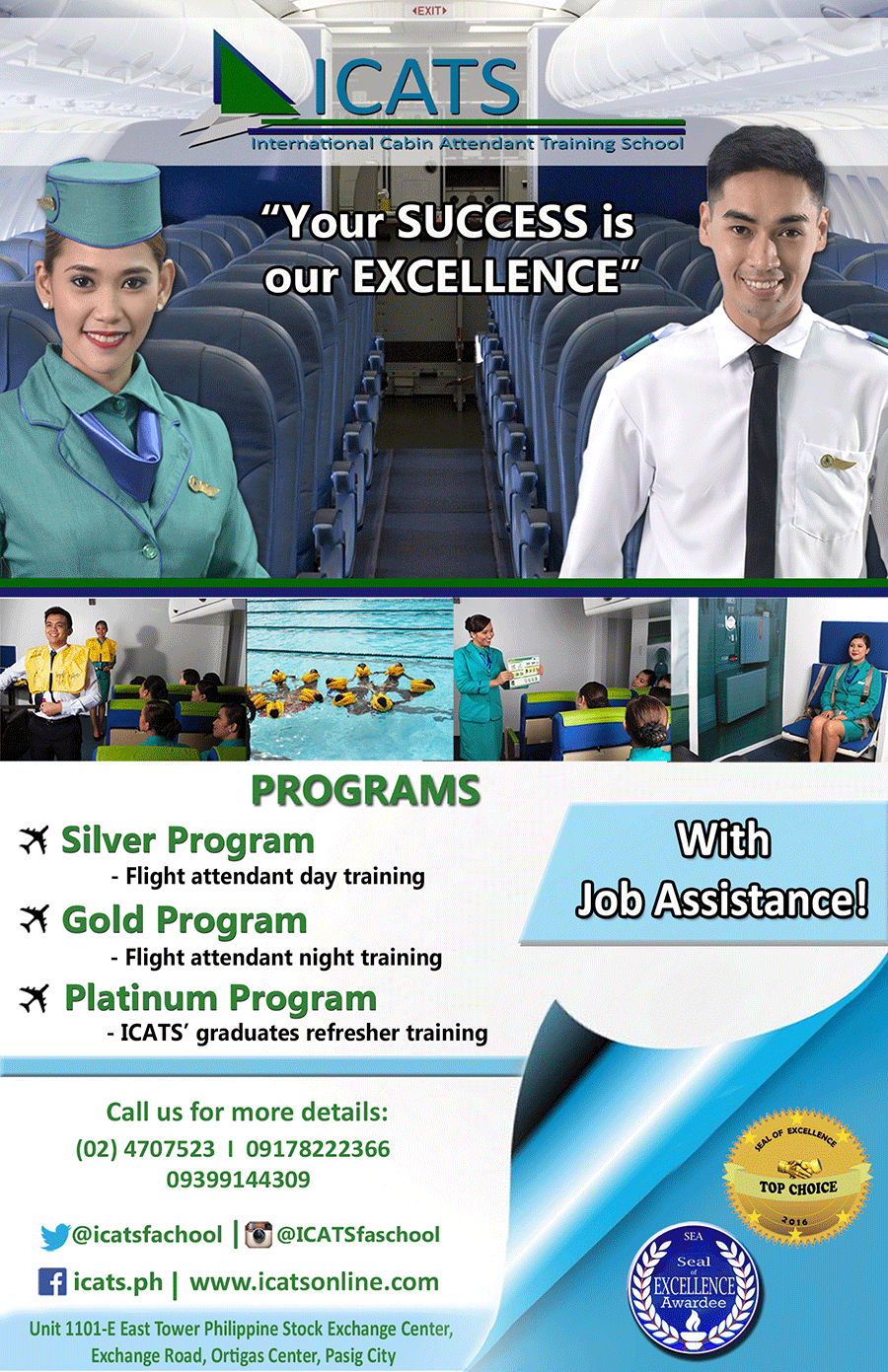 Its first batch, launched in April of 2010, only had 3 enrollees. But the ICATS team was not discouraged as they became more fired up to face the challenges. Soon, succeeding batches showed great potential for ICATS to really soar higher. It was then fulfilled in 2014 when there was a rapid increase of enrollees that required ICATS to transfer to a bigger venue with more classrooms. In 2017, ICATS continued to expand its wings by moving to a more spacious school venue to further accommodate the increasing number of enrolees.
In the same year, ICATS also launched the "ICATS Cabin Trainer" — a mock room that is a replica of an aircraft's Business and Economy class setting. This allows students not only to get a real feel of an aircraft's in-flight atmosphere, but also to better educate them in their practical training from aircraft familiarization, emergency procedures to in-flight services and so on.
ICATS believes that its success is the fruit of a team that works together with one mission, passion and vision. Every member has an integral role in the organization. Its people, who are experts in their own fields, are the wings behind ICATS' success.
The expansion emboldened the country's top Flight Attendant school to not only hire more people but also to serve more students in the hope that ICATS can change their lives for the betterment of their families.
In the next years to come:
· ICATS will continue to accomplish its mission; not only in developing trainees into becoming a full-fledged flight attendant, but also in teaching them the true meaning of L.I.F.E.
· ICATS will continue to fulfill its vision; to see all its graduates flying to every nation carrying in their hearts the Leadership, Integrity, Faith and Excellence that they learned in their 30 days training.
· ICATS will continue to passionately serve others and to become a vessel of hope especially to the young ones who are brimming with dreams to see the world.
· ICATS will continue to be the most preferred training school for learning and developing personal skills of all service industry.