ANGELES CITY — Indignant private practicing midwives and owners of more than 300 birthing stations all over Central Luzon most of whom members of three midwives' groups have called on the Department of Health (DOH) to review Circular No. 2021-005 that prevented them from administering health care to pregnant women fearing maternal and neonatal deaths may increase in the country.
The Integrated Midwives Association of the Philippines (IMAP), the Philippine Society of Private Midwife Clinic Owners (PSPMCO) and the Private Practicing Midwives Association (PPMA) have joined forces in a media forum with a theme: "Empower Birthing Clinics To Improve Rural Healthcare Access, Referrals & Disease Monitoring" held in this city opposing the said department circular, otherwise known as the "Adherence to the Definition of Low Risk and High Risk Pregnancy in the Implementation of Administrative Order No. 2012-0012 – Rules and Regulations Governing the New Classification of Hospitals and other Health Facilities in the Philippines" approved by former DOH Secretary Francisco Duque III.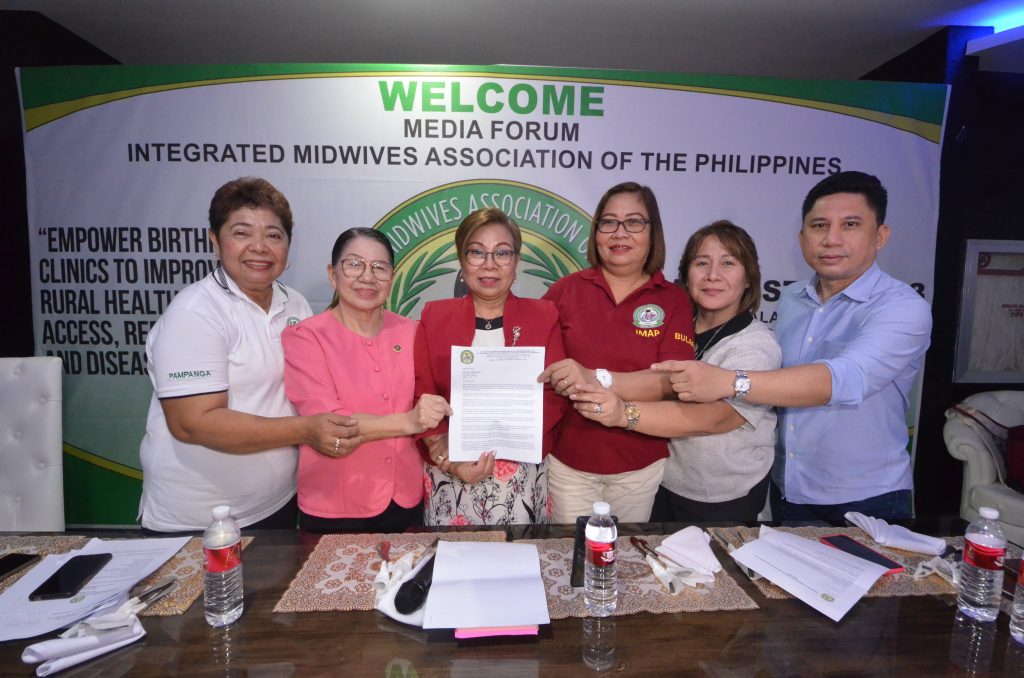 The groups have also expressed disappointment over the failure of the Philippine Health Corporation (PhilHealth) to settle the bills of the birthing mothers. IMAP alone is composed of 65,000 to 75,000 licensed midwives extending services to some 547 birthing centers all over the country.
The groups' position paper, which was addressed to DOH Secretary Teodoro Herbosa, further explained the administrative order is in contrary to Republic Act 10354 ( Responsible Parenthood and Reproductive Health Act of 2012) which eradicate discriminatory practices, laws and policies that infringe on a person's exercise of reproductive health rights which guarantees universal access to medically-safe, non-abortifacient, effective, legal,affordable and quality reproductive health care services.
The midwives also argued that this policy apparently inhibits the freedom and right of choice of the primigravid (1st born) and multigravid (5th born) women to access quality maternal and neonatal services which are holistically given by midwife-owned birthing clinics.
The position paper was duly signed by the following IMAP, PSPMCO and PPMA national, regional and provincial chapter officers who affirmed their strong opposition in the implementation of the issued administrative orders: Dionica Saquilon, National President, Patricia M.Gomez, National Executive Director, Amethyst Castro, President IMAP/PPMA – Region 3, Lany Manaloto, President, IMAP, Region 3, Nely Cuenca,1st Vice President, Bulacan Chapter, Corazon Dela Cruz, 2nd Vice President, Nueva Ecija Chapter, Cecilia Paguio, Bataan Chapter, Zenaida Ferrer, Auditor,Tarlac Chapter, Gwendolyn Tungol, Board of Director, Pampanga Chapter,a nd Flocerfida De Castro, Board Director, Olongapo Chapter.
MATERNAL AND NEONATAL DEATHS MUST BE ADDRESSED PROPERLY
The groups pointed out the order will not address the maternal and neonatal deaths but rather worsen its number because instead of having delivery in a midwife-owned birthing clinics with skilled birth attendant, they might avail home deliveries under the services of "hilots", that are now happening on some parts of the region. Their decisions might be influenced by their experiences in the hospitals: rejection for admission, poor delivery services, unhealthy approaches of government hospital personnel, unfavorable and overcrowded hospital environment and unexplained hospital bills. The growing number of cases of a Cesarean section also attributes the referrals of the primigravid and multigravid cases.
Hence, Department Circular 2021-005 Section II.C categorizing the primigravid (G1) and grand multigravid (G5 or more) and Section II.E pregnancy among women who are more than 35 years old regardless of parity as High Risk are strongly opposed and unacceptable.
In addition, it was stated that it will just worsen the need for additional bed capacity in the hospital settings. "We will never achieve our vision to heal as one if we will not work as one on good health and well-being to "Reduce Infant and Child Mortality and Improved Maternal Health," the group stressed.
PRE-PANDEMIC TO POST-PANDEMIC: BIRTHING CLINICS ARE EFFICIENT, EFFECTIVE
During the time of the COVID-19 pandemic, birthing homes and lying-in clinics cater to the maternal need of pregnant women and practicing strict infection control measures. Their contribution during the pandemic addresses these needs and lessens the chance of spreading the virus among pregnant women and unborn children. That up to these days, they serve as decongestant to overcrowded hospitals, particularly government owned hospitals in decreasing non-complicated normal deliveries.
The midwife-owned birthing clinics are manned with skilled birth personnel (midwives,nurses and physicians) who are equipped with the competencies on basic emergency obstetrics and newborn care and are compliant to the minimum facility standards set by the DOH and are working closely with partner-referral institutions for possible obstetrical and neonatal management.
In conclusion, birthing clinics have been consistently compliant with different DOH administrative issuances on facility standards and required equipment to ensure that there will be no maternal and infant morbidity and deaths because the groups firmly believed that these are predictable, preventable and treatable if the facility is compliant with the licensing standards and training requirements.
The groups urged Secretary Herbosa to review this order and clarify matters on the specific provisions of the clarification circular in order to have comprehensive partnership with all the concerned professionals, government agencies and other partners in the care of mother and child.