One's life must continue to grow.
Sometimes, you deal with life-changing circumstances that signify your purpose in life.
And also, life can be full of challenges that give you failure and triump.
A sundown may temporarily take away the light and hope. Have you ever experienced a moment in your life when hope starts to wither?
After committing mistakes, is there a chance to have a fresh start and make the crooked lines straight and lead you to the right direction?
Many people will say that living behind the bars is not easy particularly in a cell that is beyond its capacity.
Some experiences extreme sadness because their families have turned their backs during the darkest days of their lives.
Despite of the things that weaken hope after committing mistakes, Bureau of Jail Management and Penology (BJMP) believes there's always a way to nurture inmates.
Persons Deprived of Liberty (PDL) of the BJMP Female Dormitory in Tarlac City, while behind bars, they never stop engaging in activities that will make them become a better and renewed person before their reintegration to the society.
According to BJMP Female Dormitory Head Jail Inspector Cecilia Tamayo they are keen in pushing the Bureau's mantra which is "Changing Lives, Building a Safer Nation" through extending humanely effort to empower and help all the female PDL.
Part of the empowerment program is the skills training and enhancement wherein inmates make various products out of beads particularly flower beads. It boost the confidence of all the female PDL.
"This program is one of the best ways for us to continue to learn new skills and to show that even though we are not yet outside, we can still grow and bloom like these flower beads that we are producing," Grace Perez (not her real name) a 30-year-old female PDL said.
A bead that may seem simple and small to others. A simple bead that reflects on the simple steps towards the full creation and production of a flower beads.
This livelihood product aims not only to gain income from it but to enhance the artistic capability of each PDL women while they are still under custody and awaiting trial.
Aside from this, BJMP strives to rebuild a strong foundation of trust and confidence of the PDL and serving as one of the supplements to make them feel that they can still bloom. Ensuring the facility is not a place for punishment but for restoration and upliftment.
Grace is one of the PDL that chooses to revive and regain her natural pigment. She chooses a decision to continue nurturing the confidence and sense of purpose. She believes that this phase is a test of faith and an eye-opener to lead them to the discovery of the best versions of themselves.
"Aside from this, we continue to know ourselves and discover other talents that will give us some hope realizing that even though we are in jail, it is the end of everything in our lives,"she shared.
Witnessing a day of that particular phase of their lives, will make you realize that not all of them are criminals.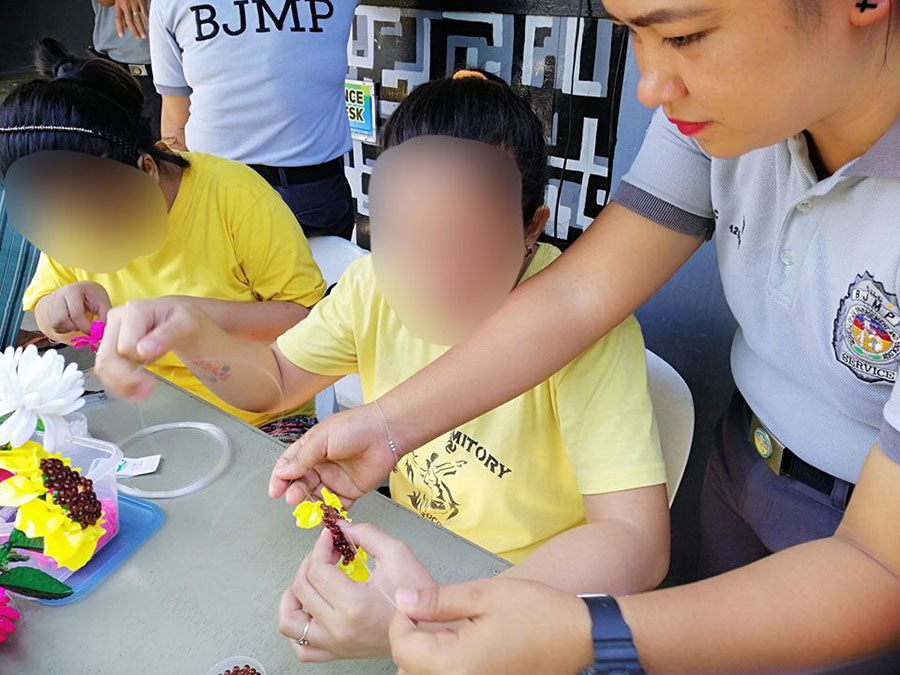 "Not all of us who are here in jail are considered criminals or bad person. Many of us were just lost in the right track because of poverty. But despite of this, we're still hoping to have a new start and a better life with our families," Santos said.
Just like a flower that undertakes the test of the season. A flower that needs to be watered to be able to have a brand new start and share their colors. A flower that needs to be nurtured even during the sundown.
With the assistance and programs of the government and private organizations, BJMP assures to provide and continue to empower and equip PDL with the right values and formation that will lead PDL to become a productive citizen of the country.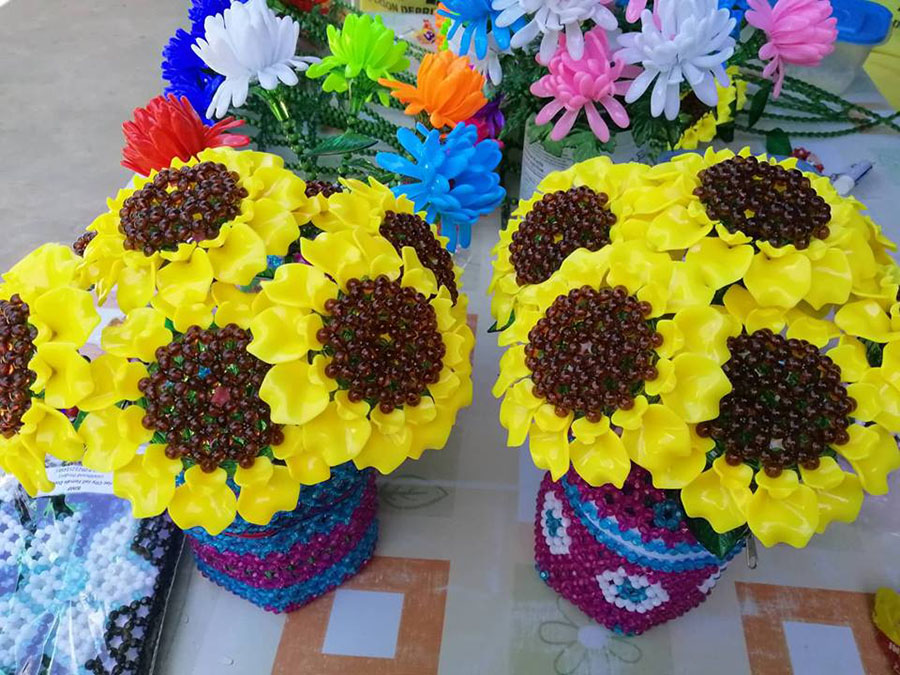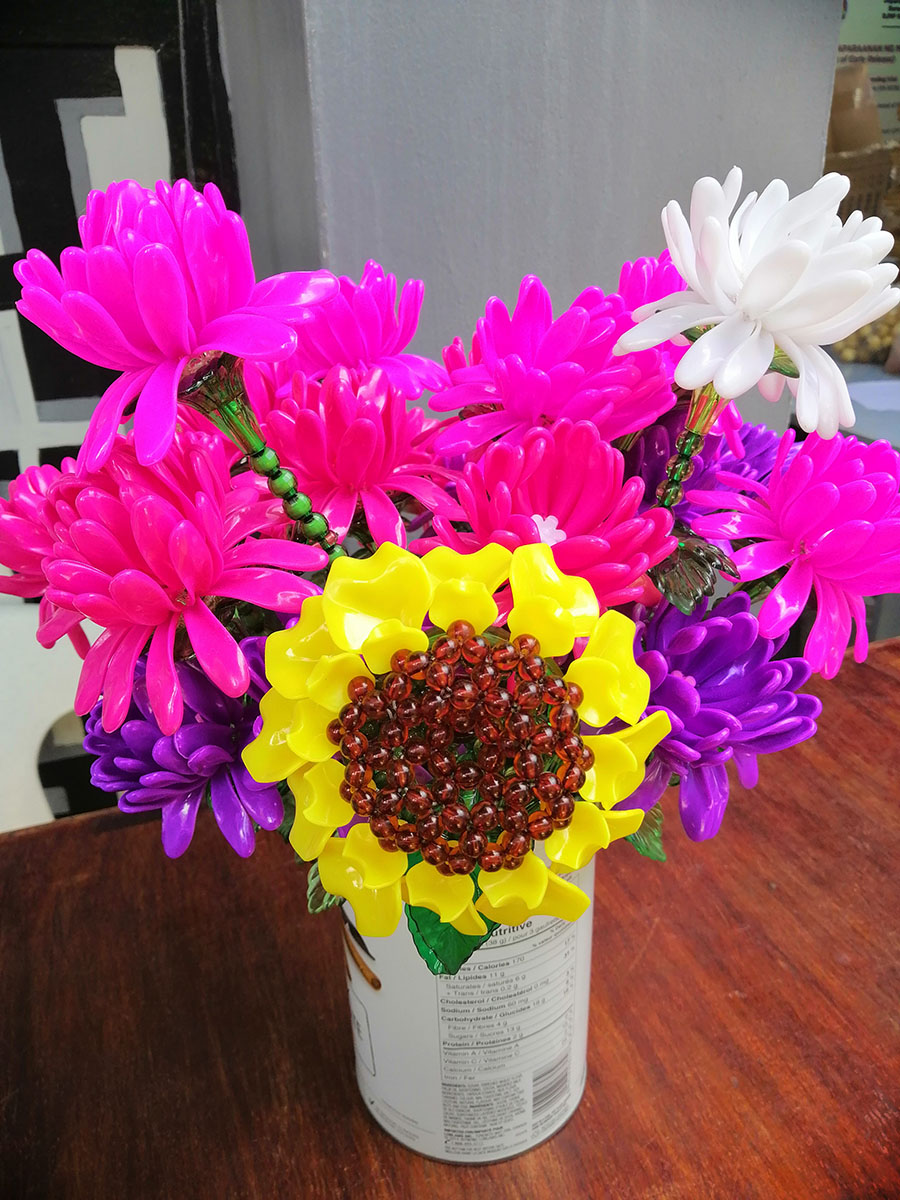 The flower bead products of female PDL which have been bought to different trade fairs in Tarlac City and been bought by visitors for souvenirs. The finished products will also be introduced to the local city government to gain more support and establish a sustainable income for the women deprived of liberty and their families. (BJMP Tarlac City Jail)
According to BJMP, the flower beads product of the female PDL have been featured to different trade fairs and patronized by the people for souvenirs for friends in other countries.
The finished products will also be introduced to the local government to gain more support and establish a sustainable income for the women deprived of liberty and their families.
Maybe some of you will wonder that they don't deserve a chance to be empowered and nurtured because they have committed crimes.
But as like BJMP is trying to do, they transform and change lives of every PDL into productive and responsible citizens.
The facility recognizes and value the dignity of every PDL and guarantee full respect for human rights. The facility helps them realize that life must go on towards the right trail.
They say that in life, it doesn't matter how many times you fall but what matters is how many times you stand and continue to fight. Choosing to fix and transform yourself into a better person not just for your own good but most importantly for the people around you and for your community and country as well.
Choosing to continue to grow and bloom even though the sun is not yet up because at the end of the day better things will come in your way if you will just learn how to see the goodness within you.