SUBIC BAY FREEPORT – The Subic Bay Metropolitan Authority (SBMA) foresees better days ahead for this premier Philippine free port, as the new administration seeks to build on past accomplishments to bring the Subic Bay Freeport to greater heights.
Expressing optimism for better performance by the Subic agency in terms of revenue, job generation and contribution to the economy this year, SBMA Administrator Wilma Eisma outlined measures to improve and expand Subic operations and urged both locator-businesses and workers here to do better.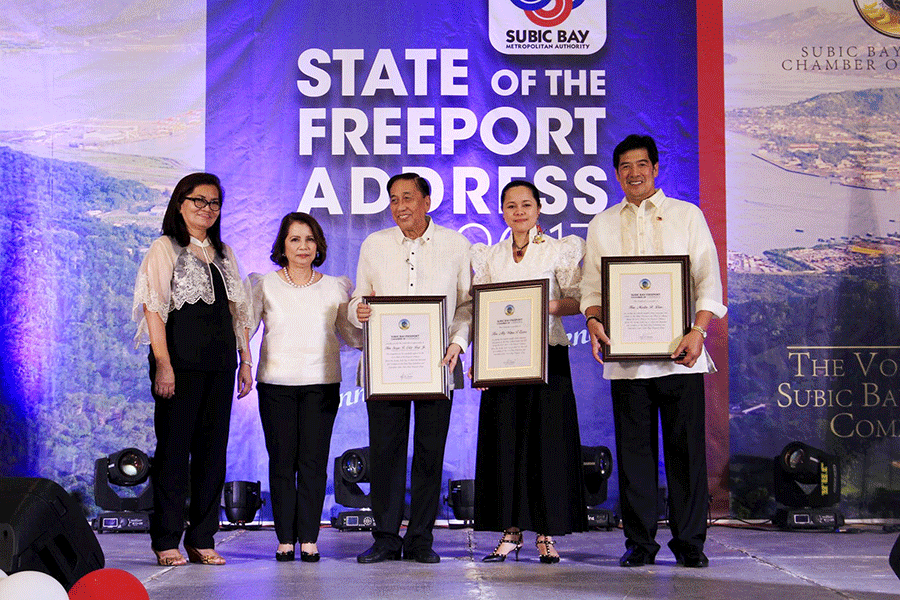 "We must look back into the past, so we could build a brighter future," Eisma said during her State of the Freeport Address (SOFA) at the Subic Bay Exhibition and Convention Center (SBECC) on Monday.
"Taking into account our performance last year, what we have accomplished can certainly be improved upon," she added.
According to the Subic official, the Subic agency earned a total of P727.6 million in the first quarter of this year, compared to P676.3 million in the first quarter last year.
Similarly, she pointed out that the SBMA posted a net income of P46.7 million in the first quarter of 2017, which represented a 148 percent increase over last year's P18.8 million net income.
Eisma also announced that the total cash and investments made by the Subic agency in the first three months of 2017 amounted to P4.57 billion, or a 24.84 percent increase over last year's P3.6 billion record.
On the other hand, the agency's total debt decreased by 8.79 percent in the first quarter, with a total of P6,644,026,284.10 for this year compared to P7,284,520,865.20 last year.
The administrator also pointed out that the agency's key performance indicators such as the number of investments, new locators, import value and export value all rose significantly for the Subic Bay Freeport in the same period.
"The number of total new investments here have slightly increased by one percent, from last year's P1,406,476,765 to P1,420,747,404 this year," Eisma announced during the SOFA, adding that the agency registered 47 new business locators in the first quarter.
Eisma also noted a similar increase in import value, from US$653.8 million last year to US$2.75 billion— or a 321 percent increase, and a 10 percent increase in export value, which rose from U$406 million last year to US$536.3 million this year.
Eisma added that companies such as Datian Subic Corp. and Toyota Subic, which located in the Subic Freeport this first quarter, have improved Subic's business outlook, along with the approval of Dynamik Konstruk Corp.'s P42-billion investment for industrial park development and renewable energy project.
She also said that the SBMA sees more revenue outflow from the ship-to-ship transfer operations of liquefied natural gas by Jovo, the largest clean energy provider in China which is expected to contribute an annual port revenue of P200 million, as well as that of Teekay Swan, a joint venture that controls the world's most expensive fleet of gas carriers.
Another billion-peso investment that the SBMA recently approved is the DM Leisure Corp.'s P4.6-billion golf course and leisure complex project. Eisma said that this will not only increase investments in the Freeport, but also boost the number of workers employed and the number of tourists visiting Subic.
Administrator Eisma made the State of the Freeport Address along with SBMA Chairman Martin Diño, who enumerated several development projects planned for implementation by the Subic agency. The SOFA is an annual event presented and organized by the Subic Bay Freeport Chamber of Commerce. (30)