Olongapo City – Zip Media Entertainment Production and ARCC Health Care Inc. Olongapo have signed a Memorandum of Agreement paving way for the "Siglakas Music Blast," a series of exceptional musical events with a charitable purpose.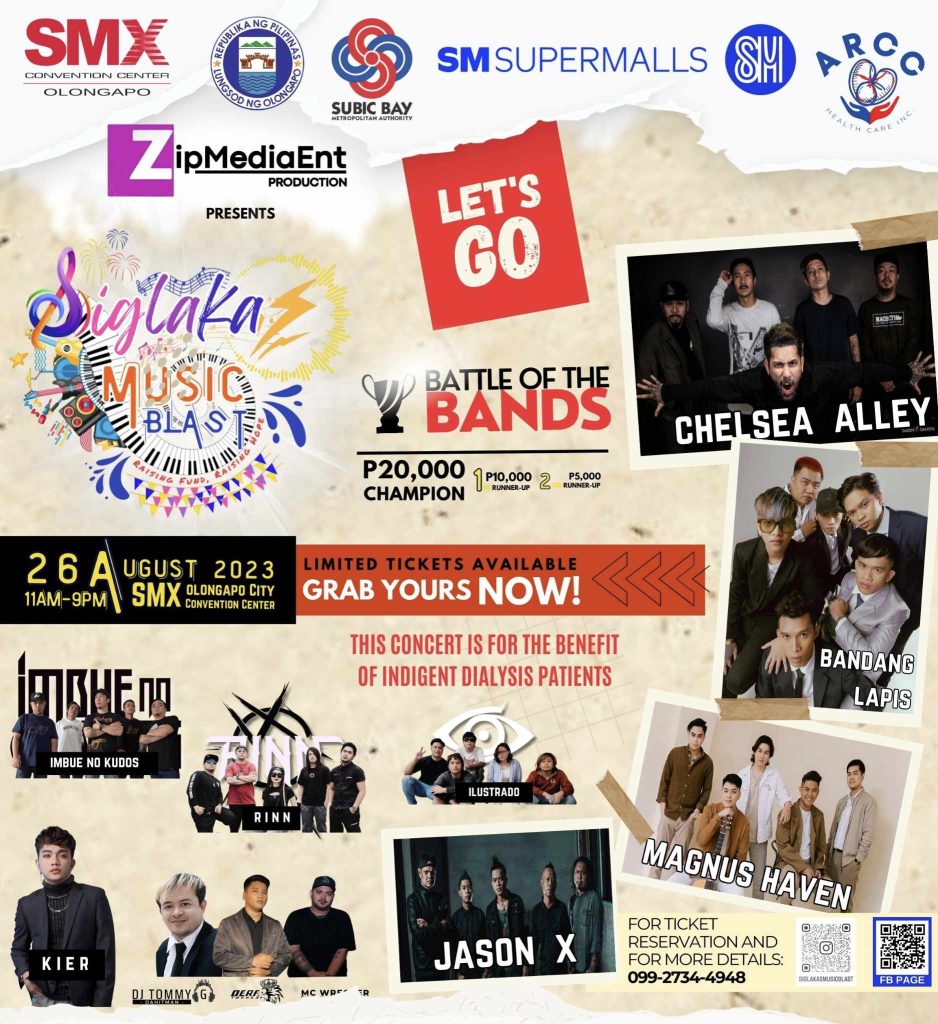 The contract signing took place on the 26th day of July 2023, solidifying the commitment of both parties to extend assistance to indigent dialysis patients and promote charitable activities. "Siglakas Music Blast" is an initiative organized by Zip Media Entertainment Production, a company aimed at bringing together music enthusiasts, artists, and philanthropists for a series of remarkable musical performances while emphasizing social responsibility.
Through collaborations with various organizations, the event seeks to make a positive impact by supporting charitable causes and providing much-needed assistance to vulnerable communities.
ARCC Health Care Inc. Olongapo, represented by its President, Anthony Aquino, and by Zip Media Entertainment Production, represented by General Manager Jen Magalong, have united to create an extraordinary event that fosters a spirit of giving back to society.
By combining their expertise and resources, both parties are committed to achieving their respective objectives while making a meaningful difference in the lives of those in need.
"We are absolutely thrilled to announce our esteemed partnership with ARCC Health Care Inc. and its visionary President, Anthony Aquino, for the highly-anticipated grand presentation of 'Siglakas Music Blast.'
This extraordinary collaboration signifies our shared vision of creating a profound positive impact in our community, particularly in uplifting the lives of indigent dialysis patients," expressed Jen Magalong. "As a leading entertainment production company in town, our mission is to go beyond mere entertainment, aiming to curate truly unforgettable experiences that leave a lasting impact on the lives of others.
Through our events, we continuously strive to unite the realms of entertainment and philanthropy, weaving a meaningful tapestry of compassion, empathy, and support for those in need. With 'Siglakas Music Blast,' we are determined to ignite a beacon of hope and showcase the incredible power of unity through the universal language of music," she added.
Anthony Aquino, President of ARCC Health Care Inc., stated, "We, at ARCC Health Care Inc. Olongapo, consider it a great honor to join forces with Zip Media Entertainment Production for the noble project. This collaboration holds the promise of not only providing entertainment but also fostering hope and support for those most in need."
ARCC is a respected healthcare organization dedicated to delivering quality medical care and support to the underprivileged, actively engaging in charitable initiatives to uplift underserved communities, ensuring that healthcare is accessible to all.
With the contract now in place, both organizations are set to commence the planning and execution of "Siglakas Music Blast." This exciting event will showcase a thrilling "Battle of the Bands" competition, along with an unforgettable concert featuring national indie bands such as Kier, Ilustrado, RINN, and Imbue No Kudos.
Moreover, the highlight of the event will be the captivating performances by four renowned national artists, including the mesmerizing Magnus Haven, the dynamic Jason X, the soulful Bandang Lapis, and the enchanting Chelsey Alley. Get ready for an electrifying musical experience that will uplift spirits and celebrate the power of music! For ticket inquiries, sponsorship opportunities, and further information about "Siglakas Music Blast," please contact us at our Siglakas Music Blast page.