ANGELES CITY — Government agents arrested Wednesday the alleged suspect in the Nov 11 road rage, beating black and blue a motorist, along MacArthur Highway in Barangay Balibago here, aftet he was spotted by plainclothes cop at Bucketeers Resto Bar, JJJ Revita Building, Tarlac City.
Chief Inspector Daryl Gonzales, chief of Station 4, Angeles City Police Office (ACPO), identified the suspect as Jojo Serafico Valerio, 30, freelance entertainer and resident of North Belton Communities, Quezon City.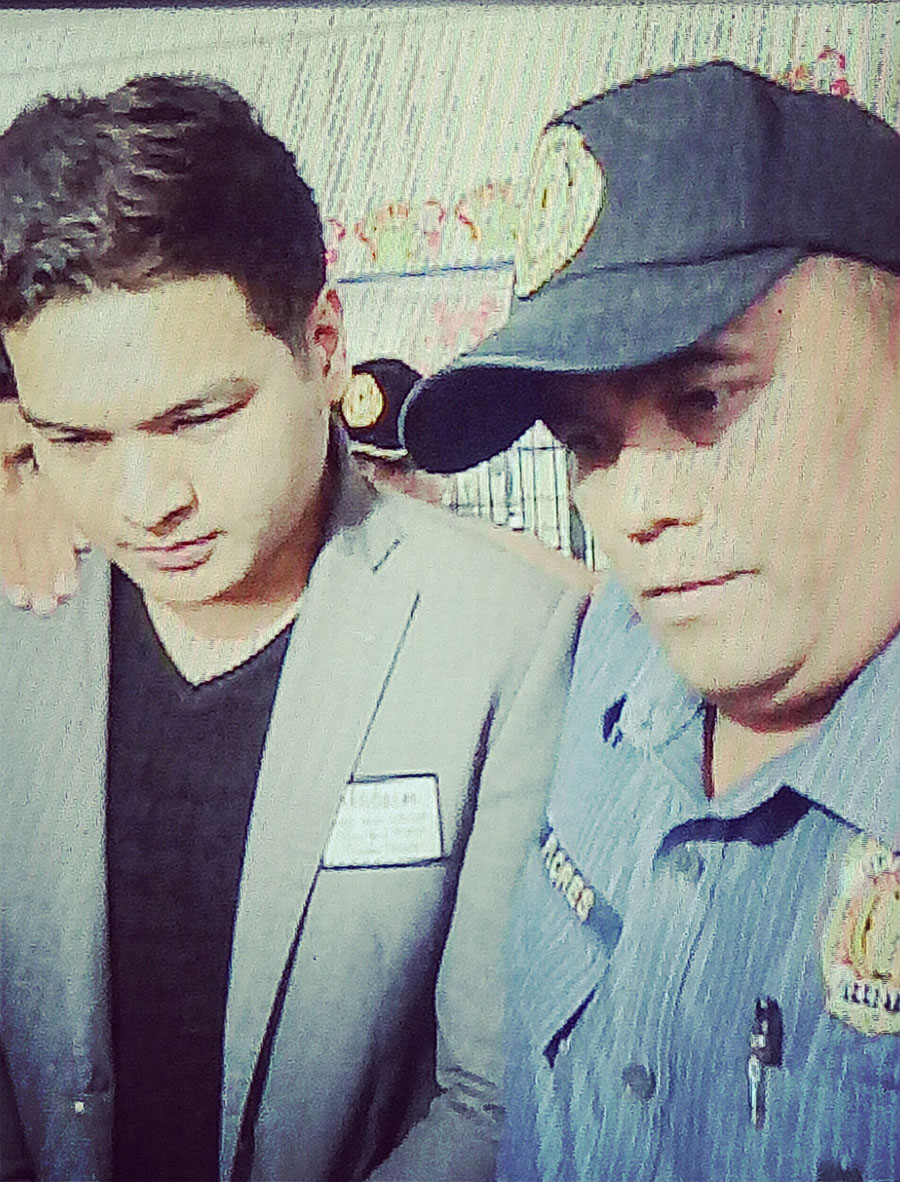 ROAD RAGE SUSPECT. Band player Jojo Serafico Valerio, the suspect in Angeles City road rage, is being escorted by a policeman to rhe prosecutor's office for inquest. (Jess Malabanan)
Gonzales said Valerio did not resist arrest.
The suspect, Gonzales said was performing at the Bucketeers Resto Bar when policemen from the Criminal Investigation and Detection Group and local police in Angeles City pounced on him shortly before midnight Wednesday.
In his report to Chief Supt. Amador Corpus, director, Police Regional Office 3 (PRO3) Gonzales said the suspect's arrest is a collaboration of the police and civilians in Angeles City.
"This is a team effort by the police and civilians who have worked closely to bring to justice the suspect," said Gonzales in an interview.
On Nov 11 (Sunday), the suspect, who was on board Toyota FG Cruiser sporting number 8 commemorative plate, alighted from his vehicle and confronted another motorist identified as Jesusito Juan Palma, 26, nurse, and resident of Valley Homes, Bgy Cutcut, Angeles City.
In his complaint, the victim stated that he was cruising along MacArthur Highway at Bgy Balibago when almost sideswiped by the suspect.
Palma said the suspect made a sudden stop ahead of his and one of the occupants alighted and walked towards my position. He said the suspect threw punches several times hitting me on different parts of my face.
Palma said the suspect hurriedly accelerated heading north after the incident. He sought police assistance for fear that the suspect might again inflict harm on him.
Gonzales said the suspect had been mistakenly identified as son of a legislator in Pampanga because of the commemmorative license plates.
The suspect, Gonzales said underwent inquest proceedings at the City Prosecutors office for different criminal offenses including serious physical injuries, grave threat and usurpation of authority.
The suspect remained lock-up at the Station 4 detention facility.