CITY OF MALOLOS, Bulacan – Thousands of Bulakenyos gathered here during the 7th prayer rally dubbed "Bulacan Day of Prayer-Peace for the Philippines" at the Bulacan Capitol Gym on Wednesday afternoon.
The prayer rally was attended by Defense Secretary Delfin Lorenzana, Presidential Spokesman Ernesto C. Abella, Justice Secretary Vitaliano N. Aguirre II, Gov. Wilhelmino M. Sy-Alvarado and Vice Gov. Daniel Fernando together with different religious leaders.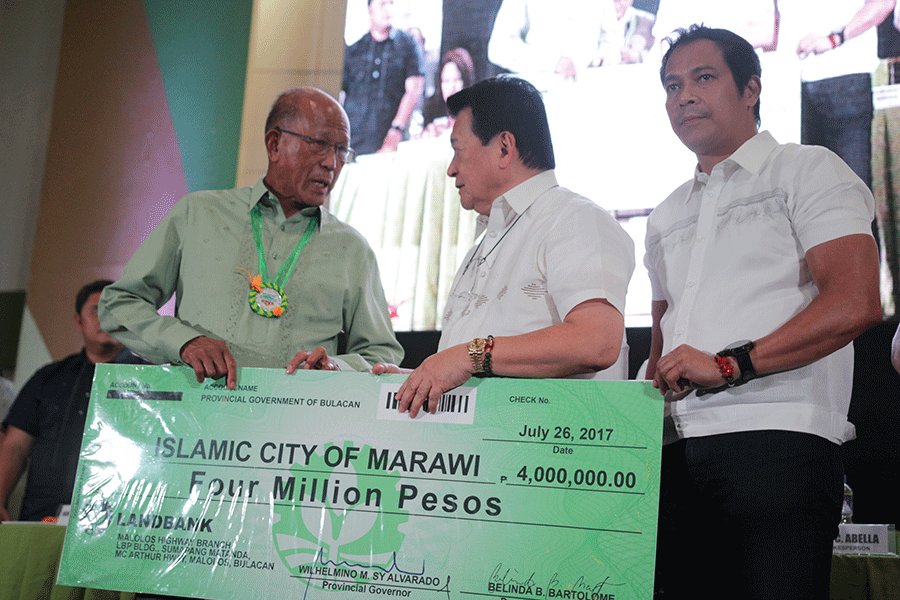 During the prayer rally, Bulacan officials led by Alvarado also handed donations for Marawi City – a P4 million cheque and 4,000 boxes of foodstuff for the evacuees of the Marawi siege. The donations were handed to the 3 cabinet secretaries.
Abella said the future of the Philippines lies at the "shoulders of the people of God."
He said that Gov. Alvarado is right the power of prayer is so strong and can make wonders and miracles.
"I look for a man that will stand within the gap. This is the present role of President Duterte. Can you imagine what might have happened if he (Duterte) did not make a stand against the dope menace, terrorism and other vital concerns of the country. Let us thank God for giving us a strong but dedicated leader. Let us all pray for our President and for peace and the future of our country," Abella said.
Aguirre for his part said the day of prayer is very timely because prayer can heal the land.
"All this things—drugs, terror, injustice—must end," the justice secretary said.
Lorenza said that the day of prayer -peace for the Philippines – should be replicated all over the country.
"This is really a big help to our country. Sa halip na punahin ng punahin ang ating pangulo, mas mabuting manalangin kaysa punalangin," Lorenzana said.
Alvarado thanked Abella, Aguirre and Lorenzana for participating in the day of prayer which has become a yearly event in the province.
He said that in times of disasters and when evil forces attempt to destroy a peaceful land, faith and prayers will help.
Alvarado said that it has become a common practice for capitol employees, particularly at the Provincial Disaster Risk Reduction and Management Office, to stop for a moment and offer prayers to God every 12 noon daily.
He also said that in every gateways of the province giant billboards were put up to remind Bulakenyos on the love and mercy of God as inscribed in II Cronicles – "If my people, who are called by my name, will humble themselves and pray and seek my face and turn from their wicked ways, then I will hear from heaven, and I will forgive their sin and will heal their land."
Vice Gov. Fernando said prayers are potent savers and encourage his provincemates to make it a daily habit in praying for peace, free from crimes and calamities. — Emil G. Gamos