Toyota is always known to be practical, economical and comfortable. Hearing all the words makes it seem like it's always lacking the word "fun" in it. But Toyota recently has managed to put "fun" in its new face-lifted City Car, the Toyota Wigo.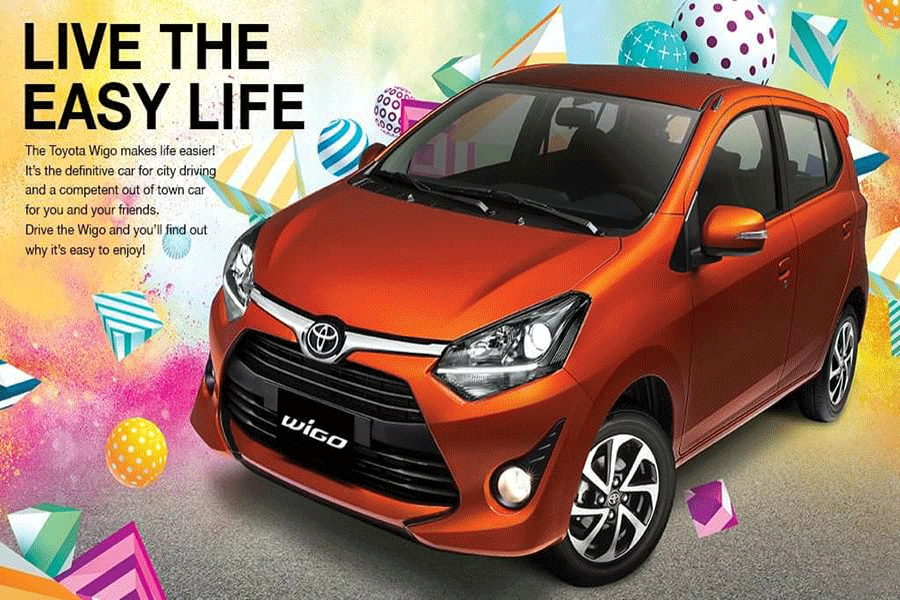 Toyota Wigo started production in 2013. It is a 5-door hatchback city car. Now when the first models came out, I wasn't too fond of the exterior design. But now it had a total revamp from the front bumpers and grill that has similarities to the luxurious Toyota Camry. Its headlights gives a mean demeanor to the car and the cheeky lip makes it look like it has a bodykit. Going around the back, the first thing I noticed are the sporty vents down below, which really changes the car's overall bravado, with matching semi pick-up like tail lamps and a spoiler. With everything elegantly put to place, its main rivals like the Mirage, Picanto and i10 should be really worried because this is one good looking city car.
Practicality
The Toyota Wigo, even for a city car, has good practicality. It gives you two cup holders in the front for your beverages, storage in the doors is decent and also the glove box is a good size to put your chips or snacks.
For the passengers you can fit four adults in the back with ease due to its box-like interior and the roof doesn't slope down. Although knee room is a little bit limited, people over 6 feet might find it difficult to unwind. If you need to fit five adults in the back, you can, but with a push and they won't be comfortable so it is only good for short journeys. Well that's what it's made for.
What's inside
What you notice first is the seats and the stitching to give more of that home feel or comfort. You do get some soft touch materials and touch screen entertainment systems which the screen is big enough for anybody. Also you get a steering wheel which has some controls and an SRS airbag in some models.
Under the hood you get a 1.0 liter 3 cylinder In-line,12 valve, DOHC with Toyota's VVTI-i which produces about 66 horsepower and 89 N.m of torque – pretty niffty for a city car. You can choose between the variants of a 5-speed manual transmission or a 4-speed automatic transmission.
On the road
The Toyota Wigo is built for one reason: as a city car. So cruising the city even under immense traffic is a breeze with a 1.0 liter engine which is very economical. In addition, the Wigo being a city car it's easy to get into any side street or tight turns.
Overall
If you want a car that is practical, costs less and just to stroll around the city with your friends or go to the local coffee shops, I suggest you visit Toyota's showroom floor and take a look at the Toyota Wigo. –Chobby Pelayo