CLARK FREEPORT— A total of 95 representatives from various locators in this Freeport participated in the 2022 Information and Education Campaign (IEC) seminar spearheaded by Clark Development Corporation (CDC).
According to CDC's External Affairs Division (EAD), this is the first time that the IEC has been conducted in a Face-to-Face setup since 2018. The previous years were held virtually due to restrictions caused by the pandemic.
With its theme "Benepisyo ng Gobyerno, Mahalaga sa Empleyado", the activity aims to inform and update the attendees regarding the programs undertaken by partner government agencies.
Some of the representatives from government agencies include those from Philippine Health Insurance Corporation (PhilHealth), Social Security System (SSS), Home Development Mutual Fund (Pag-IBIG Fund), and Department of Labor and Employment (DOLE), among others.
For his part, CDC President and CEO Manuel R. Gaerlan shared his special message to the participants who were present during the activity held at Clark Marriott Hotel.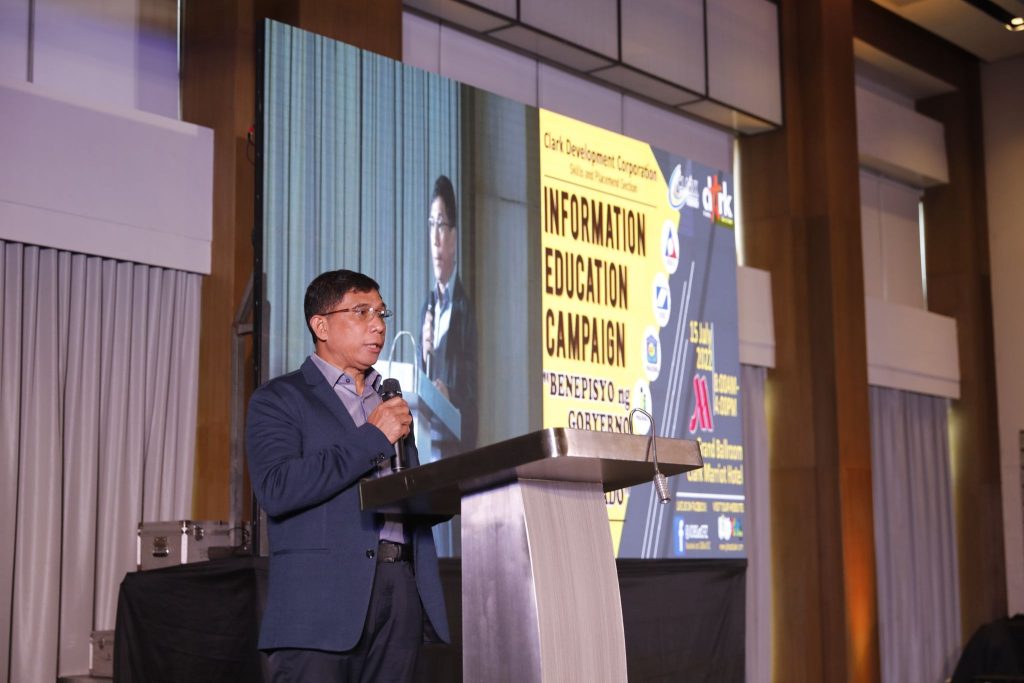 "It has been more than two years since the pandemic and we saw a lot of challenges, we have to make a lot of adjustments especially in the government including of course CDC, our systems and procedures," he said.
"Restricted or not, we pursued our mandate of providing vital information, updates on latest advisories, policies, and guidelines implemented by our partner agencies that provide benefits to our employees particularly the SSS, PhilHealth, Pag-Ibig Fund, and DOLE, making it easier not only to our partner agencies but most importantly, to our locators and their employees", Gaerlan added.
He also mentioned that the state-owned firm hopes to provide convenience and bring the necessary services to all the workers and stakeholders of Clark Freeport Zone and Clark Special Economic Zone.
Meanwhile, CDC Vice President for Admin and Finance Engr. Mariza O. Mandocdoc assured the locators of providing better services with simplified requirements for their companies and workers in Clark.
"We really believe that together, here in Clark, we should collaborate so that we will be able to comply with the regulations of the government so that we can take care of the best assets of the organization – which is our people," she said.
"CDC and these various government agencies have been collaborating to provide you better services. One of them would be that we have simplified the requirements for companies to individually get clearances from DOLE, SSS, Pag-Ibig, and PhilHealth," she added.
Some of the locator companies who joined the said event are Aderans Philippines Inc., Baynant Inc., BB International Leisure and Resort Development Corp., Clark International Airport Corp., Donggwang Clark Corp., Hann Philippines Inc., L&T International Group Phils., Inc., La Forge Lighting and Furniture Inc., Philexcel Business Park Inc., SFI Multimix Corp., SIA Engineering Phils., Corp., SMK Electronics Phils., Corp.,Yokohama Tire Phils., Inc., and Yokoisada Phils., Inc., among others.
In 2020, the IEC was held in a virtual setup under the new normal wherein a total of 80 participants joined the two-day webinar. The said activity is being facilitated annually by CDC's EAD headed by CDC Assistant Vice President Rommel C. Narciso.