BALANGA CITY – With two weeks to go before Election Day, May 13, broad-based Alternative Politics Movement (ALTERPOL) and Philippine Alliance of Human Rights Advocates (PAHRA) put out its People's Agenda 2019 which captures the aspirations of workers, peasants, fisherfolks, transport workers, youth, women, indigenous people, and other sectors in a press briefing, Tuesday afternoon, at the Balay Panganan in this component city.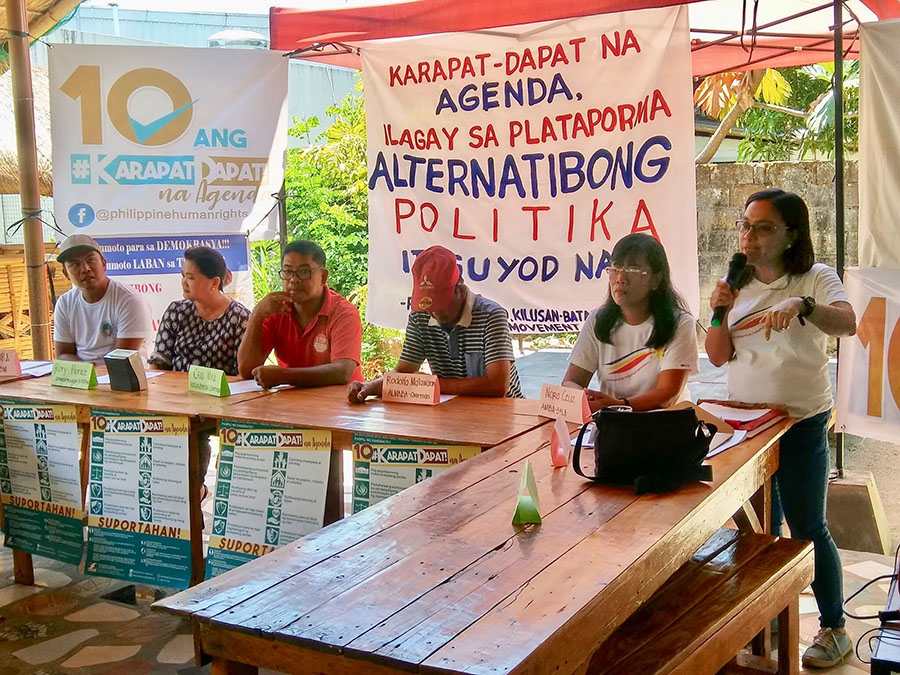 According to a spokesperson for Alternative Politics Movement or ALTERPOL, most of those aspiring to win coveted seats in the upcoming midterm elections are trapos wielding empty promises to capture votes. The group urges the public to vote for those that will stand by and uphold what is important – jobs, food, justice and the environment towards living a life of dignity.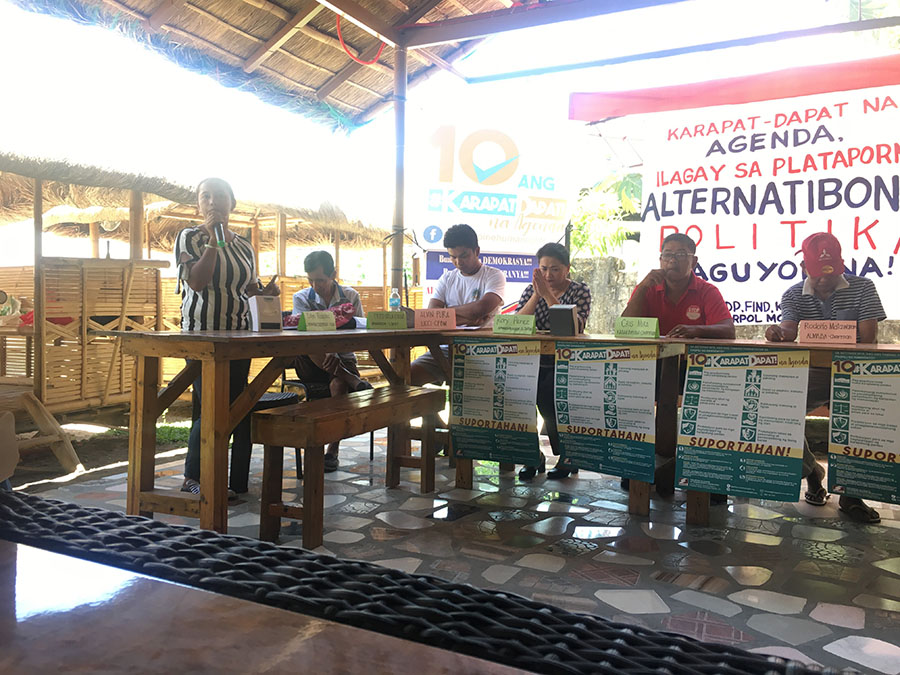 ALTERPOL developed its People's Agenda in a series of grassroots and townhall meetings. It believes that the election should be an opportunity for basic sectors to present their most pressing issues to those running in the polls. Candidates who have vowed to support the Agenda are reminded that the power of their position emanates from the people's will and thus should work for the public good and not against it.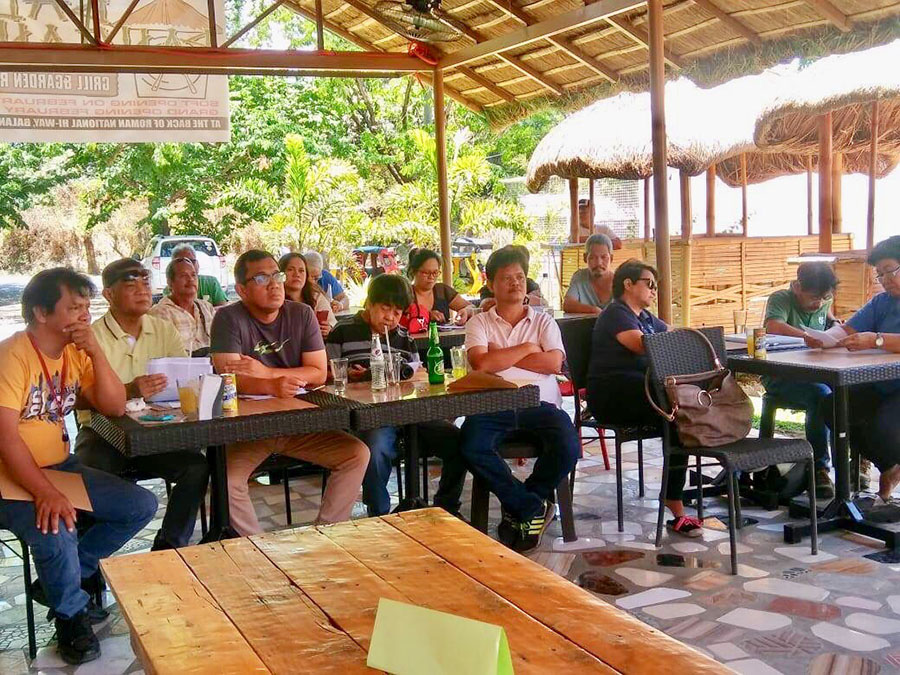 The press briefing highlighted the issues affecting Bataeños and that following a rights-based approach to governance will serve as a guideline for both the public and candidates.
Food, Land and Jobs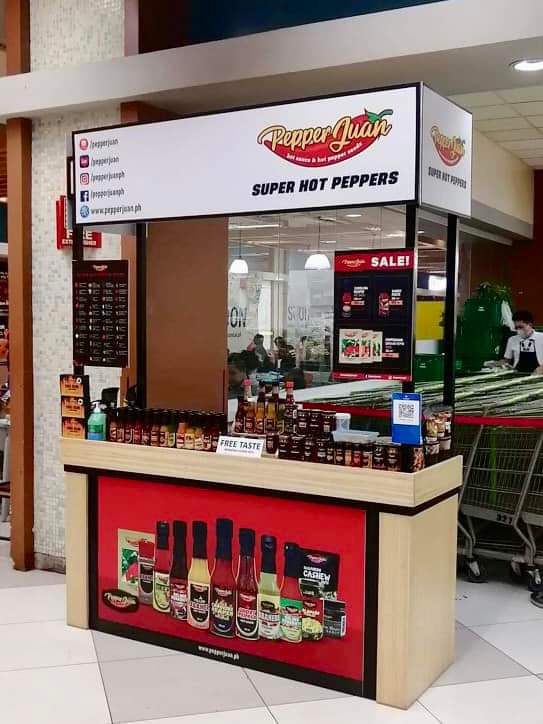 For instance, the implementation of the agrarian reform program in the town of Abucay has stalled. Lourdes Mamalateo, agrarian reform beneficiary and a farmer-leader of Alyansa ng Magbubukid ng Bataan (ALMABA) lamented"taon na kaming naghihintay, dumaan na ang iba-ibang administrasyon atinabutan pa ng pagtatapos ng Comprehensive Agrarian Reform Program, wala pa rin sa kamay ng mga magbubukid ang lupang ipinangako".
She added that "iba sa amin ay nakamatayan na (ang CARP). imbes na ipatupad ang CARP, inaagaw pa ng mga korporasyon gaya ng HENS Realty at Janghun ang lupang matagal na naming binubungkal".
Meanwhile, workers of Alyansa ng Manggagawa ng Bataan (AMBA) and Freeport Workers League (FWL) expressed their dismay over prevailing contractualization inside the Freeport Area of Bataan despite an order from the Labor Department urging companies to comply with orders to regularize its workers who have remained contractual for years.
"Paano naman maiaangat ang ating bansa kung tayong manggagawa itsapwera naman ang dignidad at karapatan sa paggawa," added Emily Fajardo of AMBA.
Studies have shown that uncertain work conditions and lack of security of tenure negatively impacts worker productivity and undermines Constitutionally recognized rights to self-organization, collective bargaining agreement, security of tenure, guarantee of safe and humane work conditions.
While transport leaders from KASAKBAYAN stands resolute against Jeepney Phase-out. For them, PUV Modernization is "fake modernization". Genuine modernization would prioritize the sector and synchronize this with an appropriate national economic and industrial development program. It does not mean economic dislocation but job creation.
Leaders of KASAKBAYAN reiterated their demand for the continued operation of jeepneys that pass the MVIS Emission Test and the Road Safety and Worthiness test by the LTFRB.
Right to Housing and A Safe Environment
O Different communities in Bataan are about to be evicted and demolished due to destructive "development projects" like coal-fired power plants benefiting elite businesses and investors, The local government also has the obligation to ensure right to adequate shelter, livelihood, and access to basic social services.
Fishing communities along Manila Bay will also be swept away to give way for tourists and other businesses ostensibly under the guise of "rehabilitating" the bay. "Kung merong unang dapat matuwa sa paglilinis ng Manila Bay ay kaming mga mangingisda iyon dahil kakabit na ng aming buhay ang karagatan. Pero kung isasapribado ito sa gagawing reklamasyon, eh inaalisan naman kami ng karapatan sa kabuhayan" said Elpidio Dela Cruz, a fisherman in Brgy. Lamao, Limay.
The Manila Bay Reclamation project allows for extensive ocean grabbing, creating more environmental hazards in the future like flooding, along with dislocating millions of fisherfolk and their families.
Dr. Rory Perez, a resident of Brgy. Lamao and leaders of the Coal-Free Bataan Movement reminded the government of the damaging health impacts of coal power. "There have already been very young children and babies who have developed asthma and died coughing. We are breathing in extremely toxic chemicals, especially the communities right next to the coal plants and have been afflicted with respiratory and skin ailments as a result of exposure to this lethal chemical mix.
He added, "we did not experience any of this before Petron and San Miguel's coal plant started operating in our barangay. We cannot have more coal power in Bataan!"
For the youth who will be inheriting the burden of climate change, they have reiterated the call to decisively change energy sources to renewables and calling an end to the operation of coal plants -present and future in Bataan and across the country.
"The Philippines, must move towards 100% clean and renewable energy to avert a future climate catastrophe", said Jherwin Capatoy of Young Bataenos Environmental Advocacy Network (YBEAN).
"We just need a government possessing courage and moral clarity to protect the environment and our health. Homes all over the Philippines could have free electricity in the daytime from rooftop solar panels, and we could get all of the rest of our electricity from renewable energy, such as wind turbines, micro-hydro power, and solar," Capatoy added. The youth also reiterated the right to education and conveyed the need for a nationalist, mass-oriented, and scientific education system.
ALTERPOL calls for vigilance before, during and after the elections as the stakes for this election is especially high since it is expected that if an administration dominated Senate will be elected, the charter is as good as changed in favor of elites and trapos.
Meanwhile, PAHRA, as an alliance of individuals and organizations advocating for human rights, introduced their '10 Karapat Dapat na agenda' campaign which engaging the people on qualifications and the platform they should consider before voting for their bets. (MHIKE R. CIGARAL)