Despite the continuing challenges of the COVID-19 pandemic, Gabay Guro remains steadfast in its commitment to uphold Filipino teachers and their noble mission of empowering the mind of the youth as it held another tribute event for the modern-day heroes of our time, the PLDT-Smart Foundation's annual Gabay Guro Grand Gathering last October 15.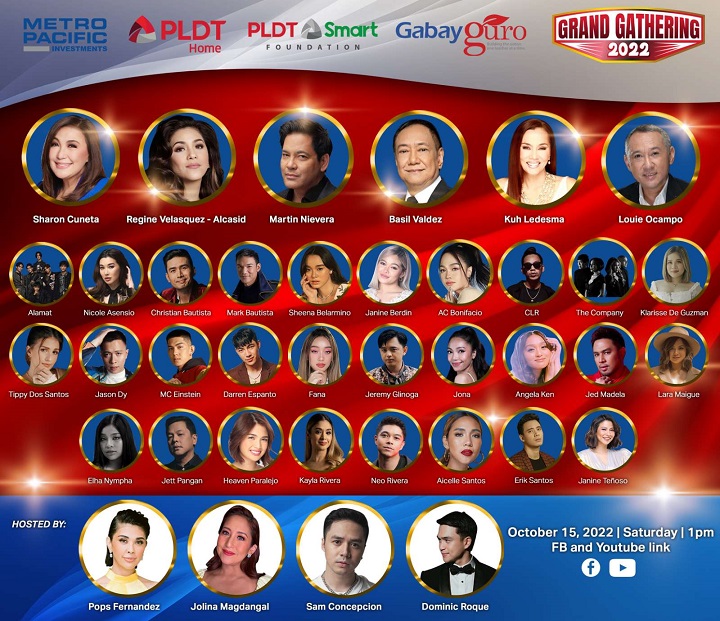 Presented by the Metro Pacific Investments Corp. (MPIC) along with PLDT Home and the PLDT-Smart Foundation, and held virtually for the third time since the pandemic hit in 2020, this year's teachers' star-studded tribute went by the theme "The Filipino Teacher: Our Pride, Our Purpose, Our Passion" and was streamed live via Gabay Guro's Facebook page and YouTube Channel starting at 1 p.m.
Gabay Guro's Grand Gathering 2022 reached out to an even larger audience of teachers across the country and abroad by showcasing a roster of world-class talents, which includes Gabay Guro's longtime celebrity advocates such as the Megastar Sharon Cuneta, Asia's Songbird Regine Velasquez-Alcasid, the Concert King Martin Nievera, legendary balladeer Basil Valdez, and pop diva Ms. Kuh Ledesma. Musical director Louie Ocampo also lent his genius to the event with production numbers that definitely thrilled our teachers.
Other stars present at the 2022 Grand Gathering include Pops Fernandez, Sam Concepcion, Dominic Roque, Jolina Magdangal, AC Bonifacio, Sheena Belarmino, Angela Ken, Jeremy Glinoga, Darren Espanto, Nicole Asensio, Aicelle Santos, Jed Madela, Jett Pangan, Alamat, Angela Ken, CLR, MC Einstein, Janine Tenoso, Jason Dy, Heaven Paralejo, Christian Bautista, Tippy Dos Santos, Neo Rivera, Kayla Rivera, Mark Bautista, Klarisse de Guzman, Erik Santos, Jona, Elha Nympha, Lara Maigue, Fana, Janine Berdin, and The Company.
The event drew in over 500,000 teachers, who were able to partake of the annual magical experience by downloading the Gabay Guro Super App. By registering, teachers also got a chance to win exciting prizes, including the grand prizes of a Chery Tiggo Pro car and two P500,000 cash prizes, which were won by three lucky teachers.
And because Gabay Guro cares deeply for the teachers' health and welfare, the Philippines' first fully integrated health app with robust telemedicine service mWell.ph also gave away mWellness gift boxes, which entitles them to free doctor check-ups, their very own oximeter, thermal scanner, and vouchers for vitamins to make them strong and healthy.
"Over the last 15 years, all of us working behind Gabay Guro—the core team, the volunteers, the kind-hearted artists, our loyal sponsors such as PLDT, Smart, Meralco, MPIC and the rest of our MVP Group of companies—everyone has been generously supporting the initiative all these years, and we are here together as one to give our teachers the tribute they deserve," said Gabay Guro Chairperson and MPIC Chief Finance, Risk and Sustainability Officer Chaye Cabal-Revilla.
"We were all brought together by our common advocacy and love for our dear teachers. We continue to support our dear teachers through our many pillars in the transition to the better normal, whether hybrid or face to face learning. We have always anchored everything that we do here in Gabay Guro to the Sustainable Development Goals of the United Nations, the fourth of which is about ensuring inclusive and equitable quality education and promoting lifelong learning opportunities to all. This is our pride, purpose, and passion," Cabal-Revilla continued.
The Gabay Guro Grand Gathering 2022 was supported by Chery Auto Philippines, Fitbit, Huawei, Devant, mWell.ph, Smart, Pascual Laboratories, PLDT Home, and 555 Tuna/Sardines, among many others. It is an annual celebration of Teachers' Month, honoring them through song, dance and raffle prizes. Gabay Guro also has a series of localized tribute programs for teachers, thru regional Teacherfest events, which have already honored more than 500,000 teachers in Metro Manila and in 13 regional areas, including Ilocos Norte, Bulacan, Cebu, Butuan, Bataan, Navotas, Davao and others.
Since 2007, Gabay Guro has been empowering teachers across the country through its seven core pillars: Classroom Donations, Connectivity and Computerization, Scholarships, Teachers' Trainings, Livelihood Projects, Digital Innovation, and the Teacher's Tribute.
Gabay Guro has built and donated over 55 double classrooms in 21 cities and municipalities nationwide. It has provided 2,174 scholarship grants where 1,767 have graduated, of which 24% graduated with honors, plus 840 passers of the Licensure Exams for Teachers. Gabay Guro has 57 partner state universities so far.
It has also distributed more than 600 computers, laptops, and printers and internet connectivity to 49 partner-schools from 21 municipalities benefiting 38,587 students, teaching, and admin staff. There are also more than 5,000 teachers who were given extra livelihood opportunities and access to micro-financing through Gabay Guro's assistance.
Over the years, more than 50,000 teachers have trained face-to-face in 90 cities and provinces, and over 1,000,000 teachers have trained digitally thru Gabay Guro's Teachers' Training's "Learning Never Stops" digital series. In the last quarter of 2020, through Gabay Guro's new Digital Innovation pillar, the Gabay Guro Super App was launched to empower teachers as they lead the way for digital transformation in education. Within the first two days of its launch, the Gabay Guro Super App had over 100,000 downloads, making it one of the Top 5 education apps during its introduction phase. Since then, it has stayed popular among users with a steady 4.9 app satisfaction rating.
Gabay Guro's efforts have also been recognized by various award-giving bodies in the Philippines and abroad, including the Gawad Tanglaw, Anvil Awards, Philippine Quill Awards, Philippine Association of National Advertisers (PANA) Awards, and the CMO Asia Awards in Singapore.
For more details about the PLDT-Smart Foundation's Gabay Guro program, visit gabayguro.com. For updates, please follow, like, and share Gabay Guro on Facebook, Instagram, Twitter and Youtube.