It is very common to hear or witness a group of volunteers travelling for hours or even days just to give a hand to far-flung communities. Maybe some people do outreach activities for compliance, grades, exploration, and adventures among others. Maybe some people want to give back and share their blessings to the less fortunate. Maybe some people are immersing themselves for a reality check. Or maybe some people just want to catch a glimpse of a genuine smile.
Recently, the Army Artillery Regiment (AAR) in partnership with the Aboitiz Foundation Inc. brought the Project Shoebox Program to Alunan Elementary School at Sitio Alunan, Capas, Tarlac. Anchored with the theme "Shoebox Ko Kinabukasan Mo", it aims to extend help to students from far-flung areas and inspire them in striving more for their education.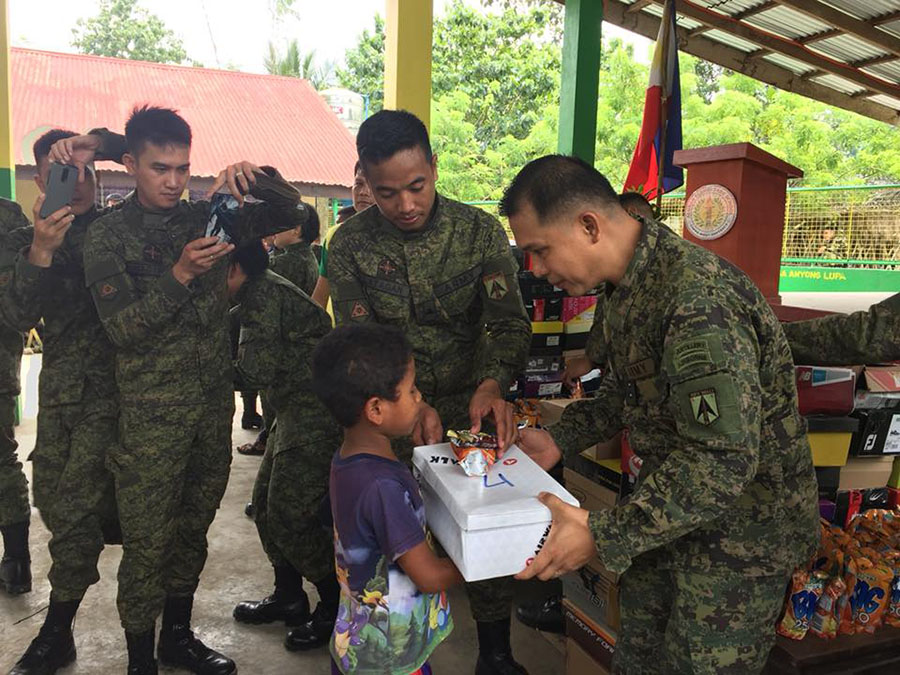 Army Artillery Regiment Assistant Chief of Staff for Civil Military Operations Lieutenant Colonel Rommel B. Lazaro leads the turn-over of shoeboxes to the beneficiaries of Project Shoebox in Capas, Tarlac. (Trixie Joy B. Manalili)
Everyone was excited to give the shoeboxes that contain hygiene kit and school supplies to the IP children. But aside from that, we were thrilled for a new adventure especially when we were briefed to condition our body and prepare water, extra shoes and T-shirt for it is a serious hike.
No words could ever prepare us for that "serious" hike because it was the understatement of the year. Our unforgettable journey started with the 25-minute KM500 rough and bumpy ride. After which, we crossed two rivers and hiked the ruthless trails of the mountains for almost an hour. It was like the scorching sun and challenging path have teamed up to test our endurance and willingness to help our indigenous brethren. But upon seeing the "Welcome to Alunan" sign, we quickly forgot the hardship we've been through. Our muddy shoes were strengthened with the heartfelt smiles of the adults and happy waves of the children.
During the program, the IP children were educated on the importance of studies in achieving their dreams. The uniformed personnel also gave inspiring messages to the community. In total, 415 children have benefitted from the program. We have touched 415 lives on that day.
"We hope that each shoe box will inspire the students to pursue for their education and finish their studies no matter what the hindrances are," AAR Assistant Chief of Staff for Civil Military Operations G7 Lieutenant Colonel Rommel B. Lazaro said.
Lazaro emphasized the importance of education in achieving their dreams and aspirations.
In behalf of the beneficiaries, Alunan Elementary School Principal Noel M. Mariano thanked the efforts of the soldiers and its stakeholders for the educational packages.
As they gladly opened their boxes I can't help but notice their happiness and gratitude through their genuine smiles. It is so touching to think how small things can have a big impact in the lives of these children. When the teachers, parents and children expressed their gratitude in chorus, it was enough for me to understand why people sacrifice a certain extent to help the indigenous people. It is for those genuine smiles and heart-warming responses.
When we bid goodbye to that community in Alunan, I told myself that I am willing to do hike for hours again for our indigenous brethren.
Luckily, a lot of people have the same way of thinking like the Aboitiz Foundation and our uniformed personnel. Aside from them, the government is willing to provide whatever assistance that the indigenous peoples need through its programs, projects and services. They might be kilometers away physically but the government is always at their side to assist them. Besides, there are a lot of good-hearted people out there who willing to hike for a genuine smile.