SUBIC BAY FREEPORT — Another cruise ship operated by the Italian firm Costa Crociere made its maiden port call in Subic Bay on Friday (Jan. 17), becoming the second cruise ship to arrive here this month as the Subic Bay Metropolitan Authority (SBMA) predicted a surge of tourist vessels this year.
The 57,000-ton MV Costa neoRomantica followed in the wake of Asia's biggest cruise ship, the Spectrum of the Seas, which docked in Subic on January 7 following its maiden trip here last December 27.
Costa neoRomantica is a sister ship of MV Costa Atlantica, a frequent Subic visitor, which is also operated by Costa Crociere.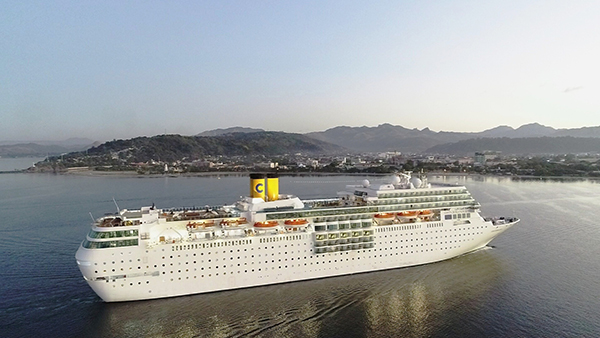 The neoRomantica left the tropical port of Hainan, China on Tuesday (Jan. 14) with 1,500 passengers and 650 crew members on board and set sail for a Manila-Subic tour. The ship is expected to return to Hainan on Sunday.
As a tradition, SBMA employees and Subic Freeport residents welcomed the newly-disembarked ship passengers with a cultural show—a preview of the sights and sounds they would encounter during the Subic tour.
At the Alava Wharf where the cruise ship docked, the performing artist group Banda Kawayan also played ethnic music and Chinese songs using native instruments, while the Olongapo Drum Beaters kept up a frenetic tempo and the SBMA Brass Band played marching tunes.
Earlier, SBMA Chairman and Administrator Wilma T. Eisma announced that 38 cruise ship arrivals have already been confirmed this year.
These arrivals, Eisma noted, will provide additional income to the Subic community, as well as neighboring areas that cruise passengers visit. Among the frequented destinations are Ocean Adventure, Pamulaklakin Ayta Village, and Zoobic Safari in the Subic Bay area, as well as other cultural attractions in Olongapo City and the neighboring provinces of Zambales, Bataan, and Pampanga.
In 2019, Eisma said the SBMA counted 15 cruise ship arrivals from January to October, bringing a total of 38,985 visitors that spent millions of pesos for tour buses and taxis, entertainment, food, souvenirs, and entrance fees to theme parks and resorts.

The Costa neoRomantica was formerly known as the Costa Romantica, which was built for Costa Crociere in 1993 as a sister ship to Costa neoClassica. Her public rooms are decorated with rare wood, Carrara marble, and millions of dollars in original works of art. Nine of its 11 decks were named for well-known European cities: Monte Carlo, Madrid, Vienna, Verona, Paris, London, Copenhagen, and Amsterdam.
Completely renovated in 2012, Costa neoRomantica was outfitted with 111 luxurious Samsara cabins located on the highest decks. In 2017, the vessel arrived in Hong Kong to operate cruises in the Asian market, including the Philippines. (Dante M. Salvana)