With the objective to provide Smarter Technology for All, and empower communities with technology and opportunity, Lenovo Philippines is proud to announce its partnership with one of the major distributors of e-learning materials in the country, FELTA Multi-Media Inc.
Due to the unprecedented global pandemic, learning and teaching experience have been disrupted drastically and shifted digitally. Schools and educators are facing challenges to build and deploy distance learning programs rapidly and at scale while encouraging students' engagement the same time providing a holistic learning experience. Lenovo is committed to building smarter education and offers educational institutions options for more dedicated and tailored support along their digital transformation journey.
By putting customers at the core of the business, Lenovo presents its new services which were thoughtfully crafted to solve its market's challenges. With the help of FELTA, institutions can now avail of Lenovo's smarter technology – the virtual instruction studio setup and movable training kit – which were designed to help students and educators save time, create comfort and enjoy convenience.
Virtual Instruction Studio
For educational institutions embarking on a transformation journey, Lenovo offers options for more dedicated and tailored support which frees up IT resources and lets consumers focus on what matters most – building smarter education.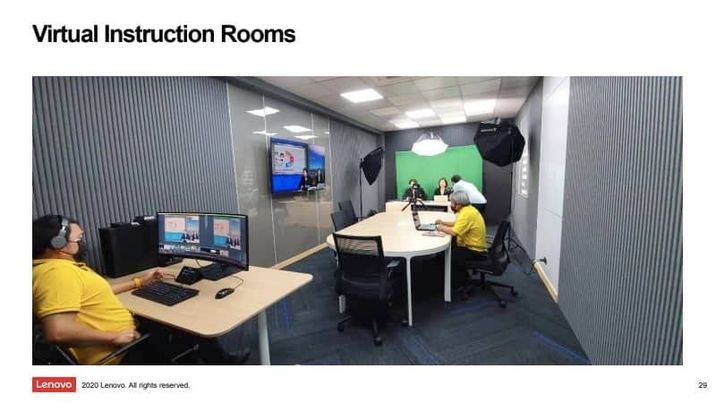 Teachers who wish to increase student engagement may do so through the virtual instruction setup. The green screen enables live teaching and interaction between teachers and students by projecting themselves as news anchors in a TV studio. Live broadcasting is also published simultaneously on platforms like Facebook and YouTube via Teams as necessary.
Movable Training Kit
This was designed for teachers who constantly need to move from one room to another. With tech equipment such as a webcam, monitor, and control console mounted on the wheeled stand, they can now enjoy more comfortable and mobile teaching. This is best suited for healthcare courses and culinary workshops.
"We are committed to being a trusted partner for education institutions to identify the best solutions and services offerings that will address their unique requirements, as well as navigate their education transformation journey," said Michael Ngan, President and General Manager of Lenovo Philippines. "We have learned a lot from two years of distance learning and we are applying what we've learned to our offerings in order to better serve our partners in delivering quality education. Through partnering with FELTA, we curate solutions to support the digital learning ecosystem and enable educators to engage students and deliver compelling and effective learning content in a distance learning environment. We look forward to seeing local communities being benefited and hybrid learning being enhanced from this partnership."
Prior to the contract signing, FELTA has been distributing Lenovo ThinkStation P530 to both public and private schools. It helped institutions produce high-end audio files and create VR content which is beneficial for their students' learning. Amidst their long-standing partnership, this is the first time for FELTA to distribute Lenovo-powered setups.
"Lenovo has been a reliable partner for educators as a brand that has been at the forefront when it comes to digital transformation both at home and at schools. FELTA strives to provide our consumers with access to only the best learning materials available and we believe that Lenovo's distance learning solutions will enable students to get the most out of each learning opportunity," shares Mylene Abiva, President and CEO of FELTA Multi-Media, Inc.
This reinforces Lenovo's position as a reliable partner in delivering innovations designed with purpose to meet the demands of distance learning and the transition to a more digitized classroom.
Check out Lenovo's products on their official website, www.lenovo.com/ph.