CLARK FREEPORT ZONE, Pampanga, Oct.20 (PIA) — 11 Mindanao Indigenous People (IP) youth leaders debunked Friday the alleged support of the Communist Party of the Philippines-New People's Army (CPP-NPA) to their tribes.
"Nandito po kami para sabihin kung ano ang tunay na nangyayari sa Mindanao. Dahil po part sa aming kultura na kung saan po dinadala ang pangalan namin na hindi maganda, yung sinisiraan kailangan naming puntahan at ayusin. Kultura po namin yun. Kaya po kami pumunta ng Amerika, Europa dahil po sa mga naririnig naming mga balita na yung Martial Law nakaapekto sa mga IPs sa Mindanao which is hindi naman totoo yun. Yung sinusunog daw ng mga sundalo yung mga eskwelahan. Pero kung tatanungin po niyo yung mga totoong nandoon, yung mga doon nakatira wala naman silang nakitang ganoong nangyayari. In fact, yung mga CPP-NPA yung mga nagsusunog ng mga paaralan at nagbobomba ng mga sundalo na nagpapatrolya, (We are here to tell you what is really happening in Mindanao as it is part of our culture that whenever our tribe is dragged on a bad light, we need to go and fix it. That is the reason we went to the United States, Europe because of the news we hear that Martial Law affected the IPs in Mindanao which is not true. That soldiers allegedly burn schools. But if you ask those who are really there, those did not happen. In fact, it is the CPP-NPA who burn schools and bomb patrolling soldiers," Bae Anna Jessa Mae Crisostomo of the Ubo Manobo tribe said during the Ugnayang Pangkapayapaan, Ugnayang Pangkaunlaran Central Luzon media forum organized by the Philippine Air Force (PAF).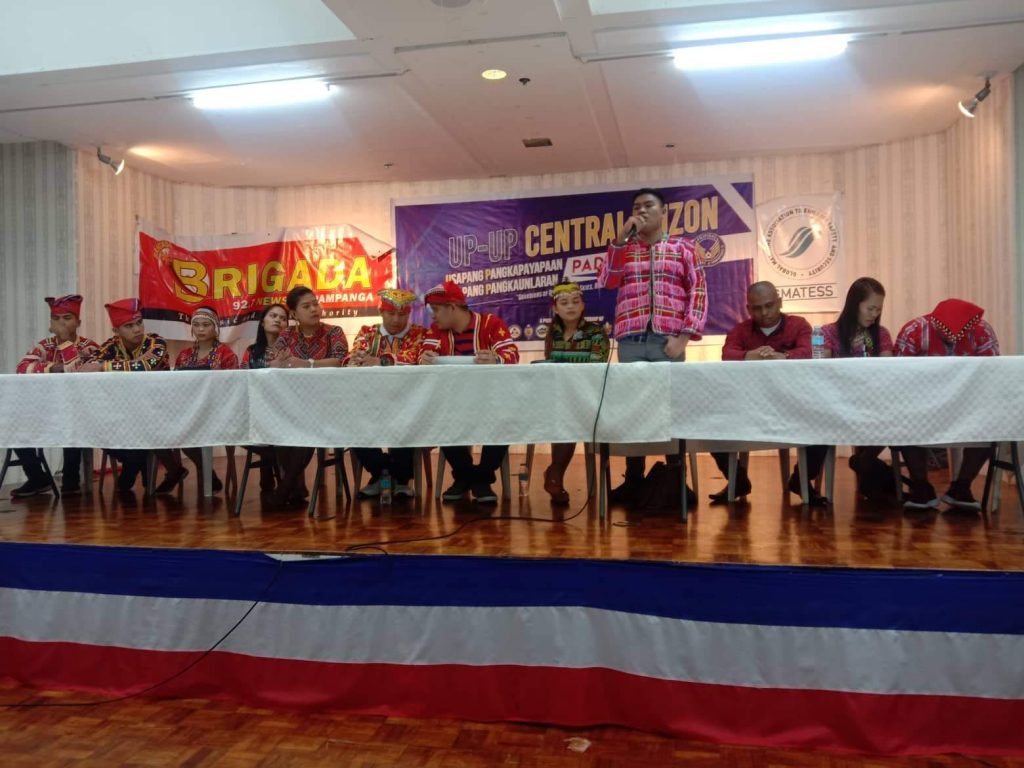 The IP youth leaders roadshow in the United States and Europe was billed as "Breaking the Silence and Telling the Truth" because their tribes have been silent for 50 years but are now coming out because they can no longer stand the atrocities of the CPP-NPA.
They carried three stories. First is the Story of Struggle which covers the 17 major atrocities committed by the CPP-NPA to Indigenous Cultural Communities.
These atrocities include 1) For supplanting traditional leaders and replacing them with the revolutionary ones as the CNN Central Task for the IPs; 2) For murdering almost a thousand IP leaders from the 1980s to present just because they don't follow what the NPA wanted; 3) For making the ancestral domain as their guerilla base which caught IPs in the crossfire; 4) For collecting revolutionary taxes from the farm produce, livestock and other forms of livelihood; 5) For setting up informal schools for elementary and secondary education in the different ancestral domain in Mindanao. They use the schools to radicalize children by teaching communism and how to become armed fighters; 6) For agitating and deceiving several IP leaders and members with false promises by encouraging them to leave their ancestral domain to go to the town centers or cities.; 7) For bringing bright young leaders to tertiary institutions as scholars. These schools are managed by communist organizations thus radicalizing their minds; 8) For making some IP leaders as head of Organs of Political Power Revolutionary Justice System (Kangaroo Court) that hand down judgment to fellow IP leaders and members that will be killed; 9) For converting some IP communities as prison/confinement area of IPs; and 10) For subverting the name "Bagani" whose main purpose is protect the IPs but used it as a name of NPA units to kill IPs and attack government security forces.
Also, 11) For occupying the ancestral domain or private communal property, which the government recognizes, without their permission; 12) For removing the Right of Suffrage by forcing them to support those who paid the CPP-NPA with the Permit to Campaign and/or Permit to Win; 13) For collecting revolutionary taxes from mining and logging companies or similar businesses in the ancestral domain more than what the IPs should receive as royalty; 14) For burning construction equipment in the ancestral domain thereby delaying and even stopping significant infrastructure projects of the government thus preventing the delivery of goods and services to far flung communities; 15) For organizing the IPs at Mindanao, Regional and Provincial levels through deceit and lies to support the National Democratic Front, BAYAN and the five Regional Party Committees all over Mindanao; 16) For using the IPs in ruining the image of the Philippine government in the eyes of the world by orchestrating international solidarity works and projecting lies contrary to the real situation and issues of the country; and 17) The communist terrorist recruitment and programs on IP youth that result to sexual exploitation.
"Next, ay Story of Deception. Alam ko po na di lang kami yung biktima. Di lang po kami yung nalinlang. Pati po rito. Kahit sa rural man o urban area meron din mga nabiktima (Next is the Story of Deception. We know that we are not the only victims. Even here. Whether rural or urban they have victims," Crisostomo added.
And lastly, the Story of Assertion. Assertion of IP rights that need to be known and fight for.
Areas they visited in the United States include New York particularly the United Nations (UN), Chicago, San Francisco, Los Angeles and Washington DC.
For Europe, they visited Rome, Italy to talk to funding institutions there as the CPP-NPA, through their front non-governmental organizations, seek projects that are supposed to be for the welfare of IPs.
The group likewise went to Geneva, Switzerland to attend the 42nd session of UN Human Rights Council.
They also talked to think tank groups and members of the European Parliament in Brussels, Belgium. Other areas visited include Berlin and Cologne, Germany and Paris, France.
In the Philippines, Pampanga was their second stop after Cebu. They are scheduled to attend a similar media forum by PAF in Isabela. (WLB-PIA 3)