CAMP OLIVAS, Pampanga – Some P1.4 million worth of dried marijuana leaves in brick form were seized by authorities during buy bust along Celeste Street, Barangay Guyong, Sta. Maria, Bulacan, Monday, police said.
Police arrested five suspected street pushers during the drug sting. They were identified as Eurice Tiqui, 20,alias RR; John Peter Pineda, 20; Jeffrey Ponce, 18; and John Laurence Garcia, 18. Another suspect is a minor.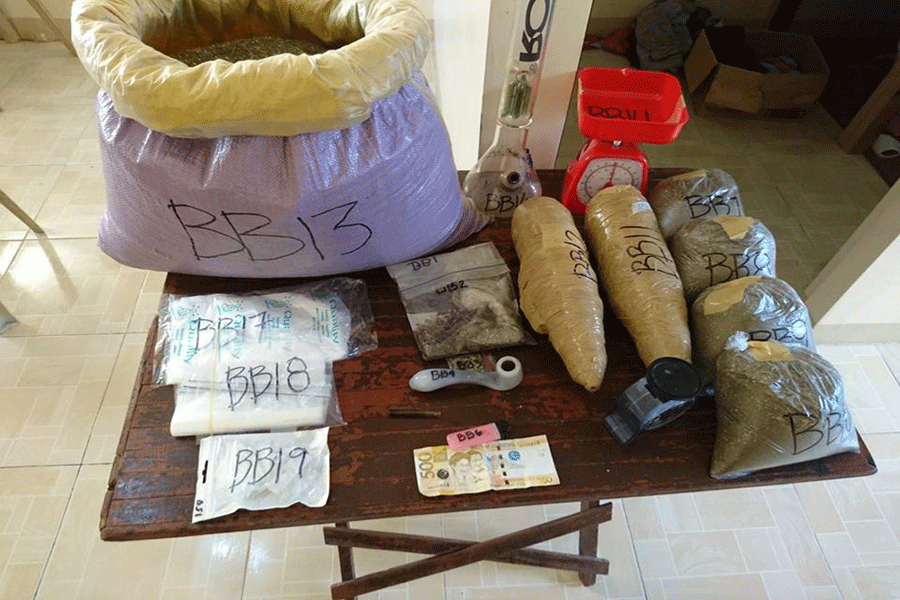 The suspects, police said were pointed by residents in the community as alleged distributor of marijuana in their place where most of the victims are teenagers and young adults.
On Monday, Sta. Maria policemen raided the hideout of the suspects after a buy bust operations leading to the arrest of Tiqui and his group past 4 p.m.
Police said dried marijuana leaves in brick forms are commonly manufactured in Cordillera province. It is being transported by buses plying Baguio City, Central Luzon and Manila.
Found from the suspect possession includes one-half sack dried marijuana leaves, four large packs in a plastic bag and one tea-bag of the same stuff.
A total of 14 kilograms of marijuana with estimated street value of P1.4 million was confiscated from the group.
The suspects were brought to Sta. Maria police station for further investigation as violation of the Comprehensive Dangerous Drugs Act is being readied against them.