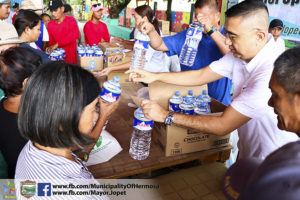 HERMOSA, Bataan – The Philippine Amusement and Gaming Corporation (PAGCOR) recently coordinated and helped the Municipal Government of Hermosa led by Mayor Jopet Inton in their relief goods distribution efforts to the victims of recent typhoons and massive floodings.
Mayor Inton reported that PAGCOR has distributed 2,000 bags of various food packages to three barangays (villages) namely Saba, Pulo and Balsik.
Mayor Jopet said 450 bags of goodies were given to Saba residents, 450 in Pulo and 1,100 bags to Barangay Balsik.
Last July of this year, heavy rains brought about by the Southwest Monsoon (Habagat) enhanced by Tropical Depression Josie caused floodings not just in Metro Manila, but also in provinces of Central Luzon.
In Hermosa town, six barangays were flooded including Barangays Almacen and Parayray. Reports from the local here MDRRMO stated that water level reached over a man's height and up to the welcome arch of the two barangays.
The floodwaters reached chest level in Barangay Daungan.
The other reported flooded barangays were Sto. Cristo, Pulo, and A. Rivera as the creek nearby reportedly overflowed.
Photos: John Michael Mendoza of Hermosa LGU