CITY OF SAN FERNANDO – The Provincial Social Welfare and Development Office (PSWDO) is pushing for the regularization of child development workers (CDW), more commonly known as daycare workers (DCW) in the province.
During the recently concluded Child Development Workers' General Assembly, PSWD Officer Elizabeth G. Estiller-Baybayan mentioned the crucial role daycare workers play in the growth and development of daycare children.
Baybayan said DCWs are the partners of the state in defending the rights of children and in delivering the quality care and education they need.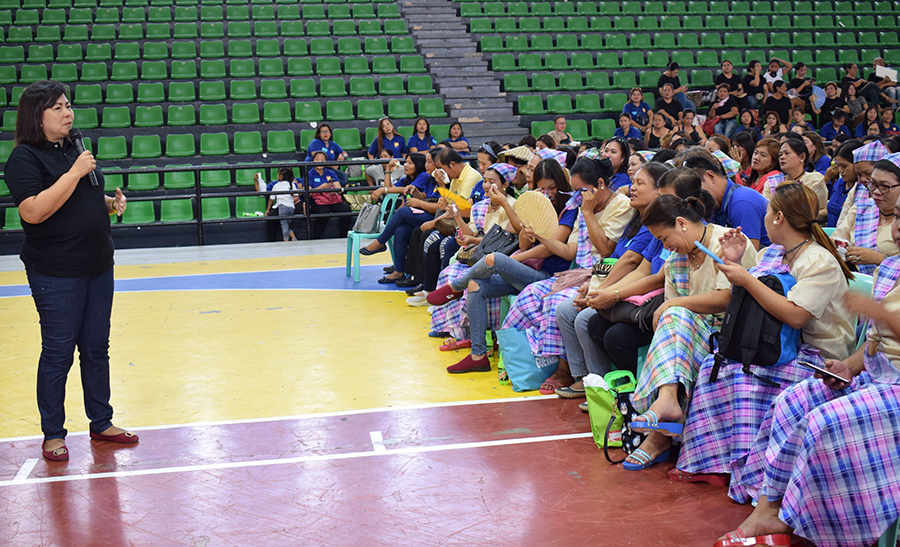 Provincial Social Welfare and Development (PSWD) Officer Elizabeth G. Estiller-Baybayan became emotional as she emphasizes the need to elevate the social and economic status of all daycare workers in the province during the recently held Child Development Workers' General Assembly held at BZGCC. (Photos courtesy of Pampanga PSWDO)
The first eight years of a child is considered as the most formative and crucial stage in a person's growth and development. Republic Act No. 10410 or the Early Years Act (EYA) of 2013 states that the daycare workers are directly responsible for the care and education of young children from age zero to four years.
Despite the important role that these workers play in carrying out children's needed care and learning experience, they are still regarded as unsung heroes who do not enjoy the benefits of a regular employee.
In its call to action dubbed as "Advocacy Towards Day Care Workers' Plantilla Based Employment", the PSWDO tackles the issues local daycare workers face, identifies bases for the provision of plantilla positions for daycare workers and provides recommendations for the issues identified.
Based on the data gathered by the office from 2015 to 2017, only 56 or 8.56% of daycare workers in the province have permanent plantilla positions while 29 of them or 4.43% have casual positions. The remaining 569 or 87% are non-plantilla – either they are working on a job order status or are volunteers.
It was noted that "there are 8.87% of DCWs who grew old spending 26-30 years of their lives in the service and yet they were not given the chance to enjoy the security of tenure and benefits they deserve until now. The same is true with the 21.10% DCWs who spent 21-25 years in service as well as the 16.97% who have dedicated 16-20 years in providing childcare."
Furthermore, the data gathered show that majority of the DCWs, 530 or 81% of them graduated in college but even their educational attainment nor their length of service doesn't equate to the number of honoraria each daycare worker receive. Still basing on its findings, the PSWD found out that the monthly honoraria DCWs receive from barangay to the municipal level varies from daycare worker to daycare worker.
Heeding one's vocation
For Wilhelmina Santos, a daycare worker for 27 years now, being a DCW is a job that requires a lot of passion and dedication.
Ma'am Wilma, as the daycare children call her fondly, started  teaching at Sta. Catalina Day Care Center in San Luis town in 1983. Having taken units in Child Psychology, the daycare worker enjoys teaching her young students and working closely with their parents.
Ma'am Wilma is one of the DCWs feted during the CDWs' General Assembly.
Robert Sagum, Municipal Disaster Risk Reduction and Management Officer of San Luis, and a former student of Ma'am Wilma recalled his learnings as a daycare student.
Sagum, who landed in the 10th spot in the nursing board exam in 2009, said Ma'am Wilma played a huge part in his formative years.
"If not for your (daycare workers) sacrifices and the lessons that you've taught us, our teachers in elementary, high school and college will have a hard time teaching us," the former day care student said.
Aside from Sagum, Ma'am Wilma shared that some of her students are now successfully working as doctors, engineers, and architects.
"Teaching the children became my passion. I feel proud when my students greet me and come up to me," she said.
At 61, Ma'am Wilma still teaches and have no plans of retiring in the coming years. "I still enjoy teaching and my youngest is still in college," she said. Despite her long service as a daycare worker, Ma'am Wilma will not receive any benefits once she retires as she is considered as a volunteer worker.
Currently, she earns P 2,000 monthly salary from the barangay, topped up with another P 2,300 from the municipal government and another P 1,500 from the provincial government. Adding to her monthly salary is the P 50 a month parents pay for each student.
Silver lining
It was in November when the House of Representative approved on third and final reading House Bill No. 6550 or the proposed Magna Carta for Day Care Workers which seeks to improve the social and economic welfare of DCWs by granting them benefits and privileges. But the fate of this bill is still in the hands of the legislators of this country.
The PSWD, in its paper, has three specific change agenda which are creation of plantilla positions for DCWs; utilization of the Special Education Fund (SEF), Gender and Development Fund (GAD) and Internal Revenue Allotment (IRA) to finance the following: daycare worker's salary and other benefits, purchase of books and other learning materials, and improvement/renovation of daycare centers; and increase funding/investment in Day Care Workers' capability building for their continuing professional development as Early Childhood Care and Development (ECCD) service providers.
Baybayan, who became emotional, said it's high time that DCWs receive the proper benefits that they deserve. She added that the PSWDO will continue to call on local officials and other stakeholders to look on the matter and focus on the plight of the daycare workers.
According to Joanne Guerrerro, EECD focal person, there are currently 668 daycare workers in the province.
The provincial government, for its part, has been providing P 1,500 monthly subsidy to the workers since 2016 through Ordinance No. 696. DCWs and their children who are studying are also receiving educational assistance per semester and can avail of the free check-up and hospitalization at the district and provincial hospitals.  –LIEZEL CAYANAN