TARLAC CITY — Armed Forces of the Philippines (AFP) commended the significant accomplishments of Northern Luzon Command (NOLCOM) under the leadership of former commander Lieutenant General Arnulfo Marcelo Burgos Jr. 
Burgos was replaced in an acting capacity by NOLCOM's Deputy Commander Brigadier General Andrew Costelo.
"My classmate and my friend for many years, the men and women of the AFP, the Philippine Army, and your classmates at PMA can never be prouder with what you have attained, serving various capacities in the AFP," Chief of Staff Lieutenant General Andres Centino said during the Change of Command Ceremony.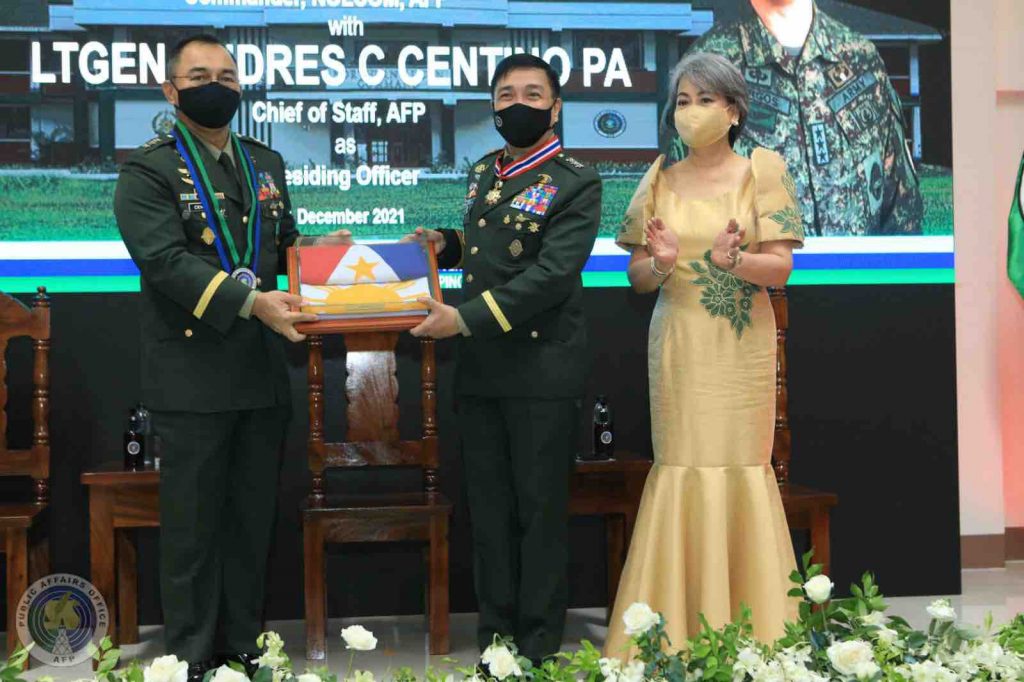 Under Burgos' leadership, three guerilla fronts were dismantled; a total of 2,285 members of the threat groups were either killed, captured or have surrendered; and 340 firearms along with 300 Improvised Explosive Devices were seized.
Rebel returnees benefitted from the Enhanced Comprehensive Local Integration Program, and eight halfway houses were constructed as a temporary shelter for former rebels and their families.
In terms of maritime security operations, a total of 13 sovereign markers have been placed in the uninhabited islands in Batanes Islands and Babuyan Group of Islands, and a solidarity maritime patrol was conducted in Commemoration of the Philippine Rise on June 12, 2021.
NOLCOM constructed a Desalination Plant System in Mavulis Island to provide a potable source of water to fishermen and troops in the area.
Moreover, NOLCOM's air and naval assets conducted more than a thousand flying hours of Maritime Patrols and Maritime Air Surveillance and Support to Maritime Law Enforcement Operations, and almost two thousand steaming hours of Maritime Surface Patrols and sealift support operations.
On another note, NOLCOM has been active in humanitarian assistance and disaster response particularly during the COVID-19 pandemic, and the onslaught of typhoons Ulysses, Maring and Kiko.
NOLCOM units provided support to local government units and stakeholders in checkpoint operation, food and Social Amelioration Program distribution, mobile patrol, and information dissemination about COVID-19.
Also, Burgos led the activation of the first and only Indigenous Peoples Affairs Desk to safeguard ethnic minorities in North and Central Luzon from exploitation.
Aside from these, NOLCOM bagged the Gold Trailblazer Award of the AFP Transformation Roadmap Institutionalization Pathway and received the highest rating among all Unified Commands.
Furthermore, NOLCOM garnered the highest grade of 95.82 percent among all Unified Commands and rated 96.78 percent or Outstanding in all three areas of Leadership and Management; Discipline Law and Order and Morale and Welfare Survey.
"All the achievements by NOLCOM, despite the challenges posed by the pandemic and the prevailing territorial disputes in their area of responsibility, attest to the capabilities of Lt. Gen. Burgos Jr. as an outstanding military leader and public servant," Centino emphasized.
For his part, Burgos looked back on the challenges in accomplishing their mission amid the pandemic, and expressed his gratitude to those he worked with along the way.
"Believing in what we could accomplish, we planned for, and committed to do our best during this term. Yet with our noblest values as our guide, we find ourselves committed for a lifetime – a lifetime of excellence, good deeds, innovation, and service to others," Burgos said.