The province of Bohol is prominent as a haven of natural beauty, mouth-watering dishes, breathtaking tourist attractions, and locals known for hospitality and warmth to tourists. Recognized as the Jewel of the Philippines, cradling some of the country's most precious wonders, this province boasts a thriving tourism industry which was then heavily impacted by the COVID-19 pandemic.
As the industry paves for recovery, Ocean Suites Bohol Boutique Hotel is winning the hearts of local and foreign travelers, accommodating their various travel and lodging needs. This hotel lives up to its core of delivering genuine experiences to its guests, offering top-notch amenities, services, food, and travel experiences like no other.
"We are not treating our guests as guest lang talaga. But we treat them as our family," said Geann Competente, Assistant General Manager at Ocean Suites Bohol.
"We want our guests to enjoy and relax, so that while they're staying here in Ocean Suites, they would feel the warm welcome here. Lahat ng mga staff dito, they are all friendly. So, I'm sure you will be satisfied when you're staying here in Ocean Suites," Geann added.
Located on a cliffside property in Bool District, Tagbilaran, Ocean Suites features a panoramic view of the sea which allows tourists to laze around while admiring the majestic scenery. It has cozy, spacious rooms, a delightful café and restaurant, and a stunning infinity pool that makes a perfect relaxing spot.
It is also strategically located nearby some famous tourist destinations in Tagbilaran, including the historical Blood Compact Shrine where Spanish navigator Miguel Lopez de Legazpi and Rajah Sikatuna sealed the first treaty of friendship in 1565.
"Ocean Suites has a very nice location kaya patuloy kaming binabalikan ng mga turista. Nasa sentro rin kami ng Tagbilaran kaya ideal kami sa mga turista dahil malapit kami sa tourist spots. Our guests can also enjoy the breathtaking scenery from the infinity pool because our location is very interesting and amazing," Competente shared.
Despite its difficulties during the onset of the pandemic and the aftermath of typhoon Odette last year, the business remains relentless in its resolve to maintain the brand of service quality it is known for.
From the amenities, food, activities, and hospitality of the staff, Ocean Suites offers superior services which are suited to cater to the varying needs of travelers. Whether for leisure travelers who would like a chill, relaxing stay; business travelers who need to attend meetings and functions or for guests craving for an adventure, the hotel provides fantastic avenues to satiate all kinds of wanderlust.
Digital life
As part of the warm hospitality it offers, Ocean Suites also strives to enrich the hotel experience of guests as it tapped an internet service provider that can best support the always-on, digital lifestyle of today's travelers.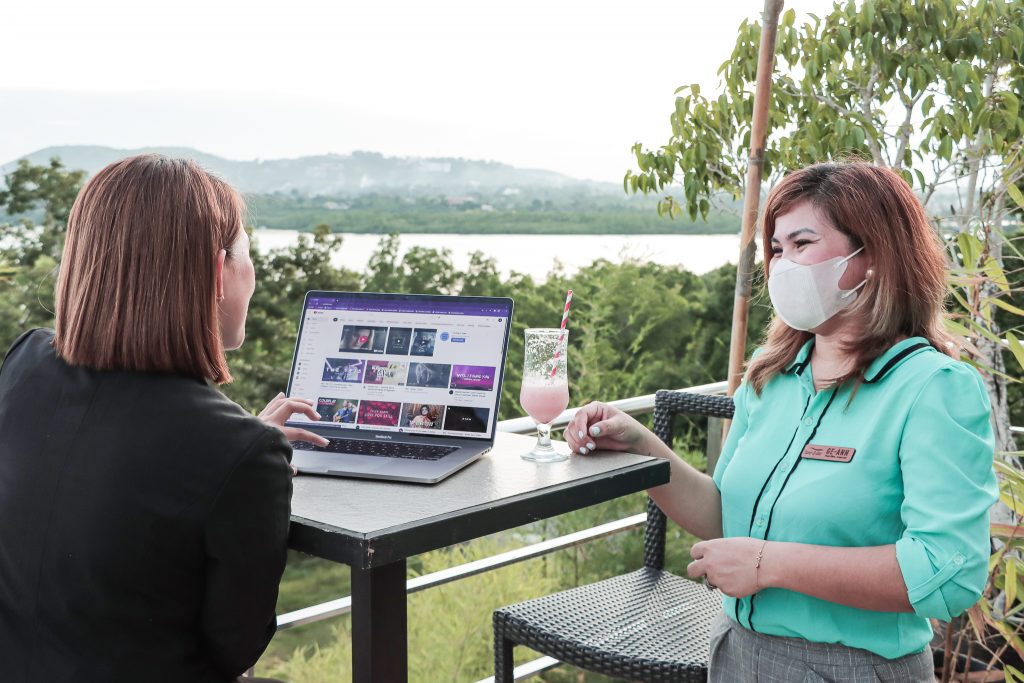 Providing complimentary high-speed internet for guests, Ocean Suites partnered with Converge ICT Solutions to enable a robust digital foundation that could serve the connectivity requirements of its guests, as well as the operations of the business.
"We started to partner with Converge because we know that they have the speed and reliability that is mostly needed by our guests. Mabilis 'yung internet connection nila," Competente noted.
She also shared the importance of internet connectivity as it is the first thing guests would ask for the moment they stepped inside their rooms. As people nowadays become more digitally active, she said that a reliable and high-speed connection is essential to seamlessly visit sites, watch videos, share experiences, browse social media accounts, and connect to families and friends even if they are on the different side of the globe.
"Natulungan ng Converge yung mga guest namin whether they need to go online for their business or meetings; they provide a fast and reliable connection. Our guests are now more confident to stay with us because of our wifi connection," Competente noted.
As the tourism industry gears for recovery amid loosening restrictions, Ocean Suites is optimistic that more tourists will visit the hotel soon. And as their operation continues, Converge will be its partner in enabling fast and reliable internet connection to help guests reach their friends and families wherever they are in the world.
Visit the Ocean Suites Bohol Boutique Hotel to see the amenities of the hotel and the value for money deals it has to offer. .
To know more about Converge, visit convergeict.com.