HERMOSA, Bataan – Business owners here are now required to install closed circuit television (CCTV) system in their establishments.
In an exclusive interview with Hermosa Municipal Administrator, Atty. Ariel Inton yesterday, he said that since 2015, a Municipal Ordinance (2015-002) mandates business establishments in Hermosa to install CCTV systems.
"Nagkaroon ng security survey ang ating kapulisan at lumalabas na maraming business establishments ang hindi sumusunod sa Ordinansa requiring the installation of CCTV system," Atty. Inton pointed out.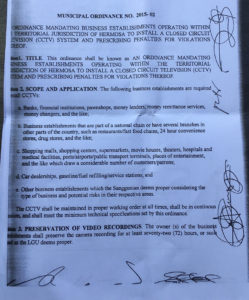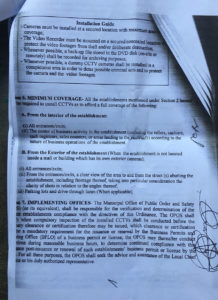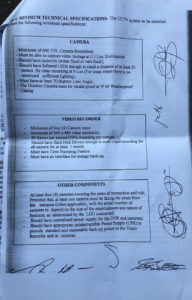 Recently, Atty. Inton presided over a meeting with Hermosa municipal treasurer Rhodora Legaspi Manalansan, Marivic Fernandez, and SPO3 Fe Bungbungan on the security assessment of business establishments in Hermosa, in connection with the strict compliance of the said municipal ordinance.
The Ordinance also stated in full details the required specifications of CCTV system to be installed in the business areas such as: at least 4 cameras (minimum 600 TVL resolution, auto-iris) covering areas of transaction and risk; centralized power supply for the digital video recorder (DVR) and cameras; uninterruptible power supply (UPS), etc.
Atty. Inton added any licensed business owner here can request a copy of the said Ordinance at the Hermosa Sangguniang Bayan Secretariat for the proper guidance on the technical aspect of the CCTV system.
"In the coming days, we will be having surprise inspections sa mga business establishments para matiyak kung sumusunod sila and next year, before we issue their business permits kailangan masunod nila properly itong Ordinansang ito," Atty. Inton reiterated.